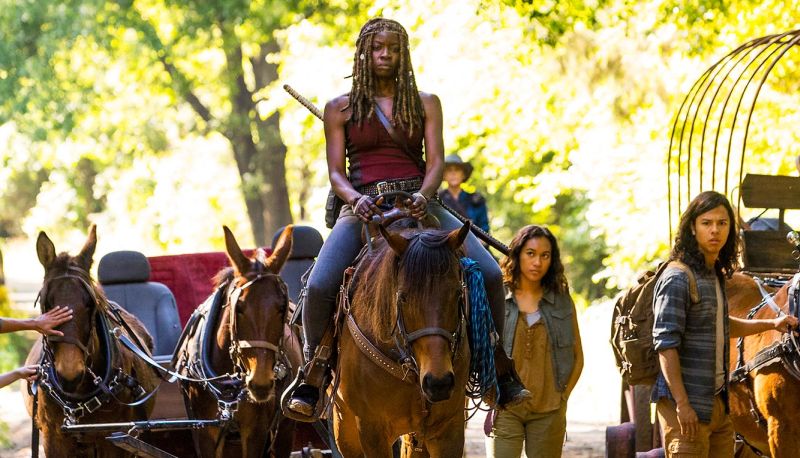 With declining ratings, the upcoming loss of its main character, the recent loss of Carl Grimes, and the reduced role of Lauren Cohan (and possible departure of Danai Gurira after next season), The Walking Dead faces possibly its most difficult season. The series not only hopes to hang on to its existing fanbase, but build upon it while losing some of what has made it so popular for eight years.
New showrunner Angela Kang — already down a man in Morgan Jones, who left for Fear the Walking Dead — has a number of challenges ahead of her. Not only does she have to transition out of the All-Out War — which has dominated The Walking Dead for more than two seasons — but she has to find a way to successfully write out Andrew Lincoln without alienating fans and figure out how Negan will fit into this new puzzle. She has to do so in the wake of Alexandria's destruction, and while Maggie rebuilds The Kingdom not as an allying community but as potentially an oppositional force to Alexandria.

Indeed, that seems to be the driving force in the season 9 trailer: A brewing civil war that will pit allied communities in the All-Out War against each other in a post-war civil war. Check out the trailer.
As much press as The Walking Dead has seen in recent months — and not all of it great — I can't help but feel excited about the season 9 trailer. The Walking Dead has faced huge challenges before. They've lost major characters. They've changed showrunners (Kang is the series' fourth). Yet, the show continues to be one of the highest rated on cable, and thanks to Netflix and other digital streaming platforms, The Walking Dead has been able to maintain a monstrous fanbase worldwide. The show has been good about replacing major characters with new fan favorites, and with Lauren Ridloff and Dan Fogler (spotted in the trailer) hopefully the show can seamlessly transition into the post-Grimes era.
The Walking Dead will return on Sunday, October 7th.