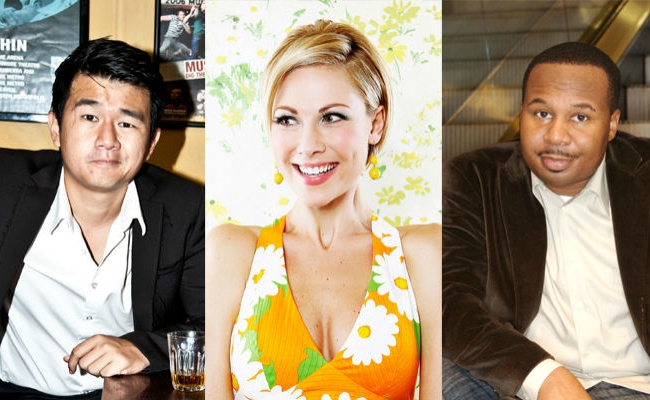 Comedy Central made a big announcement today concerning its ever-changing Best F*cking News Team on The Daily Show — three comedians have been added to its roster: Ronny Chieng, Desi Lydic, and Roy Wood Jr. will join The Daily Show With Trevor Noah when it makes its debut on Sept. 28.
The announcement was made in an official press release from Comedy Central, which also stated that several correspondents were officially remaining on: Jordan Klepper, Hasan Minhaj, Jessica Williams, Lewis Black, John Hodgman, Al Madrigal, Aasif Mandvi and Kristen Schaal will all be coming back.
But more about the new kids!
Roy Wood Jr. is probably the most experienced and recognizable out of the group and definitely the most experienced. He began his standup career in 1998 and has appeared on Comedy Central's Premium Blend, Late Night With Seth Meyers, The Late Show With David Letterman, Conan, and The Late, Late Show With Craig Ferguson. He has also starred on TBS's Sullivan and Son and makes regular appearances on ESPN's SportsNation.
Desi Lydic has also popped up on TV and in movies in addition to doing improv at The Groundlings and Improv Olympic. Her appearances include MTV's Awkward, The Odd Couple, and The League as well as We Bought a Zoo and The Babymakers.
Finally, the Malaysian-born Australian Ronny Chieng has the most international resume, having performed in his home country as well as the Montreal Just for Laughs Festival, the Edinburgh Fringe Festival and the New Zealand International Comedy Festival. He made his stateside debut on The Late Late Show.
There they are, kids — your new f*cking news team! Tune in Sept. 28 to watch this all-new Daily Show. We will all adjust together!
(via Comedy Central)