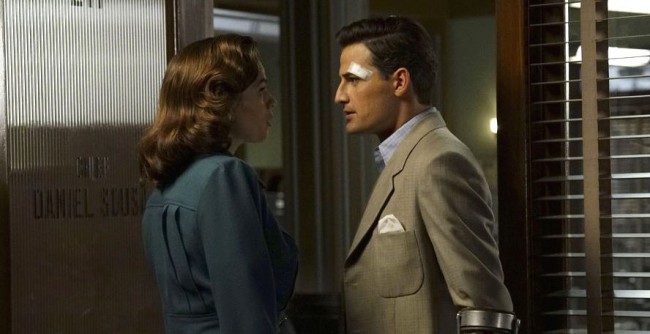 Marvel's Agent Carter (ABC, 9 p.m.) — This two-part episode sees Peggy and Sousa making a deal with Whitney Frost and dealing with a betrayal that jeopardizes Peggy's plan to save Dr. Wilkes. Also, we've been promised a musical number.
The People v. O.J. Simpson (FX, 10 p.m.) — Faye Resnick's tell-all book comes out just in time to muck up the trial as both teams go through the jury-selection process.
Fresh Off the Boat (ABC, 8 p.m.) — Louis and Jessica hope to make Emery a tennis star by hiring Billie Jean King to be his coach and Eddie helps Evan pay off a gambling debt.
Hollywood Game Night (NBC, 8 p.m.) — Things haven't been looking too good for Kesha lately so here's hoping she wipes the floor with Taye Diggs and Rachel Ray tonight. Girl needs a win.
NCIS (CBS, 8 p.m.) — Dr. Taft plays hero tonight when a surgical duty stint on a suspect helps the team's investigations.
New Girl (Fox, 8 p.m.) — Schmidt's college frenemy makes a reappearance while he and Cece weigh wedding-venue choices and Regan causes problems in the loft after testing Nick and Winston's decision-making abilities by telling the guys she'll sleep with only one of them.
Pretty Little Liars (Freeform, 8 p.m.) — A marriage, an investigation, a media leak, a stalker situation and an exposed lie are all plot points in tonight's episode. (I honestly don't know how anyone keeps up with this show anymore.)
The Flash (CW, 8 p.m.) — King Shark escapes from his holding tank, heads to the West house and attacks Iris, Joe, Wally and Barry, all before Lila and Diggle can make it to Central City to warn the group.
Grandfathered (Fox, 8:30 p.m.) — Gerald and Vanessa question their parenting skills after Edie exhibits some less than flattering behavior, which is probably a good thing. Jimmy also questions something this episode: his true feelings for Sara.
The Muppets (ABC, 8:30 p.m.) — Pepe and Rizzo are on the hunt for a new BFF since Gonzo's spending all of his time with Camilla and Kermit and Miss Piggy pretend to be a couple again to help Robin.
Brooklyn Nine-Nine (Fox, 9 p.m.) — Holt directs an informational video for the station while Jake's busy questioning the motive of an officer who's spent a few too many years working undercover for his liking.
Chicago Med (NBC, 9 p.m.) — Halstead's lawsuit moves forward as the rest of the medical team rush to save a patient misdiagnosed with a flesh-eating bacterial disease. I'm calling it now, this episode will give you nightmares.
NCIS: New Orleans (CBS, 9 p.m.) — A childhood friend of Sonya's pops back into her life thanks to his/her job heading a domestic drug ring that produces its own cocaine. Don't you just love reunions?
Rizzoli & Isles (TNT, 9 p.m.) — A woman's grisly murder unearths a terrifying game in which real people pay to experience terror.
Shadowhunters (Freeform, 9 p.m.) — Simon's probably turning into an immortal leach and Clary's still running around trying to find that damned goblet. Sorry, cup. It's a Mortal Cup.
iZombie (CW, 9 p.m.) — Drake bails on his plans with Liv after a run-in with the law, which is totally fine with her seeing as she's just ingested the brains of an optimistic coffee-shop owner who may or may not have been murdered.
The Grinder (Fox, 9:30 p.m.) — Dean's busy playing intern and Stewart has his hands full investigating a conspiracy theory.
Chicago Fire (NBC, 10 p.m.) — A man is trapped inside a burning car but all Casey can think about is how much shade's being thrown at him as he runs for alderman.
Limitless (CBS, 10 p.m.) — An an ironic set of circumstance, Senator Morra's henchman Sands enlists Brian's help in avoiding some men throwing some pretty serious death threats his way.
Real Sports with Bryant Gumbel (HBO, 10 p.m.) — Gumbel talks to Kobe Bryant, the openly gay president of the Golden Stat Warriors, Rick Welts, and a competitive archer born with no arms.
The Shannara Chronicles (MTV, 10 p.m.) — The trio's friendship is tested when they must cross ancient human ruins to reach the Bloodfire.
Tosh.O (Comedy Central, 10 p.m.) — In which Tosh employs a condom, gets revenge on Mother Nature and hands out Oscars for racism.
Not Safe with Nikki Glaser (Comedy Central, 10:30 p.m.) — Nikki mourns friends who've been left behind and helps porn stars learn their lines.
LATE-NIGHT GUESTS:
Jimmy Kimmel Live!: Ellen Pompeo, Norman Reedus and Yo Gotti featuring Travis Barker
The Tonight Show Starring Jimmy Fallon:  Kevin Spacey, Bill & Melinda Gates and Kygo
The Late Show With Stephen Colbert: Debra Messing, Zachary Quinto and Violent Femmes
Late Night With Seth Meyers: Bobby Cannavale and David Remnick
The Late Late Show With James Corden: Khloe Kardashian and Josh Duhamel
The Daily Show With Trevor Noah: Anthony Mackie
Conan:  Judd Apatow, Wyatt Cenac and Dion