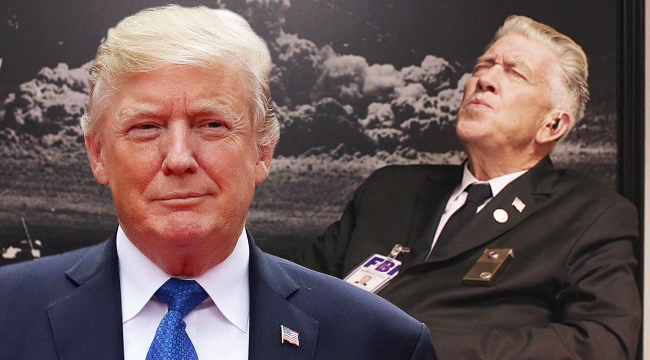 "There's nothing to talk about." And with that comment to Variety, David Lynch has disappointed legions of Twin Peaks fans who are wondering (spoiler) "what year is it?" Season four of Twin Peaks may never come, and if there's even a chance at a second return, Lynch isn't hinting at it. That's what makes Twin Peaks co-writer Mark Frost's companion book, The Final Dossier, so fascinating. We're finally getting some answers even if they're surrounded by more mysteries.
Now's a good time to tell you that Donald Trump might be from the Black Lodge.
The Final Dossier, which picks up just after the events at the end of season three, is told as a report from Special Agent Tamara Preston to Director Gordon Cole. In it, she closes the book on what happened to Leo Johnson, we learn (a little) more about Judy and Phillip Jeffries, and what happened to Lana Budding Milford from the original series run. Turns out, Milford scooped up her inheritance from her dead husband Dougie and moved east to eventually hook up with someone that clearly seems to be Donald J. Trump.
Here's the passage: (h/t The Wrap):
"On her way up the plutocratic food chain, Lana briefly dated a notorious resident of a certain eponymous tower on Fifth Avenue, who was either between wives, stepping out, or merely window-shopping. I was able to locate one society-page photograph of the duo at some charity gala, in which the man appears to be wearing an unusual green ring on his left ring finger, but the resolution of the shot proved insufficient for closer examination. In any case, their relationship was short-lived. As this was near the nadir of the man's whizbang financial exploits–rife with bankruptcies, noxious litigations, and other related derring-do–one suspects that the ever resourceful Lana may have managed to finagle a peek at the man's bottom line and decided she should chum neighboring waters for bigger fish. Gee, wonder what ever happened to that guy."
The "unusual green ring" must be this:

The director of Blue Velvet and Eraserhead doesn't seem like the easiest interview, he lets his art do that talking. That's why his answers to questions like what he thinks about "Lynchian Fear," or, the act of some everyday object becoming terrifying are so simple and effective: "I have the same answer all the time: My doctor told me not to think about these things."
Maybe we should take his doctor's advice when it comes to the Black Lodge and its possible connection to one Donald Trump.
(Via Variety)