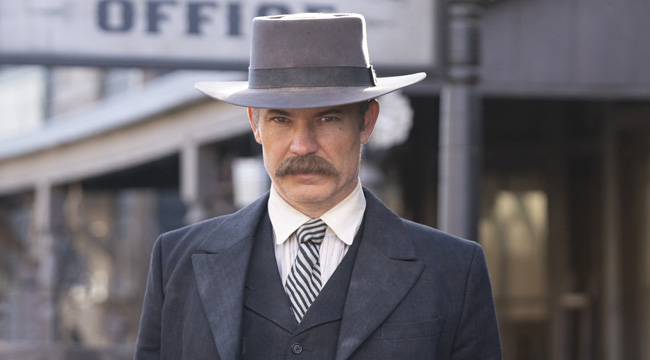 Deadwood: The Movie (Friday, HBO 8:00 p.m.) — Finally, HBO's masterful Western series gets the exquisitely profane finale that it deserves, over a decade after its cancellation. The gang's all back together to push out a mutual enemy while igniting former feelings and rivalries and bidding a proper farewell.
NOS4A2 (Sunday, AMC 10:00 p.m.) — Zachary Quinto stars as the immortal (and evil) Charlie Manx in this series adaptation of Joe Hill's best selling horror novel about a different brand of vampire story.
Always Be My Maybe (Friday, Netflix film) — Ali Wong and Randall Park star as former childhood friends, Sasha and Marcus, who begin to reconnect and reignite some old sparks, and then Keanu Reeves busts in, all heartthrobby, to ruin Marcus' dream, at least temporarily.
When They See Us (Friday, Netflix limited series) — Ava DuVernay creates, co-writes, and directs this four-part chronicle of the Central Park Five case. It's a heart-wrenching deep dive into the plight five teenagers of color who were wrongly accused of raping and attempting to murder a female jogger in 1989, due to a system that aggressively failed them.
My Next Guest Needs No Introduction With David Letterman (Friday, Netflix series) — The former king of late-night sarcasm returns for his second season with guest including Kanye West, Ellen DeGeneres, Tiffany Haddish, Lewis Hamilton, and Melinda Gates.
How To Sell Drugs Online (Fast) (Friday, Netflix series) — A dejected fellow attempts to win his girlfriend's heart back from his school's drug dealer by selling even more appealing drugs. This should (not) work out well, although the series professes to be mostly about love, friendship, and coming of age rather than the whole drug-empire thing.
Chopsticks (Friday, Netflix film) — A talented girl who lacks self esteem gets involved with an enigmatic con artist who, uh, helps find her car after it's been stolen by a Mumbai gangster who's obsessed with goats. This leads her to an inner transformation. Alright!
Here's the rest of this weekend's notable programming.

Marvel's Agents of S.H.I.E.L.D. (Friday, ABC 8:00 p.m.) — Parasitic aliens are on the prowl while Yo-Yo and Keller go public, and boba is in demand.
Whistleblowers (Friday, CBS 8:00 p.m.) — A secretive polygamist sect attracts attention when a Salt Lake City college student discovers that his girlfriend will soon be forced to marry a cousin.
Blindspot (Friday, NBC 8:00 p.m.) — Dominic works to launch Madeline's scheme, and past secrets threaten the group's attempts to halt him.
Blindspot (Friday, NBC 9:00 p.m.) — A bonus episode finishes season 4 with the team on an international mission and Madeline trying to ward off internal conflict while turning the tables.
Real Time with Bill Maher (Friday, HBO 10:00 p.m.) — William Weld and John Waters are interview guests while Kirsten Powers, Lawrence Wilkerson, and Jonathan Swan fill out the roundtable.
Luther (Sunday, BBC 8:00 p.m.) — Idris Elba's back in season 5 and confronting a new smattering of homicides on London's depraved streets.
Fear The Walking Dead (Sunday, AMC 9:00 p.m.) — Season 5 begins with Morgan and Alicia leaning the search for survivors in uncharted territory, but looks can be deceiving.
Billions (Sunday, Showtime 9:00 p.m.) — Axe preps for a risky move while Wendy considers her options, and Chuck attacks a rival, all while Senior makes a surprising discovery.
The Chi (Sunday, Showtime 10:00 p.m.) — Brandon makes a leap with Jerrica while Emmett finds little choice but to accept a new opportunity, and Ronnie starts to lose control.
Last Week With John Oliver (Sunday, HBO 11:00 p.m.) — John Oliver is back with a whole new set of targets. Who won't he roast this week?