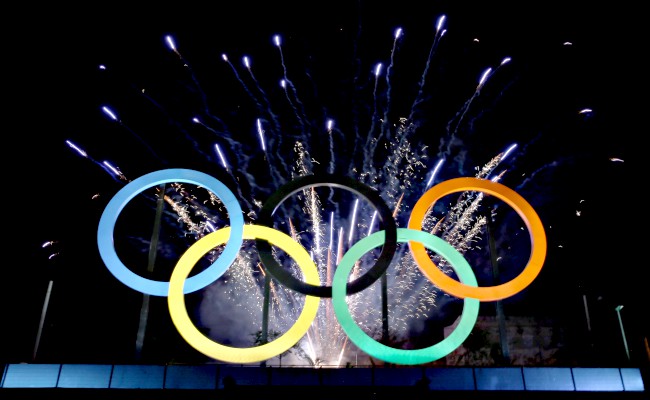 Olympics 2016 Primetime: Opening Ceremony (NBC, Friday 7:30 p.m.) — If those leaked snapchats from rehearsals of the opening ceremony didn't get you excited for the Olympics, maybe the real thing will. Everything kicks off tonight from Maracanã Stadium in Rio de Janeiro. Tons of speeches, music, dancing, athletes marching in preppy uniforms, flags will all be replayed by Matt Lauer, Meredith Vieira and Hoda Kotb.
Killjoys (Syfy, Friday 9:00 p.m.) — An eccentric galactic collector has the team in his clutches after Dutch's search for the mysterious green plasma lead them to his workshop.
Dark Matter (Syfy, Friday 10:00 p.m.) — The Raza crew will do just about anything for some extra cash, but when they find out Nyx's lead on an op leads to a personal target, they begin to have second thoughts.
Olympics 2016 Primetime: Men's gymnastics; swimming; women's beach volleyball (U.S. vs. Australia) (NBC, Saturday 8:00 p.m.) — Kerri Walsh Jennings and April Ross make their debut against a tough Australian team in beach volleyball; the final of men's swimming's 400m free; and men's gymnastics (team competition) are all on tonight.
Boston EMS (ABC, Saturday 10:00 p.m.) — A married EMT team try to save an old man from drowning while another pair of rescue workers must do their best to calm a hysterical little boy who fell off the bed and broke his arm.
Olympics 2016 Primetime: Women's diving; women's gymnastics; swimming (NBC, Sunday 7:00 p.m.) — Swimming is in the spotlight, with live women's finals including Katie Ledecky in the 400m free and Dana Vollmer in the 100m fly and the women's gymnastics team begins their road to gold.
Big Brother (CBS, Sunday 8:00 p.m.) — Nominations for evictions are revealed.
Power (Starz, Sunday 9:00 p.m.) — Ghost is given the chance to expand the club's opportunities, but it spreads him too thin.
Ray Donovan (Showtime, Sunday 9:00 p.m.) — Ray discovers some shocking information after a long-buried scandal comes to light.
The Night Of (HBO, Sunday 9:00 p.m.) — Detective Box begins to piece together Naz's whereabouts on the night of the murder.
BrainDead (CBS, Sunday 10:00 p.m.) — While Gustav and Rochelle find a way to communicate with those who have been infected, Laurel must answer questions about her own involvement in the alien infestation.
Roadies (Showtime, Sunday 10:00 p.m.) — A rock photographer arrives to shoot the band and causes chaos backstage as Bill, Reg and Phil set off on a wild journey to find Christopher's stolen iPad.
The Jim Gaffigan Show (TV Land, Sunday 10:00 p.m.) — Jim gets a visit from his brother who later makes a life-changing decision.
Ballers (HBO, Sunday 10:00 p.m.) — Spencer and Joe dedicate all of their time to finding Andre's weakness; Vernon's anxiety wreaks havoc on his personal life; Jason struggles bagging his dream client; and Ricky tries to figure out where his dad is coming from.
Vice Principals (HBO, Sunday 10:30 p.m.) — Gamby and Russell have plans to use a homecoming football game to bring about Dr. Brown's downfall.
LATE NIGHT GUESTS
The Tonight Show Starring Jimmy Fallon: Jerry Seinfeld, Seth Rogen, Jason Derulo
The Late Show With Stephen Colbert: Diane Kruger, Mark Normand, Ibtihaj Muhammad