Netflix might boast more original series, but when it comes to award-winning cable TV, Hulu is where it's at. The streaming service is home to some quality appointment-viewing, bringing fans new episodes of some truly inventive, thrilling TV series. That's why we've created this list, a guide to all the current TV shows on Hulu that critics can't stop talking about. Good luck choosing which one to binge first.
Related: The Best TV Shows On Netflix Right Now, Ranked
Castle Rock
1 season, 10 episodes | IMDb: 8.7/10
Stephen King is experiencing his own kind of renaissance this year, and most of it is thanks to streaming platforms. A couple of King works were picked up by Netflix recently, but Hulu struck gold when it nabbed the rights to Castle Rock, a King story that's reimagined and given new life thanks to a talented cast that includes Sissy Spacek, Bill Skarsgard, and Andre Holland. The show follows Henry Deaver (Holland), a death-row attorney called back to his hometown after a young man was found caged in an abandoned part of Shawshank Prison. Deaver's got a mysterious past of his own – he went missing as a young boy after his father was murdered with the town believing him to be the culprit – and the series looks to connect these two men, and the strange, demonic goings-on of the town as its first season plays out.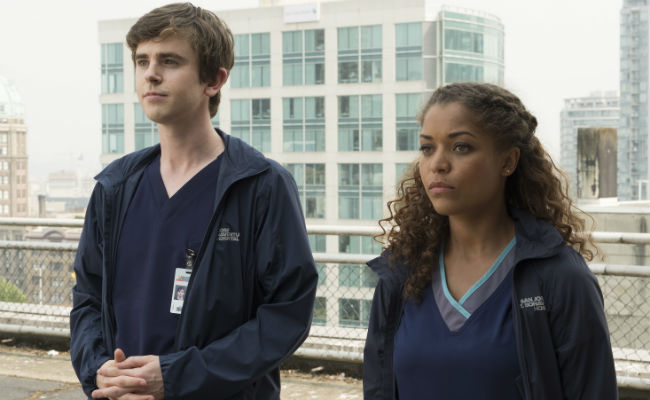 The Good Doctor
1 season, 18 episodes | IMDb: 8.4/10
ABC's always been good at medical dramas, but even for a network that's been able to keep a single show running for 15 seasons, The Good Doctor is something of a triumph. Not only does it star Bates Motel breakout Freddie Highmore, it's also a worthy remake of a hit Korean TV series. Highmore plays Dr. Shaun Murphy a young and gifted surgeon with autism and savant-syndrome. The first makes it difficult for him to interact with patients and with his fellow doctors, providing most of the storylines of the show. The second means that the way he's able to solve strange illnesses and cure terrible diseases would make even Gregory House jealous. Bonus: unlike other medical dramas, the love-triangles and periphery drama stays at a minimum.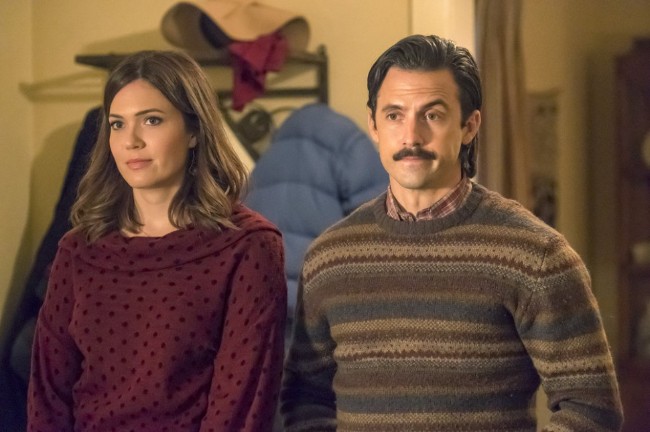 This Is Us
2 seasons, 36 episodes | IMDb: 8.8/10
After the success of Parenthood, NBC was looking to follow-up their hit family drama with another ensemble that would tug at the heartstrings (and kill in the ratings department). Enter: This Is Us. The premiere follows a young couple (Mandy Moore and Milo Ventimiglia) expecting triplets only to suffer heartbreak when one of the babies doesn't make it. Instead, fate hands them an opportunity to adopt a black baby they name Randall, who joins their biological children Kate and Kevin to form the Big Three. The rest of the show is told in nonlinear format, with flashbacks of the triplets growing up and portraits of their lives as adults, their struggles, their triumphs, and some shocking revelations. You'll need tissues for this one.
Atlanta
2 seasons, 21 episodes | IMDb: 8.6/10
It's not enough to praise Atlanta for being the most inventive show on TV – though plenty of critics have. To understand the genius of Donald Glover's sometimes-comedy series, you just have to watch it. The show follows Glover's Earn, a young black man living in the titular city who's down on his luck. He's basically homeless when we meet him in the first episode, selling credit cards, making no money and trying to manage the rap career of his cousin, Paper Boi (Brian Tyree Henry). Over the course of the first and second season, Earn wrestles with issues of race, classism, and his own sense of self-worth. It's a show that will probably feel familiar to some and strangely alien to others, but it should be required viewing for everyone.
Fargo
2 seasons, 20 episodes | IMDb: 9/10
The announcement that the relatively unknown producer Noah Hawley would be turning the classic film Fargo into an anthology series, it was met with a healthy dose of skepticism. However, by the end of the first episode, fans were hooked. Instead of a rote retelling of the classic crime tale, viewers were treated to a top-notch cast, shocking violence, incredible character names, and stunning visuals. While honoring the legacy of the original film in the details, Fargo managed to become a unique and essential addition to the current television landscape. And the fact that it keeps reinventing itself every season, attracting some big-name talent to the small screen, is just an added bonus.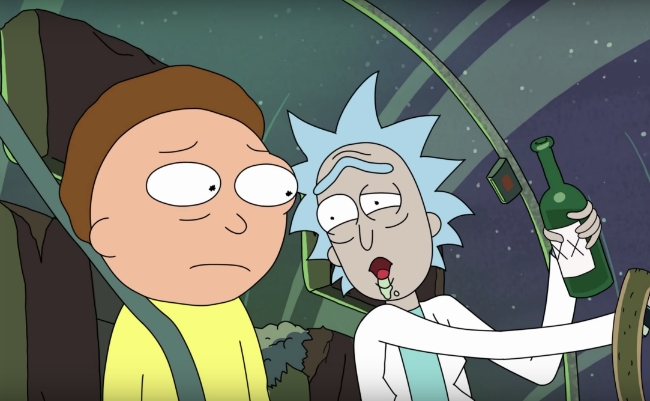 Rick and Morty
3 seasons, 31 episodes | IMDb: 9.3/10
Many wondered how Dan Harmon would follow up the perfection that was Community at its peak, and he certainly delivered with Rick and Morty. Like a demented version of Back to the Future, Rick and Morty follows a super scientist and his less-than-genius grandson on a variety of adventures. It's part cartoon, part "cosmic horror." Who knew that following a vomiting scientist and his dimwitted grandson could be so brilliant? Rick and Morty is a demented work of escapism for adults that's not to be missed. It's also a still relatively underground show that's waiting to burst forth into a broader audience. Get in on the goodness now.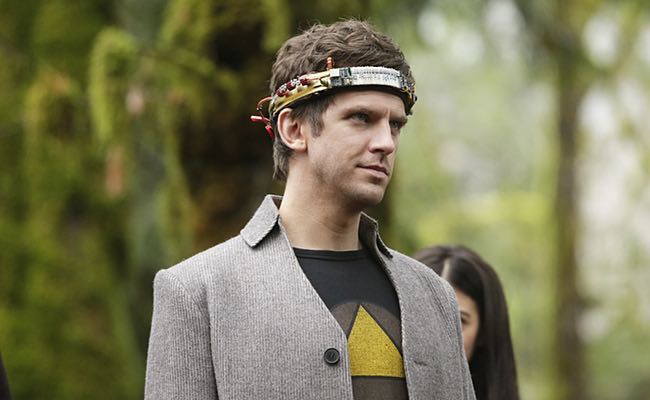 Legion
2 seasons, 20 episodes | IMDb: 8.4/10
Noah Hawley might've proven he could shatter expectations with his Fargo reboot but what he's done on FX's comic series Legion is truly mind-blowing. The show, which exists in both the Marvel universe and the X-Men series, follows David Haller (Dan Stevens), a man with incredible powers, a murky past, and a demon parasite leeching his abilities while slowly making him go insane. The series begins in an insane asylum before traveling to secret government facilities, astral planes, and the future so good luck keeping track of the action. Better to just strap yourself in, enjoy the wild ride, and not worry whether what you're seeing is real, or just all in David's head.
Bob's Burgers
8 seasons, 150 episodes | IMDb: 8.1/10
There are plenty of worthwhile animated comedies on TV right now (a few are already on this list) but it'd be a mistake to overlook Fox's Bob's Burgers. The show centers on the Belcher family – Bob, Linda, and their three children, Tina, Gene, and Louise – who own a hamburger joint in a nondescript seaside town. There are rivalries with fellow restaurant owners, running-gags involving inappropriate business names – Moist Yoga anyone? – and plenty of filthy family humor to keep you hooked.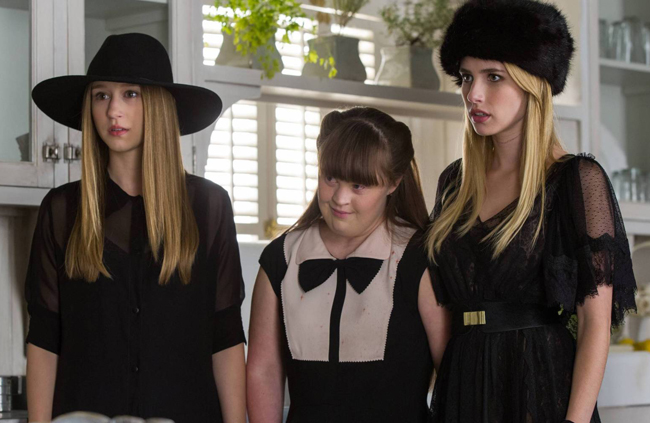 American Horror Story
6 seasons, 87 episodes | IMDb: 8.1/10
Ryan Murphy's American Horror Story anthology has consistently churned out some quality television and, save for this most recent season which should land soon, every installment is available to binge on Hulu right now. That means seasons worth of Murphy favorites like Jessica Lange, Evan Peters, Sara Paulson, and Emma Roberts doing their best to scare the ever-loving sh*t out of us with tales of haunted houses, bizarre side-shows, insane asylums, and murder mysteries.
The Good Place
1 season, 13 episodes | IMDb: 8.1/10
Set in the afterlife, The Good Place sees a lazy, entitled selfish, Arizona woman Eleanor Shellstrop (Kristen Bell) enter into "Heaven" only to discover that — due to a mixup — she was incorrectly assigned. With the help of her new friends and, Shellstrop endeavors to be a better person and earn her place in Heaven. In the early goings, the high-concept premise feels like it's going to run out of runway, but Mike Schur (Parks and Recreation) continually finds new directions to take the show and the characters, as the show humorously and sweetly tackles an array of moral dilemmas before arriving at a surprising twist ending. It's a charming, clever and delightful series with a freshly-imagined approached that only improves as the season progresses and new wrinkles are explored, while Ted Danson is his usual remarkable self. It's a fantastic comedy, one of the best TV shows on network television in recent years.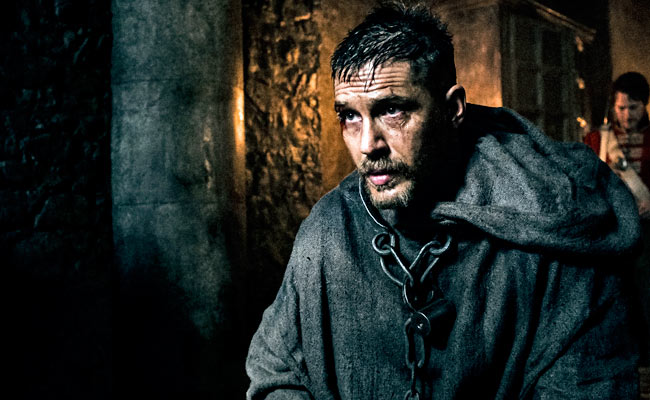 Taboo
1 season, 10 episodes | IMDb: 8.5/10
Steven Knight and Tom Hardy team up for this 17th century period drama that sees Hardy playing a rough-and-tumble mercenary returned home after his father's funeral to collect his inheritance. Along the way, he threatens the all-powerful East India Trading Company, gaining some dangerous new enemies, and his dark past rears its ugly head as he investigates his father's death, his mother's ties to witchcraft and the spirit world, and his feelings for his half-sister. There's a reason this show is called Taboo. You've been warned.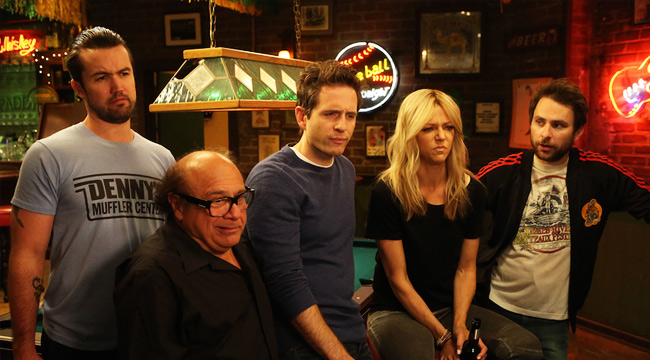 It's Always Sunny in Philadelphia
12 seasons, 133 episodes | IMDb: 8.8/10
There's no denying that the protagonists of It's Always Sunny in Philadelphia are amoral psychopaths. (Looking at you especially, Dennis.) But there are few shows out there that will elicit the same belly laughs. As these raging narcissists hang around Paddy's Irish Pub, you will be struck by the lack of self-awareness while at the same time hoping things never change. Glenn Howerton and Charlie Day shine especially bright, sucking into a vortex of kitten mittens and Nightman. Whether or not you believe in a higher power, you will thank your gods that you are better adjusted than these a**holes. Still, even after 10 seasons, we wouldn't have them any other way.
Preacher
3 seasons, 36 episodes | IMDb: 8.1/10
When Evan Goldberg and Seth Rogen announced plans to create a TV series based on the DC comic book series Preacher, the gut reaction was to ask, how? The series (anti)hero is a bad-boy preacher who is imbued with supernatural abilities after being possessed by a creature named Genesis. It's a tall order for a TV show to tackle, even one on AMC, but somehow Rogen and Goldberg were able to translate the over-the-top weirdness of the comic book (think angels, demons, drunken vampires, and a character with an a**hole for a mouth) into a strangely poignant, at times frustrating, drama. Seeing is believing with this one.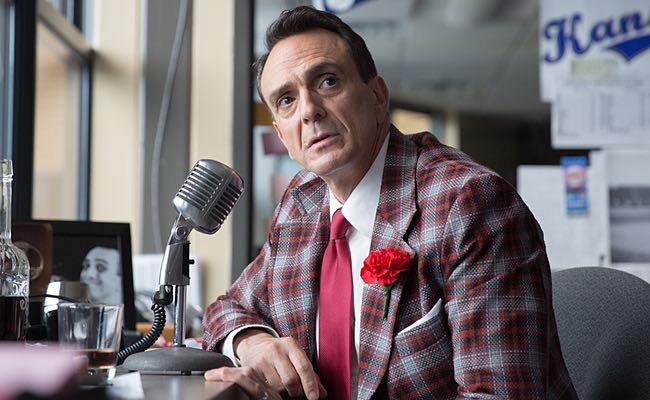 Brockmire
2 seasons, 18 episodes | IMDb: 8.1/10
Brockmire is the TV equivalent of what you would get if you mixed Anchorman with Major League Baseball. The show, a dark comedy-drama hybrid starring a brilliant Hank Azaria, follows a baseball announcer who walks in on his wife in a compromising position with another man, has a meltdown on air the next game, and then goes on a years-long bender before returning home to be the voice of a minor league series. Booze, sex, and a lot of filthy language in Azaria's "announcer voice" follow.
Brooklyn Nine-Nine
5 seasons, 112 episodes | IMDb: 8.3/10
Brooklyn Nine-Nine started out as an Andy Samberg-led comedy series that felt a little too familiar. Then, something magical happened. The police procedural started highlighting its stellar ensemble cast, actors like Terry Crews, Chelsea Peretti, Stephanie Beatriz and Andre Braugher. The result: a bitingly funny, bizarre crew of characters that are memorable and, more importantly, meme-able. You'll never get bored watching these idiots try to do real police work.
Twin Peaks
2 seasons, 30 episodes | IMDb: 8.8/10
Despite being off the air for decades, the mysteries of Twin Peaks still tormented viewers, and even after the 2017 revival, they're left more confused than ever. After the murder of homecoming queen Laura Palmer (Sheryl Lee), FBI Special Agent Dale Cooper (Kyle MacLachlan) peers beneath the veneer of the small town of Twin Peaks, Wash., and finds a strange darkness under the surface. If you're a fan of bizarre mysteries and a damn fine cup of coffee, Twin Peaks is the head trip for you.
Archer
8 seasons, 93 episodes | IMDb: 8.7/10
While it started as a hilarious James Bond spoof, Archer has really evolved into a show that can stand on its own. As super spies Sterling Archer (H. Jon Benjamin) and Lana Kane (Aisha Tyler) are out doing the cool derring-do for ISIS (not that ISIS), the rest of the desk jockeys are left to deal with their mess and a lack of unionization. Archer quickly banishes the idea that cartoons are just for children (seriously, this show is not for children) with enough sex, drugs, and terrible behavior that Bond himself would blush. And forget reinvention, this show regularly throws the playbook in the trash and imagines entire new storylines and characters to keep things fresh.
Steven Universe
5 seasons, 153 episodes | IMDb: 8.4/10
Cartoon Network's first animated comedy created solely by a woman, Steven Universe is a show that's gained a cult following thanks to its willingness to tackle tough themes and for its incredible world-building capabilities. The series follows Steven Universe, a young boy who lives with a trio of magical, humanoid aliens called the Crystal Gems. Though he lives in the human world, Steven is half-Gem and as such, often goes on adventures to save the planet from his own kind.
The Handmaid's Tale
2 seasons, 20 episodes | IMDb: 8.6/10
Although Margaret Atwood's novel was published back in 1985, the series premiere in 2017 still felt relevant as hell (and earned it a spot among our best TV shows of 2017 list). America as we know it is no more, taken over by a Christian fundamentalist organization and newly christened Gilead. However, things are not as idyllic as the name would suggest, as women are no longer allowed to have jobs, rights, hold property, or have any sort of agency. Instead they are either handmaids, a select few still-fertile women who are essentially used as broodmares for powerful men, and Marthas, who work in the rich households. Elisabeth Moss turns in a strong performance as Ofglen, the titular handmaid who is trying to survive and escape to her fugitive family, but Alexis Bledel steals the show in a devastating supporting turn. The Handmaid's Talegrabs viewers by the face and demands that they keep watching from the get-go, but prepare to get a little angry as the series progresses.
Vikings
5 seasons, 59 episodes | IMDb: 8.6/10
Loosely based on the exploits of the 9th century Viking ruler and king, Ragnar Lodbrok, Vikings doesn't match the level of complexity in Game of Thrones — the universe is smaller, there are fewer characters, and the plotting isn't as dense — but it's a solid, if not sometimes spectacular drama that gets progressively better over the course of the series. There's crunching violence, lots of axe play, and frequent battles as Ragnar extends his rule over parts of Europe. Compared to Game of Thrones, it's less about mind games and schemes, and more about brute force — and Ragnor's victories are seldom in doubt. Nevertheless, It's entertaining to watch the unrelenting violence unfold and revel in the demise of Ragnor's rivals. While Travis Fimmel is excellent in the lead role and Gustaf Skarsgård's Floki provides the often necessary comic relief, it's Katheryn Winnick — as Lagertha — who is the show's biggest draw.