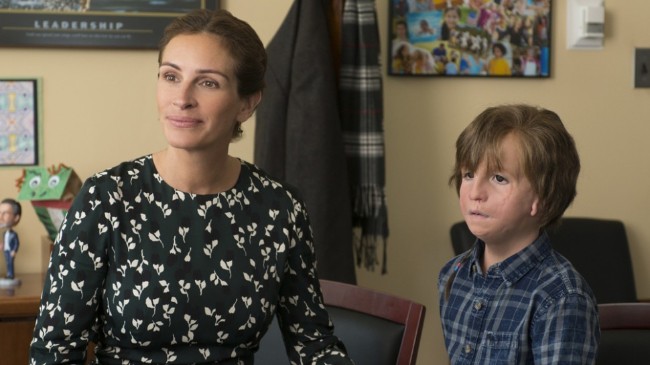 Hulu is kicking off the holiday season by giving us some exciting new titles and bringing back a few beloved films. There's something for everyone this month — a horror anthology centered around Thanksgiving celebrations, a family drama starring Julia Roberts, a Coen brothers cult classic — and a few series are making there way to the streaming platform for the first time, most notably, the entire run of Married With Children.
Here's everything coming to (and leaving) Hulu this month.
ARRIVING
Into The Dark: Flesh & Blood: Episode 2 (11/2)
The second installment of this Blumhouse horror anthology lands on Hulu this month. The gist is still the same: a truly terrifying event plays out during a major holiday, but this time we're treated to Dermot Mulroney as a seemingly doting father who just might be trying to off his teenage daughter on Thanksgiving day.
Wonder (11/2)
This family drama based on a NY Times bestseller stars Julia Roberts and Owen Wilson as parents to a truly remarkable little boy named Auggie. Auggie has a facial deformity that affects his social life as he begins going to school for the first time. Since we're nearing the holidays, and this is a time that's all about families, it makes sense Hulu added this to there library. The kids will love it (and, hopefully, learn from it.)
The Big Lebowski (11/1)
This crime-centric comedy from the Coen brothers is a cult classic for a reason. With Jeff Bridges playing "The Dude," a Los Angeles slacker and avid bowler caught up in a serious case of mistaken identity, and John Goodman playing his con-artist best friend, what's not to love about this movie? There's an embarrassment of riches in the talent department on this one: Phillip Seymour Hoffman, Julianne Moore, Sam Elliot, and Steve Buscemi to name a few, and the story's not bad either.
DEPARTING
American Psycho (11/30)
This Christian Bale slasher is one Hulu can't seem to decide on. It's left, then returned, then left again, then made a surprise comeback. Well, it's out the door at the end of this month (for who knows how long) so if watching Bale play a psychopath who likes to cut up hookers in his pristine New York City penthouse is your jam, catch it before it's gone.
Here's the full list of titles coming to Hulu in November:
11/1/18
K: Complete Season 2
Sailor Moon: Complete Season 3
Six: Complete Season 2
10 to Midnight
28 Days Later
2001 Maniacs
The Accused
The Adventures of Priscilla, Queen of the Desert
A Fairly Odd Christmas
A Fistful of Dynamite
A View to Kill
Albert
Alice
Amelie
Bachelor Party
Barbie Mariposa and Her Butterfly Fairy Friends
Barbie The Pearl Princess
The Big Lebowski
The Birdcage
Benny & Joon
Blue Chips
Boo 2! A Medea Halloween
Candyman 3: Day of the Dead
Carnage Park
De-Lovely
Death Wish
Death Wish 3
Death Wish IV: The Crackdown
Desperate Hours
Diamonds are Forever
Die Another Day
Dr. No
Dysfunktional Family
Existenz
The Faculty
For Your Eyes Only
Four Rooms
From Russia with Love
Gloria
Goldeneye
Goldfinger
Guns of the Magnificent Seven
Happy Christmas
Hellraiser III: Hell on Earth
Hellraiser IV: Bloodline
Hoosiers
Hostel
Hostel 2
The Interpreter
Invasion U.S.A.
Italian for Beginners
Jane Eyre
Joey
Johnny Reno
K2
Leaving Las Vegas
License to Kill
Like Water
Little Black Book
Little Man Tate
Little Odessa
Live and Let Die
The Living Daylights
Lord of War
Made
The Magnificent Seven Ride
The Man with the Golden Gun
Map of the Human Heart
The Mighty
Missing in Action II: The Beginning
The Mod Squad
Moonraker
Mullholland Falls
Never Back Down
Never Say Never Again
Ninja III: The Domination
Ocean's Eleven
Ocean's Twelve
Ocean's Thirteen
On Her Majesty's Secret Service
Phantoms
Pleasantville
Radio Days
The Red Violin
Rescue Dawn
Revenge of the Ninja
Rob Roy
Santa Hunters
Searching for Bobby Fischer
Soapdish
Soufra
Species: the Awakening
Supercop
The Spy Who Loved Me
Thunderball
Tiny Christmas
Tomorrow Never Dies
Wicker Park
The World is Not Enough
XXX
XXX: State of the Union
You Only Live Twice
11/2/18
Into The Dark: Flesh & Blood: Episode 2 Premiere (Hulu Original)
Dietland: Complete Season 1
Wonder
11/3/18
Vanderpump Rules: Complete Season 6
Kick-Ass
Larger Than Life
An Ordinary Man
11/6/18
Top Chef: Complete Season 15
11/7/18
Europa Report
11/8/18
Under the Tree
11/9/18
Married With Children: Complete Seasons 1-11
11/10/18
Big Hero 6
11/11/18
Monster's Ball
11/12/18
The Little Death
The Wolfpack
11/13/18
Bigfoot
Keepers of the Magic
Killer Bees
11/15/18
Hip-hop Houdini: Complete Season 1
12 Dog Days Till Christmas
A Christmas Kiss II
A Cinderella Christmas
A Dogwalker's Christmas Tale
A Puppy for Christmas
Angels in the Snow
Back to Christmas
Cartel Land
Christmas Belle
Christmas with the Andersons
Dust 2 Glory
Girlfriends of Christmas Past
Holly's Holiday
Luis & The Aliens
Married by Christmas
My Dad is Scrooge
My Santa
Naughty & Nice
Rodeo & Juliet
The Bank Job
The Christmas Calendar
The March Sisters at Christmas
The Secret of the Nutcracker
11/16/18
The Bisexual: Complete Season 1 Premiere (Hulu Original)
Holly Hobbie: Complete Season 1 (Hulu Original)
Dept. Q: A Conspiracy of Faith
Dept Q: The Absent One
Dept. Q: The Keeper of Lost Causes
11/18/18
Nina's World: Complete Season 2
Hero ("Ying Xiong")
The Condemned
11/20/18
Aliens and Agenda 21
11/21/18
Box of Moonlight
Damascus Cover
11/22/18
Hollywood Game Night: Season 6 Premiere
11/23/18
Baskets: Complete Season 3
11/24/18
Downsizing
11/28/18
Best of Enemies
11/29/18
Mighty Magiswords: Complete Season 1B (
Harry Brown
11/30/18
Broken Star
Daylight's End
Scenic Route
The Remains
Undrafted
Here's the full list of titles leaving Hulu in November:
11/30/18
A Good Woman
A Murder of Crows
Always Watching
American Psycho
American Psycho 2
Anaconda
Anarchy Parlor
Be Cool
Burnt Offerings
Cake
City Island
Cool It
Darkness
Doctor Dolittle 2
Driftwood
Emma
Escape From New York
Extortion
Fall Time
Get Shorty
Ghost In the Shell
Going Overboard
Harley Davidson and the Marlboro Man
I Am David
Joyride
Prancer
Primal Fear
Pumpkinhead
Pumpkinhead II: Blood Wings
Roger Dodger
Senorita Justice
Small Town Saturday Night
Species
Species II
Species III
Stanley & Iris
Stealth Fighter
The Terminator
They Came Together
What Dreams May Come
What's Eating Gilbert Grape
Without