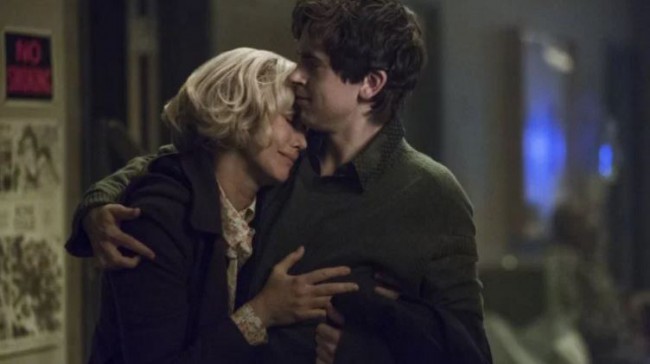 Bates Motel (A&E, 9 p.m.) — With season five being the definitive ending of the show, and where we'll see Norman go full Psycho mode, expect the season four premiere tonight to start giving us even more glimpses of the serial-killing psychopath Freddie Highmore's version ultimately grows up to be. First though, his mother tries to get him the help he so desperately needs while fielding a possible Romero romance and dealing with abandonment issues as Dylan worries over Emma.
Damien (A&E, 10 p.m.) — Remember The Omen? Well that creepy kid is all grown up, working as a war photographer and about to get blindsided with the news that he is the Antichrist. And you thought you were having a bad day.
Better Call Saul (AMC, 10 p.m.) — Mike considers a lucrative proposal that comes with its own set of dangerous consequences as Jimmy manages to accidentally cause problems for Kim.
Crazy Ex-Girlfriend (CW, 8 p.m.) — Josh wrestles with his feelings for Rebecca. To be fair, if I realized I was attracted to a crazy woman who had dedicated her life to stalking me, I'd be a bit conflicted too. Oh and Darryl's super proud of his newly-discovered bi-sexual status.
Gotham (Fox, 8 p.m.) — Bruce learns more about his parents' murderer as Penguin and Hugo Strange finally get their meet-cute and Gordon tries to figure out what happened to Victor Fries.
The Bachelor: The Women Tell All (ABC, 8 p.m.) — It's that time again. Sit back and enjoy as 17 scorned women confront the man they embarrassed themselves on national television for.
The Voice (NBC, 8 p.m.) — Another week of blind auditions. Yada yada yada…
Angie Tribeca (TBS, 9 p.m.) — Bill Murray pops by for a visit while Tribeca's on vacation and Geils is busy investigating a murder that happened on a swanky gold course.
Jane the Virgin (CW, 9 p.m.) — Raphael returns to his bachelor ways, much to the dismay of Petra who's expected to pop out their twins any day now. Meanwhile, Jane is enjoying her new relationship status and Rogelio discovers his newly-hired assistant has a secret identity.
The Magicians (Syfy, 9 p.m.) — Julia's rehab stint has her questioning whether magic is good for her or not; Quentin's busy tracking down the Beast; and Penny is violently attacked by someone she considered a friend.
Lucifer (Fox, 9 p.m.) — Chloe finds a lead that could break the Palmetto case as Lucifer gets his stolen container back.
Blindspot (NBC, 10 p.m.) — A veteran's shooting rampage on a military base drudges up some curious memories about Jane's GI Joe past.
Full Frontal With Samantha Bee (TBS, 10:30 p.m.) — Bee looks back at the 2010 midterm elections and tries to figure out how life has changed for people living in states that switched from blue to red.
LATE-NIGHT GUESTS: 
Jimmy Kimmel Live!: Naomi Watts, John Legend and Eliot Sumner
The Late Show With Stephen Colbert: Will Arnett, Charles Barkley and Max Greenfield
The Late Late Show With James Corden: Queen Latifah, David Walliams and Elle King
The Daily Show With Trevor Noah: lana Glazer & Abbi Jacobson
Conan: Snoop Dogg and Steve Wozniak
The Tonight Show Starring Jimmy Fallon and Late Night With Seth Meyers are repeats.