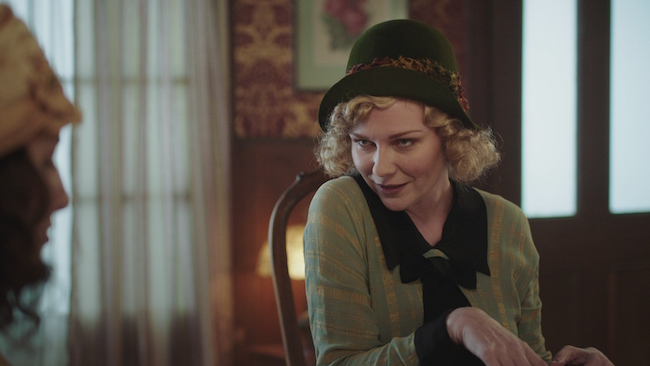 Drunk History (Comedy Central, 10:00 p.m.) – Kirsten Dunst and Taran Killam help tell the stories of Agatha Christie and her mysterious disappearance and America's most notorious unsolved airplane hijacking.
Hard Sun (Hulu) – Jim Sturgess stars in this sci-fi cop thriller that follows two detectives on opposite ends of the moral spectrum who must protect the innocent even as the world creeps towards certain disaster.
Lethal Weapon (Fox, 8:00 p.m.) – Murtaugh is under pressure to make things right at home while Trish risks her job to make a big deal and the detectives investigate a death at a construction site.
NCIS (CBS, 8:00 p.m.) – When cyanide is found in the care packages sent by a retired Marine Sergeant, Gibbs and the team work to clear his name.
The Bachelor: After the Final Rose (ABC, 8:00 p.m.) — Arie, Becca, and Lauren join host Chris Harrison to reflect on the season and hopefully release us from the never-ending hell of watching them fall in and out of love on TV.
The Flash (CW, 8:00 p.m.) — Barry, Jesse Quick, and Jay Garrick enter Flashtime to slow things down and prevent a bombing in Central City but the three might end up pushing themselves past the breaking point to save lives.
The Voice (NBC, 8:00 p.m.) – More blind auditions. You know the drill.
Black Lightning (CW, 9:00 p.m.) – Anissa struggles to adjust to the new normal while Black Lightning continues to hunt Tobias.
Bull (CBS, 9:00 p.m.) — Bull seizes upon the opportunity to get a new trial for an old client when doubt is cast upon evidence that helped convict him of murder 14 years earlier.
LA -> Vegas (Fox, 9:00 p.m.) – Captain Dave recruits Alan, Artem, and Bernard for a guy's night out to help cheer Colin up after he's served with divorce papers.
This Is Us (NBC, 9:00 p.m.) – Beth and Randall welcome new visitors to their home that test the family's bonds.
The Mick (Fox, 9:30 p.m.) – Chip helps Sabrina score a new fake ID in exchange for hanging out with her friends for the night while Mickey, Alba, and Jimmy go to extreme lengths in order to save Ben's reputation after he wets the bed at a sleepover.
Baskets (FX, 10:00 p.m.) – Dale has an accident at work and struggles with some terrible back pain while Christine and Martha enjoy brunch set to the tune of harp music.
Unsolved: The Murders of Tupac and The Notorious B.I.G. (USA, 10:00 p.m.) – The Biggie Smalls Task Force is briefed on the most promising theories about the murder while Poole and Miller travel to Las Vegas to investigate a possible connection between Biggie and Tupac's murders.
Chicago Med (NBC, 10:00 p.m.) – One doctor misdiagnoses a patient while another tries to solve a stabbing case. Dr. Reese's father comes to Dr. Charles for help without her knowledge.
Kevin (Probably) Saves the World (ABC, 10:00 p.m.) – Kevin's relationship with Kristin is threatened as he helps a stranger honor his deceased uncle's burial wishes.
Another Period (Comedy Central, 10:30 p.m.) – Beatrice finds herself in the middle of a media frenzy after her sex tape leaks.
The Detour (TBS, 10:30 p.m.) – We look back at Robin and Nate's first vacation together where, spoiler, they have a terrible time.
LATE NIGHT GUESTS
Jimmy Kimmel Live!: Neil Patrick Harris, Arie Luyendyk Jr., Jon Pardi
The Tonight Show Starring Jimmy Fallon: John Oliver, Lucy Hale, Marshmello & Anne-Marie
The Late Show With Stephen Colbert: Oprah Winfrey, Justin Hartley
Late Night With Seth Meyers: Luke Bryan, Mayor Eric Garcetti, Zach Danziger
The Late Late Show With James Corden: Eric Bana, Padma Lakshmi, Anders Holm
The Daily Show With Trevor Noah: Malcolm Jenkins
Conan: Martin Short, Natalie Zea, Michael Longfellow