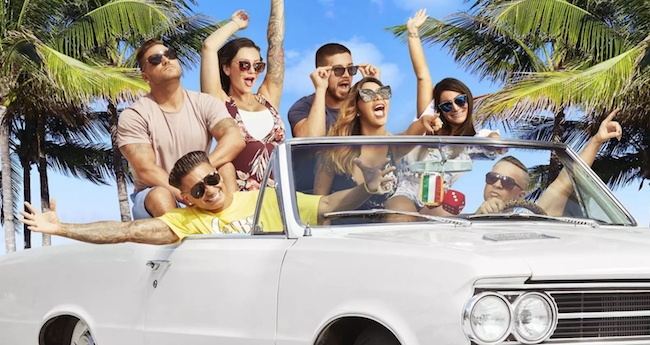 Jersey Shore Family Vacation (MTV, 8:00 p.m.) – The Guidos are back and reuniting in Miami to spend the summer at a new shore house. A lot has changed in the last few years – babies, marriages, plastic surgery – but if you think things won't be as crazy now that the crew is "all grown up," think again.
Atlanta (FX, 10:00 p.m.) – Darius makes a pretty poor decision when he explores an abandoned mansion with a concerning amount of security cameras set up in the house.
Gotham (Fox, 8:00 p.m.) – Penguin approaches Butch with a proposal while Gordon and Bullock try to stay one step ahead as Jerome zeroes in on his next target.
Grey's Anatomy (ABC, 8:00 p.m.) – Meredith and Jo try to salvage their research project while Amelia, Koracick, and DeLuca perform a groundbreaking surgery using ultrasound waves to remove a young patient's brain tumor.
Siren (Freeform, 8:00 p.m.) – Ben and Maddie start to realize that inviting a murderous mermaid into your home just isn't the best idea.
Supernatural (CW, 8:00 p.m.) – Sam and Dean are still searching for the pieces necessary to open a rift in the underworld and their latest mission sends them to a Men of Letters bunker from the 1920s where they have an interesting meeting with a hungry god from another dimension.
Superstore (NBC, 8:00 p.m.) – Amy doesn't feel Latina enough when a customer starts flirting with her in Spanish and Glenn begins pressuring his employees to by his wife's needlepoint after Cloud 9 opens its door to small businesses.
The Big Bang Theory (CBS, 8:00 p.m.) – Leonard decides to run against Sheldon after learning he's the president of the tenant's association.
A.P. Bio (NBC, 8:30 p.m.) — Jack is incensed when his dead mom's former lover shows up and suggests they commemorate her birthday.
Young Sheldon (CBS, 8:30 p.m.) – Sheldon becomes the victim of a school bully and his parents are unsure of how to deal with the situation.
Arrow (CW, 9:00 p.m.) – Curtis is presented with a dilemma after discovering his boyfriend subscribes to a hard anti-vigilante stance.
Station 19 (ABC, 9:00 p.m.) – Andy and Jack butt heads over budgeting issues at the station while the firefighters respond to s structural blaze at a new bed-and-breakfast.
Will & Grace (NBC, 9:00 p.m.) – The season ends with the group facing some hard decisions. Karen must choose between her lover and her husband, Jack contemplates a new romance, and Will and Grace confront the very real possibility that their parents might be hooking up.
Mom (CBS, 9:00 p.m.) – Bonnie's forced to be the stable one in her relationship when Adam suffers a devastating loss. Christy is surprised by a proposal from her boyfriend.
Champions (NBC, 9:30 p.m.) – Michael starts to fall into a rhythm with Vince and Matthew before his mother's rich and glamorous brother arrives to cause chaos.
Life in Pieces (CBS, 9:30 p.m.) — When Heather tells Sophia she has to get rid of her stuffed animals, Sophia stages a musical with them to see if she can change her mother's mind.
Nobodies (TV Land, 10:00 p.m.) — Larry goes behind Rachel and Hugh's back to rewrite a version of the pilot that Jen will like.
S.W.A.T. (CBS, 10:00 p.m.) – Hondo and the team go on a city-wide manhunt for an heiress kidnapped by a local gang.
Scandal (ABC, 10:00 p.m.) – Olivia's working hard on this whole turn-a-new-leaf thing but Mellie ruins everything by demanding Olivia take care of Cyrus once and for all.
LATE NIGHT GUESTS
Jimmy Kimmel Live!: Seth Rogen, Jaina Lee Ortiz, I'm With Her
The Tonight Show Starring Jimmy Fallon: Norman Reedus, Wendy Williams, Nate Bargatze
Late Night With Seth Meyers: Edie Falco, Jason Clarke, Sarah McBride, Steve Smith