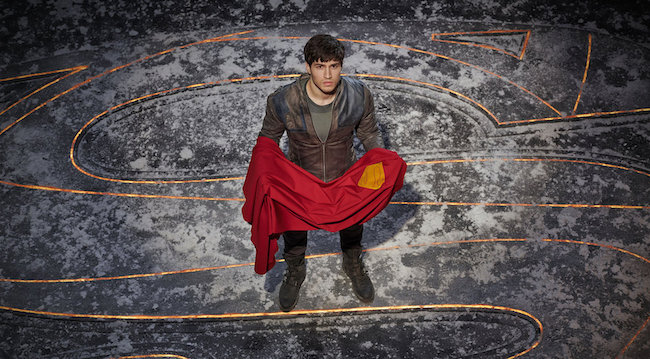 Krypton (Syfy, 10:00 p.m.) – The premiere of this Superman origin story follows Kal-El's grandpa, Seg-El, a brooding young man trying to redeem his family's tarnished reputation and save Krypton from a time-traveling villain bent on destroying the place before Superman can be born. It's … a lot, but I'm sure some people will like it.
The X-Files (Fox, 8:00 p.m.) – Season 11 ends with Mulder and Scully rushing to find William who has gone on the run while the Cigarette Smoking Man continues with his master plan.
Riverdale (CW, 8:00 p.m.) – Jughead takes drastic measures to voice his opposition to Hiram's newly announced plans for the town while Mary returns to help ease tensions between Archie and Fred.
Survivor (CBS, 8:00 p.m.) – A castaway tries to make amends after betraying his tribe.
The Goldbergs (ABC, 8:00 p.m.) – Erica and her dormmate come to blows over a scrunchie and Beverly eases her empty nest syndrome in a strange way.
grown-ish (Freeform, 8:00 p.m.) – Ana feels like a wet blanket after a game of "Never Have I Ever" while Zoey, Aaron, and Luca confront their issues with modern-day relationships.
Speechless (ABC, 8:30 p.m.) – Season two ends with JJ disappointed after being invited to a film festival for all the wrong reasons.
Alone Together (Freeform, 8:30 p.m.) – Benji and Esther get swept up in the fantasy of retirement life after Benji takes over managing his brother's apartment complex.
9-1-1 (Fox, 9:00 p.m.) – Season one ends with the first responders taking calls to help an unusual domestic disturbance, a "death" at a psychic's, and a horrific motorcycle crash while they each undergo huge changes in their personal lives.
Law & Order: Special Victims Unit (NBC, 9:00 p.m.) – The detective unit races to find a kid who goes missing on a school field trip to the city.
Life Sentence (CW, 9:00 p.m.) — As Stella settles into her new volunteer role as patient advocate, she learns that Sadie doesn't have anyone to fight for her. Stella suggests Sadie try the clinical trial that worked for her, but their hopes are dashed when they learn the trial ended.
Modern Family (ABC, 9:00 p.m.) – Gloria and Mitch are invited to a party at Oprah's while the rest of the family lounge at Haley's new boss' country house.
The Magicians (Syfy, 9:00 p.m.) – The group decides on their next move while Josh and Julia travel to a familiar place and find a use for their talents.
SEAL Team (CBS, 9:00 p.m.) – Jason leads his team on a dangerous daytime mission as Clay struggles with his long-distance relationship with Stella.
American Housewife (ABC, 9:30 p.m.) – Katie and Greg help the kids adjust after a close friend of the family dies and they get the news that their pet pig, Hans Gruber, must be returned to his natural habitat.
Chicago P.D. (NBC, 10:00 p.m.) – Upton assumes an old undercover identity to take down a meth ring and Voight calls in a favor for Olinksy.
Criminal Minds (CBS, 10:00 p.m.) — The BAU goes on the road to investigate a murderous clown terrorizing a sleepy Oklahoma town.
Designated Survivor (ABC, 10:00 p.m.) – President Kirkman must join forces with the Mayor of D.C. when a city-wide blackout threatens to derail the government.
The Assassination of Gianni Versace: American Crime Story (FX, 10:00 p.m.) – This wild and weird season closes with Andrew Cunanan's killing spree finally coming to an end.
LATE NIGHT GUESTS
Jimmy Kimmel Live!: Charlie Day, Henry Winkler, Sabrina Carpenter featuring Jonas Blue
The Tonight Show Starring Jimmy Fallon: James McAvoy, Zoey Deutch, Panic! at the Disco
The Late Show With Stephen Colbert: Keri Russell, Matthew Rhys, Getting Ripped with Justice Ruth Bader Ginsburg, Mindy Kaling
Late Night With Seth Meyers: Tyler Perry, Ben Mendelsohn, McKay Coppins, Lil' John Roberts
The Late Late Show With James Corden: Drew Barrymore, John Boyega, Weezer
The Daily Show With Trevor Noah: Matt Damon, Gary White
Conan: Judd Apatow, Krysten Ritter, Rozes with Nicky Romero