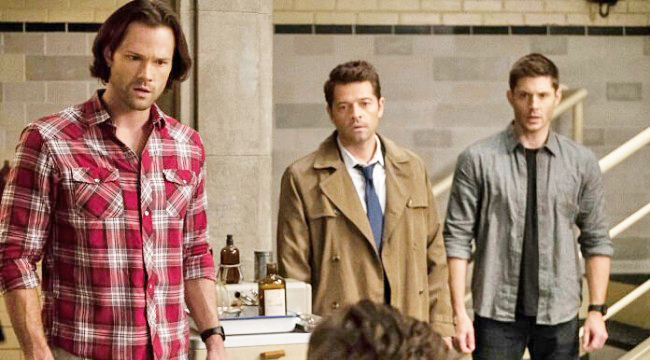 Supernatural (CW, 8:00 p.m.) — Jack goes to Dean for help in living his life as a human to the fullest while Sam and Castiel seek out a Shaman who may be able to help their friend.
LEGO Jurassic World: The Secret Exhibit (NBC, 8:00 p.m.) — Guess what time it is folks? That's right, it's winter hiatus for all your favorite TV shows, but here's a LEGO version of Jurassic World.
Thursday Night Football: New Orleans Saints at Dallas Cowboys (Fox, 8:00 p.m.) — The Saints travel to take on the Cowboys at AT&T Stadium tonight.
Legacies (CW, 9:00 p.m.) — Hope performs a series of magical tests on Landon in the hopes of uncovering more about his past as tensions rise amongst the students when Alaric announces the creation of an honor council.
The Wonderful World of Disney: Magical Holiday Celebration (ABC, 9:00 p.m.) — Disneyland celebrates the holidays with castle lightings at their parks around the world and performances by Gwen Stefani and more.
Will & Grace (NBC, 9:00 p.m.) — Grace accidentally meets Will's daughter, Katie, and she struggles to make amends with her own son, Noah, while Will's mom seeks comfort from her son after the death of her beloved dog.
Mom (CBS, 9:00 p.m.) — Bonnie takes care of Tammy after her oral surgery and Christy competes with her classmates for a coveted internship.
Murphy Brown (CBS, 9:30 p.m.) — After Frank is physically attacked on the air, Murphy fears disputing with an upcoming guest on her show.
I Feel Bad (NBC, 9:30 p.m.) — When an injury sidelines Maya's ability to look after the kids, Emet and David hire a babysitter and discover the extra help is more than worth it.
Law & Order: Special Victims Unit (NBC, 10:00 p.m.) — Two reclusive brothers and a decades-long secret are unearthed during the investigation into a prominent author's murder.
S.W.A.T. (CBS, 10:00 p.m.) — Hondo saves his sister, Brianna, after she's been roofied at a nightclub, and uses his day off to hunt a serial rapist.
LATE NIGHT GUESTS
The Tonight Show Starring Jimmy Fallon: Claire Foy, Mike Birbiglia, Jourdain Fisher
The Late Show With Stephen Colbert: Garth Brooks, Tim Meadows, Emma Willmann
The Late Late Show With James Corden: Kermit the Frog, Minka Kelly, Peter Krause, Sampha
The Daily Show With Trevor Noah: Lindy West