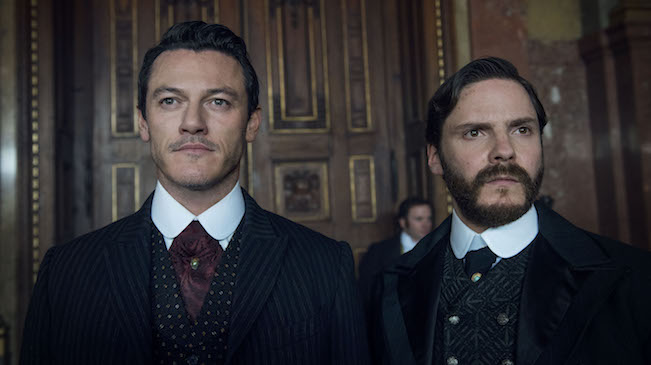 The Alienist (TNT, 9:00 p.m.) – Sara visits a mental hospital and confronts her own dark past as Kreizler and Moore follow a new lead.
Good Girls (NBC, 10:00 p.m.) – The women deal with their personal problems – Annie's custody battle takes a hit, Beth struggles to parent on her own, and Ruby grows increasingly worried about Sarah's health – as they're forced to rob yet another store to pay back what they own the gang.
DC's Legends of Tomorrow (CW, 8:00 p.m.) – Damien and Nora Darhrk kidnap Ray in order to force him to fix the Fire Totem but Ray uses the power struggle between the pair to disrupt their plans. As Nora and Ray team up to fix the totem in 1960's era Germany, they also come face to face with a younger, deadlier version of Damien.
Kevin Can Wait (CBS, 8:00 p.m.) – Vanessa decides to start cooking for Kevin after convincing him to break up with his neighbor Wendy, who romanced him with delicious dinners.
Lucifer (Fox, 8:00 p.m.) – Chloe puts her life on the line to help the victim of a Hollywood cover-up while Lucifer comes up with a scheme to assist Caine that gets thrown off course when Amenadiel and Maze get involved.
The Bachelor (ABC, 8:00 p.m.) – Season 22 comes to an end as Arie's final two bachelorettes — Becca K. and Lauren B. – meet his parents and wait to hear which one of them will receive the final rose.
The Voice (NBC, 8:00 p.m.) – More blind auditions continue and hopefully Alicia Keys doesn't make the mistake of insulting Kelly Clarkson's range again on national TV.
Man With a Plan (CBS, 8:30 p.m.) – Andi tries to outsmart Adam after the two disagree about Kate's decision to take an older guy to the school dance.
Superior Donuts (CBS, 9:00 p.m.) – Franco begins to question his relationship when he discovers his new girlfriend is really rich and Arthur's choice to raise the prices of donuts to pay for a new boat motor winds up alienating loyal customers and attracting the kind of hipsters he despises.
The Resident (Fox, 9:00 p.m.) – Conrad fights with an aggressive group of attending physicians on behalf of his patient but his bigger battle comes when his dad shows up at the hospital, unannounced.
iZombie (CW, 9:00 p.m.) — It's a real-life game of "Clue" for Liv after she eats the brains of a snooty dowager and must determine which one of her disgruntled servants killed her.
Living Biblically (CBS, 9:00 p.m.) – Chip decides to chuck his iPhone after Father Gene and Rabbi Gil point out that it's become a false idol of his, which causes his pregnant wife and coworkers to worry about his whereabouts.
American Dad! (TBS, 10:00 p.m.) – Stan tries to spruce up the Langley Falls historical mural that's been covered by years of graffiti but when he ends up making things even worse, the town blames Hayley for his mess.
McMafia (AMC, 10:00 p.m.) – Semiyon persuades Alex to enter a venture designed to harm Vadim's business in Prague.
Scorpion (CBS, 10:00 p.m.) – The team accidentally crash a bank robbery in progress and end up being held hostage by the perpetrators.
LATE NIGHT GUESTS
Jimmy Kimmel Live!: Katy Perry
The Tonight Show Starring Jimmy Fallon: Katie Holmes, Brian Tyree Henry, U.S. Women's Olympic Ice Hockey Champions, Meghan Trainor, Bun B
The Late Show With Stephen Colbert: David Oyelowo, Chelsea Clinton, Martha Stewart
Late Night With Seth Meyers: Nathan Lane, Michael K. Williams, Brad Meltzer, Zach Danziger
The Late Late Show With James Corden: Jeff Goldblum, Marlon Wayans, Jack Hanna, Albert Hammond Jr.
The Daily Show With Trevor Noah: David Chang
Conan: Kevin Hart, Nash Edgerton