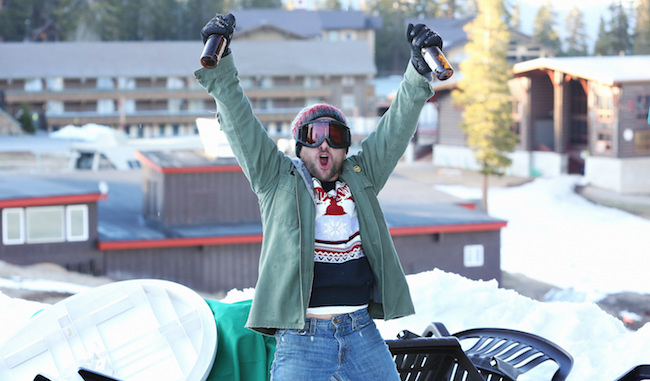 It's Always Sunny in Philadelphia (FXX, 10:00 p.m.) — Charlie tries to master "ski law" in this tribute to ski movies of the 1980s, because what could possibly go wrong when you give these idiots access to ski poles and lift tickets?
The Middle (ABC, 8:00 p.m.) — Brick tries to do sports and Mike needs more help than he thinks while trying to throw a surprise party for Frankie's 50th.
Criminal Minds (CBS, 8:00 p.m.) — You know how you know that Criminal Minds is hip? They know about Uber and Lyft, that's how. Bodies are popping up all over Boston and the gang suspects that a ride-share service might be the link between the victims.
Arrow (The CW, 8:00 p.m.) — Neal McDonough guest stars as Oliver's adversary in the revenge-fueled season four winter premiere.
American Idol (FOX, 8:00 p.m.) — More auditions, coming' yer way.
2 Broke Girls (CBS, 8:00 p.m.) — The girls go full Steve Bartman when they get free tickets to a pro basketball game.
Mysteries of Laura (NBC, 8:00 p.m.) — Self preservation pits Laura in a race against the clock when it turns out that the Michael Dunham murder case doesn't exactly have a red bow on it.
The Goldbergs (ABC, 8:30 p.m.) — Double Dare holds auditions at the school and Barry becomes convinced that Beverly is the Iggles' good luck charm, as if anything could help Philly's NFL franchise actually win something for a change.
Mike & Molly (CBS, 8:30 p.m.) — Mike guilt trips Molly over Peggy's heart attack and now she's trying to make amends for the fiasco.
Code Black (CBS, 9:00 p.m.) — A patient develops an unhealthy obsession with Malaya and an old ringer returns to Angels Memorial looking to reprise his role as an all-star ER doc.
Supernatural (The CW, 9:00 p.m.) — Lost's God figure Mark Pellegrino flexes his horns as Lucifer when he tries to buy Sam's soul.
Law & Order: SVU (NBC, 9:00 p.m.) — Date rape is still rape and Olivia Benson is here to show you how irreparably terrible the results of a he-said, she-said case can be for all parties involved.
Black-ish (ABC, 9:30 p.m.) — The Johnsons meet with a new accountant who tells them to tighten their belts, so it looks like the rockstar life is over for Dre and Bow.
Chicago PD (NBC, 10:00 p.m.) — Voight reaches deep into his past to get an old, ahem, "roommate" to turn rat.
Late Night Guests
The Late Show With Stephen Colbert — James Spader, Brandon Marshall, Sarah Koenig and Rev Run
Conan — Mike Tyson, Joanne Froggatt and Oh Wonder
The Late Late Show With James Corden — J.K. Simmons, Josh Holloway and Robbie Keane & Steven Gerrard
The Daily Show — Gael Garcia Bernal
The Tonight Show Starring Jimmy Fallon — Dakota Johnson, Marlon Wayans and Stephen Bishop
Jimmy Kimmel Live — Casey Affleck, Vanessa Hudgens and Savages
Late Night With Seth Meyers — Danny DeVito, Whitney Cummings and The Front Bottoms