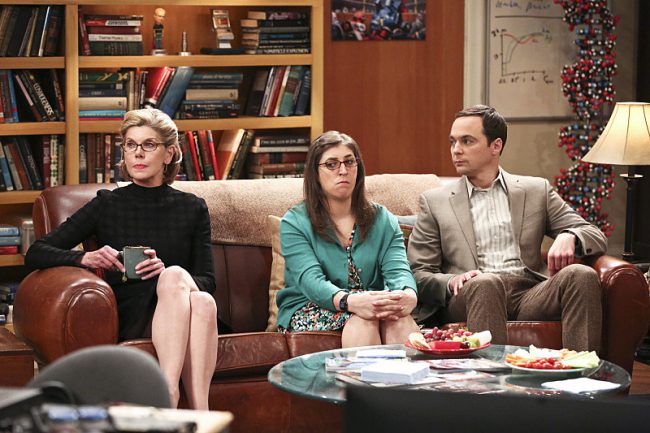 The Big Bang Theory (CBS, 8 p.m.) — The season nine finale sees a few of our nerds' parents arrive in town — Leonard's divorced mom and dad and Sheldon's holy-roller mother. Safe to say, all hell breaks loose. While those two are dealing with unwanted family time, Raj and Howard panic when the government contacts them about their guidance system.
Scandal (ABC, 9 p.m.) — Season five ends with the presidential candidates choosing their running mates and Cyrus coming across some dangerous information that could put the entire election in jeopardy.
The 100 (CW, 9 p.m.) — This show seems to have an affinity for two-part finales and their third season send off isn't any different. On tonight's part one of two, Clarke's left reeling after Luna refused to take the Flame and become the next commander so she turns to an unlikely ally for help.
Bones (Fox, 8 p.m.) — A private investigator with a long list of enemies is found frozen at the bottom of the Potomac so Brennan and Booth investigate, while dealing with Christine's first report card.
DC's Legends of Tomorrow (CW, 8 p.m.) — Snart tries on the "hero" look as Sara takes over the Waverider and Rip and Rory suffer at the hands of the Time Masters.
Grey's Anatomy (ABC, 8 p.m.) — After all of their fighting in court, Callie and Arizona's custody arrangement is far from harmonious. The two must figure out how to peacefully co-parent and Owen and Amelia attempt to navigate their own romantic relationship.
Strong (NBC, 8 p.m.) — The remaining teams fight to make it to the final four as relationships are tested and one trainee buckles under the pressure.
WWE Smackdown (USA, 8 p.m.) — The Usos take on Luke Gallows and Karl Anderson without interference from Roman Reigns and AJ Styles — they've been banned from the ring.
The Odd Couple (CBS, 8:30 p.m.) — Oscar meets Charlotte's son and Felix plans the perfect birthday dinner for Emily.
American Grit (Fox, 9 p.m.) — The contestants are tasked with surviving on their own in the wild which tests their determination and their ability to work together.
The Blacklist (NBC, 9 p.m.) — Another two part finale, tonight's Blacklist has Red and the task force out for revenge after Liz's murder and to get it, they must work outside the law.
Mom (CBS, 9 p.m.) — Christy and Bonnie have trouble figuring out why Violet and Gregory really broke up.
2 Broke Girls (CBS, 9:30 p.m.) — Season five wraps up with Max and Caroline trying to save Han from some gangsters he owes a good amount of money to. The lesson to be learned here: don't gamble your life's savings on women's tennis.
Archer (FX, 10 p.m.) — The team is hired to break up a marriage by seducing the husband and wife and getting everything on tape.
Inside Amy Schumer (Comedy Central, 10 p.m.) — Amy envisions a world where she is president of the United States (and has the ability to belt out a smooth tune on the saxophone).
Lip Sync Battle (SPIKE, 10 p.m.) — Wilmer Valderrama auditions to be the next Backstreet Boy but he has stiff competition from one Gina Rodriguez.
Orphan Black (BBC, 10 p.m.) — Cosima and Donnie investigate the Neolution fertility center Sarah reconnects with Kira to take down Felix.
The Catch (ABC, 10 p.m.) — Sophie asks for the team's help in saving her friend from a bad business deal and Ben plots to break someone out of FBI custody.
Game of Silence (NBC, 10 p.m.) — Marina confronts Jackson about his feelings for Jessie as Shawn seeks justice for Boots' killer.
LATE NIGHT GUESTS
Jimmy Kimmel Live!: Kerry Washington, Shonda Rhimes, Rob Gronkowski, Goo Goo Dolls
The Tonight Show Starring Jimmy Fallon: Drake, Megyn Kelly, Meghan Trainor, Emily Wells
The Late Show With Stephen Colbert: Ryan Gosling, Russell Crowe, Jessie Mueller, Animal Collective
Late Night With Seth Meyers: Rachel Maddow, Judd Apatow, Joe Pera, Eric Kretz
The Late Late Show With James Corden: Mindy Kaling, Gordon Ramsay, Transviolet
The Daily Show With Trevor Noah: B.J. Novak
Conan: Ewan McGregor, Tracee Ellis Ross, Matt Donaher