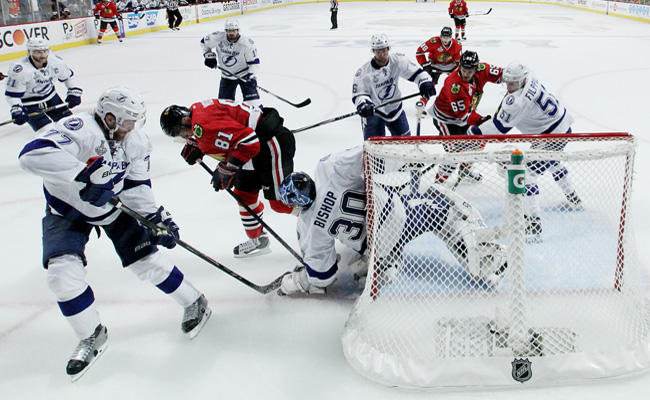 NHL Playoffs (NBCSN, 8:00 p.m.) — The Blackhawks host the Lightning for Game 4 of the Stanley Cup Finals.
CMT Music Awards (CMT, 8:00 p.m.) — Kenny Chesney, Florida Georgia Line, Jason Aldean and more of the biggest country music stars on the planet will perform as Erin Andrews and Brittany Snow host the festivities from Nash Vegas.
Law & Order: SVU (USA, Right Now – 11:00 p.m.) — In the criminal justice system, sexually-based offenses are considered especially heinous. In New York City, the police who investigate these vicious crimes are members of an elite squad known as the Special Victims Unit. These are their stories … and what you're probably marathon-ing until you pass out tonight. The transition from one episode to the next is so quick. That's how they get ya.
MLB Wednesday Night Baseball (ESPN, 8:00 p.m.) — Tune in to check out the Red Sox and Orioles so you can watch third baseman Manny Machado throw someone out from shallow left field, probably.
BattleFrog College Championship (ESPN2, 8:00 p.m.) — Sadly, this isn't a tournament of stoned college kids playing the classic NES game Battletoads. Instead, 64 athletes from 16 schools compete in a 4-person, 400-meter relay featuring 20 obstacles designed by Navy SEALs in what looks like a cross between American Ninja Warrior and the Tough Mudder Tom from ad sales has been talking about for the last six months.
American Pickers (History, 9:00 p.m.) — Much like the way you're scrolling through your television listings in the vast abyss that is the space between the spring finales and the summer premieres, Mike Wolfe and Frank Fritz rummage through a bunch of crap in hopes of finding a hidden gem. This week they check out a bunch of Evel Knievel memorabilia.
LATE NIGHT GUESTS: Bryce Dallas Howard, Tony Hale and Zella Day on Conan; Chris Pratt, Bryce Dallas Howard and Jake Johnson on Corden; Colin Quinn on The Daily Show; Whoopi Goldberg, Christian Slater and Of Monsters and Men on Fallon; Kit Harington, comedian Chris Gethard and Dwight Yoakam on Kimmel; Taran Killam, Hugh Dancy and Kacey Musgraves on Meyers.