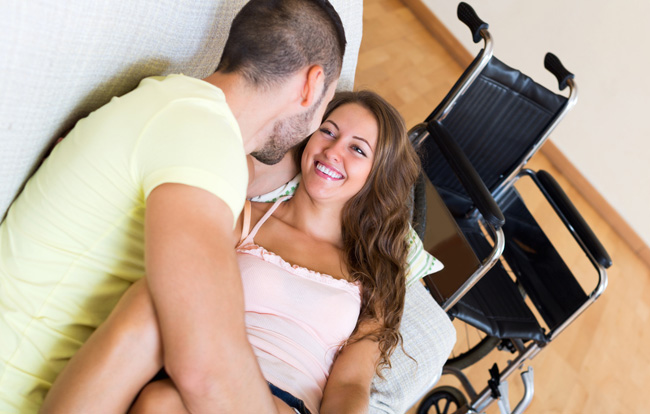 Stella Palikarova, a 35-year-old disability awareness consultant from Toronto, who recently presented a paper on dating and sexuality amongst heterosexual females with congenital mobility disabilities, has organized what may be the world's first mass orgy for the disabled this summer. The orgy is being called Deliciously Disabled and will take place on August 14, conveniently during the Parapan American Games, which is being held in Toronto this year.
The orgy, which is being hosted by Toronto's Buddies in Bad Times Theatre, has room for 125 people, including 20 spots for wheelchairs. However, anyone is welcome to attend, disabled or not. Admission is just $20, and personal support workers get in for free.
Palikarova, who herself is afflicted with spinal muscular atrophy, is hoping to break down barriers because intimacy amongst the disabled tends to be a taboo subject. She tells the Toronto Sun that "the Berlin Wall of sex for people with disabilities is coming down!"
If you're not shy, well, "a wheelchair can become just a big sex toy," says Andrew Morrison-Gurza, 31, another organizer and disability awareness consultant who has cerebral palsy.

Okay, I know some of you are thinking, good on them. But some are murmuring, "ewwwww." "Each to their own," says Stella.

"The naysayers are just subconsciously hating the fact that people in wheelchairs are having great sex — better sex than a lot of people are having. I won't apologize for that."

"By making this party accessible, we are saying openly that people with disabilities are sexual beings … and not only in more conventional ways."
Everybody deserves to get their freak on, so good on them in trailblazing this very important cause. In addition to the sex stuff, Palikarova is also hoping that the event will raise awareness for making Toronto more accessible to the disabled, an area which apparently has much room for improvement.