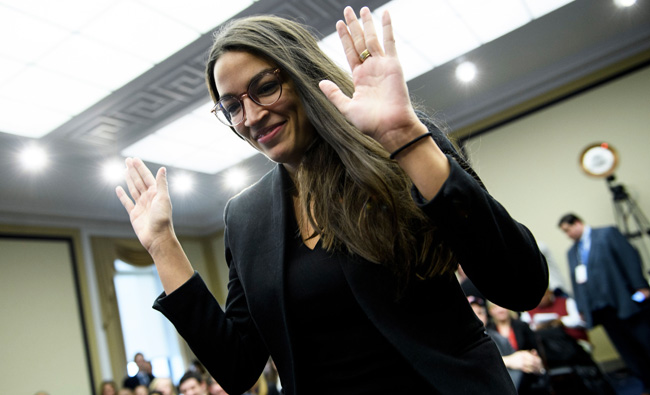 Newly elected Rep. Alexandria Ocasio-Cortez (D-NY) is making in clear that she's not here to make friends — particularly when it comes to the GOP establishment that continues to target her due to her age, gender, economic status, and socialist viewpoints. Likewise, Ocasio-Cortez did not have much patience for an offensive meme that Donald Trump Jr. shared on Instagram this week.
The meme displays a photo of the Bronx-born child of Puerto Rican heritage with the caption, "Why are you so afraid of a socialist economy?" with a photo of President Trump underneath with the caption, "Because Americans want to walk their dogs, not eat them."
"It's funny cuz it's true!!!" captioned the president's most clever son, along with a few laughing-face and American flag emojis.
The low-blow was an apparent reference to the plight of Venezuela, which has suffered an economic crisis due to corruption and failed socialist policies and has led to reports of people eating pets, rats, and zoo animals to keep from starvation.
At the very least, it's hardly the subject matter where laughing-face emojis are appropriate, and on Friday afternoon, Ocasio-Cortez fired back.
"I have noticed that Junior here has a habit of posting nonsense about me whenever the Mueller investigation heats up," the 29-year-old tweeted. Please, keep it coming Jr – it's definitely a 'very, very large brain' idea to troll a member of a body that will have subpoena power in a month."
"Have fun!" she added.
And once again, the internet rallied around their queen:
Very true to that last point. Bronx: 1, Manhattan: 0