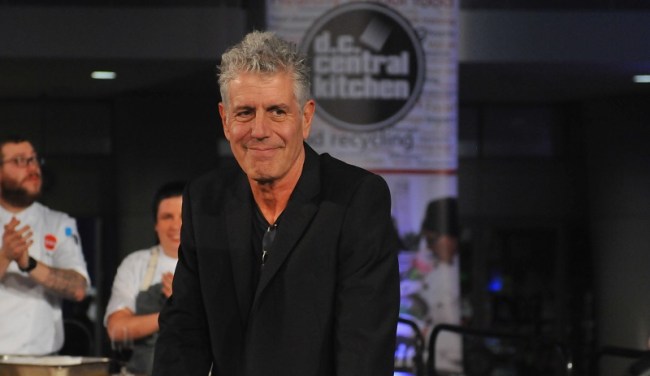 Foodie-types have been talking about the plans for Anthony Bourdain's International Food Market in New York City for a while now, but some new developments were finally revealed at the World Street Food Congress — which is a thing! — and it sounds like it's going to be pretty amazing. Like global futuristic amazing. Like dystopian amazing. Yes, like Blade Runner amazing.
Standing in for Bourdain was his business partner and Bourdain Market co-founder Stephen Werther, who provided the following details about this massive, internationally-inspired street food extravaganza:
"…Hopefully, it will be a place where New Yorkers go to discover many of the destinations that Bourdain has brought into our homes on TV for the last decade. We just want to bring in the most dangerously delicious street food from around the world.

"It is meant to be crowded and chaotic because that's what hawker centres should be. It should activate all of your senses … and, yes, you should stand in line. Why not? It took them a long time to make it, you should be willing to wait in line to buy it." …

"It's a bit more chaotic than how the hawkers markets are organised here. Hopefully, it will be as crowded and popular. But it is supposed to be a mash-up of foods, styles, smells, tastes and visuals."
Guys, it's going to be No Reservations: The Ride! Except instead of rides, it's going to be stuff we can eat! But that's not all. Werther apparently presented a floor plan that was described as "crazy-looking" and inspired by "the set decor of Blade Runner and the vibrant back alleys of Tokyo."
There was nothing mentioned about these "hawkers" being replicants or if the "authentic" food being served is some sort of replicated matter that we will believe tastes as authentic as the best of the world's street food offerings, but watch out for pale women with statement eye makeup doing flips around the marketplace, even if she's just trying to sell you arancini.
But seriously, here is what the marketplace will contain:
…[B]esides the produce market, there will also be a 1,500 sq ft oyster bar, alongside specialised butchers, a bakery, a tapas bar, a pastry shop and even a tea shop, "but not the usual suspects". And to complement what some at this point might be imagining could look like the grand markets of the world under one roof, he added that there are also plans for an outdoor beer garden with an Asian flair.
Yes. Yes yes yes yes yes. A million times yes. I will start skipping my lunch now, even though no date was announced for when this will hit NYC. I just really want to be ready.
Source: Today Online