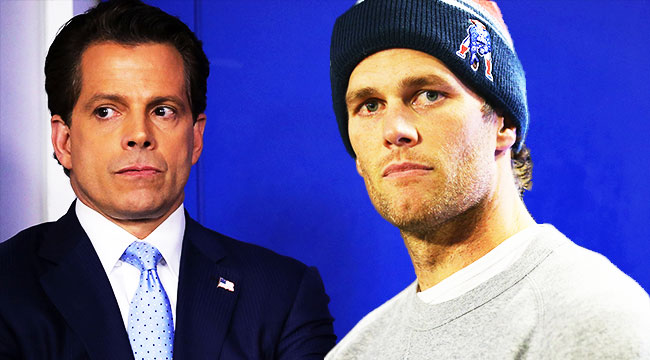 In April, Tom Brady declined to participate in a customary post-Super Bowl White House visit alongside his New England Patriots teammates. Since he's the team's most recognizable face (and of course, its starting quarterback), eyebrows raised, but Brady reps quickly explained that his absence was due to "personal family matters" (which may have included his sick mother). Well, Anthony Scaramucci — the flashy and dashy former White House Comms. Director — is here to drop some hefty speculation over what he believes is the true reason for Brady's glaring departure.
Or at least, the Mooch attempted to spill tea and spread gossip during his much anticipated Monday hosting gig for TMZ on TV. For whatever reason, the Mooch insinuated that Brady's wife, Gisele Bundchen, banned Brady from gleefully trotting over to the White House because she was jealous about Ivanka Trump, with whom Scaramucci says that Brady — maybe — enjoyed a previous relationship. For real?
A.S. says he didn't have direct knowledge of the situation — but strongly suggested Gisele shut Brady down … saying, "I think she's possessive of him and probably didn't want him there."

Mooch suggests Gisele may have been jealous of Ivanka Trump — saying he thinks Brady and Ivanka may have dated at one point in the past.

In fact, back in 2004 … Donald praised Tom as a great guy who would make a "great combination" with Ivanka.
As expected, a Trump family representative quickly told TMZ that Mooch's theory "is not true" although Brady and Ivanka have been friendly "for years." If anyone is wondering if these two could have possibly been romantic in the past, well, Kaiser at Celebitchy did some timeline legwork and thinks there may have been a possible window when these two were in their mid 20s.
In the end, though, does it really matter whether Brady and Ivanka did date or hookup? This is Scaramucci, after all, and no one takes him seriously except as entertainment value. And the Mooch knew that he needed to deliver something juicy to TMZ. Something more than Bundchen bringing down the hammer because Brady got busted with a #MAGA hat in his locker.
So, the Mooch (tried to) bring the scandal! it's what he was born to do.
(Via TMZ)