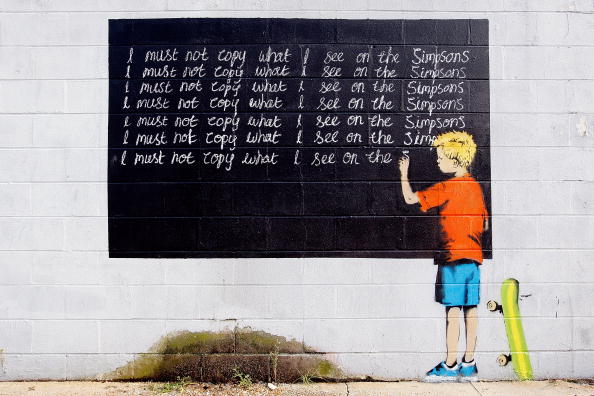 Here's a pretty surreal story if you are a fan of the enigmatic street artist Banksy. A boy by the name of Ben Azarya is traveling on a train in Cumbria in the United Kingdom when he sees a man drop some paints and art supplies out of a bag. He stops to help the man gather his things. Before the man leaves, he thanks the boy for helping him in the most insane and awesome way possible (if this proves to be true). From NY Daily News:
"I picked them up for him and after that he started signing it in weird letters and numbers. He said 'do you know who Robin Banks is?'

"I said no and he said 'this will be worth about ($30,000) – have a good life, brother'."
Young Ben had no idea the significance of the encounter until he got home and began doing some research on the name. Eventually, he figured out the connection to legendary street artist Banksy, and the rest is potential $30,000.00 history. The kid described Banksy as a blonde haired, blue eyed, wacky looking white man in his late forties with scruffy clothes and a fluffy hat. And here I was, assuming the man was trying to "blend in" for the last 20 years.
Before we all stand up and applaud at this, let it be known, it has been HEAVILY suggested that Ben and his family get the piece appraised before they start celebrating. Still, this could be about as close to an actual Banksy sighting the world has had yet, which is pretty cool. So when you see strangers drop things, help them. You never know when it could result in an extra wad of cash or a one of kind signed painting.
H/T to Complex