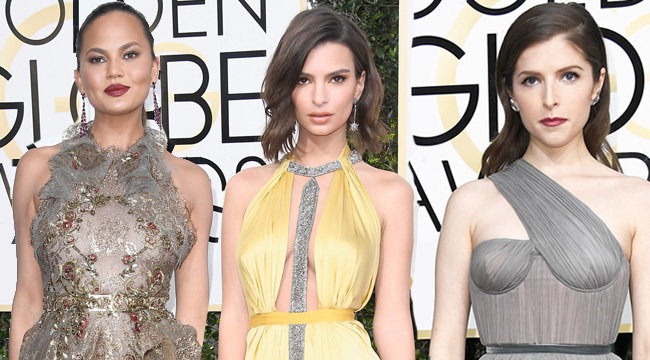 Sunday's Golden Globes ceremony largely honored La La Land when it wasn't dominated by the roasting and criticism of President-elect Donald Trump. Some viral moments went down, but things were pretty low key. Until now, that is, because it's time for our customary Monday-morning quarterbacking of a fashion roundup. This presents the opportunity to be a little bit shallow by criticizing and praising dresses (though never taking a bad ensemble out on the wearer) before returning to the seriousness of reality.
Let's do this, shall we?
Best – Emma Stone: The La La Land actress wore a beautiful, nude-colored Valentino gown that was covered in dozens of stars, which made up the straps of her dress and gradually faded from embellishments to a softer pattern in the drapey skirt below. The look is at once over-the-top (and accentuated with a dripping diamond-choker necklace) while still qualifying as classic and subdued for an exquisite execution.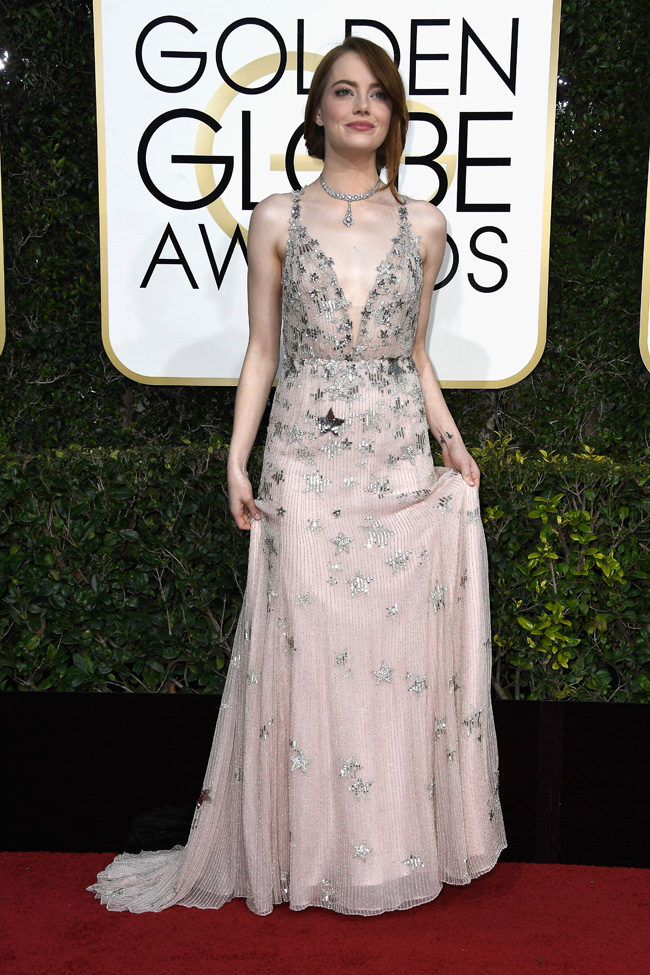 Worst – Blake Lively: Something went wrong on the way to the Golden Globes, for Lively brought a rare dull moment on the red carpet. This Versace gown didn't fail for lack of trying, but the details overwhelmed what could have been a classic silhouette. Perhaps the odd pockets threw the ensemble over the edge, but those chunky emerald bracelets didn't help. Overall, this was a fashion misfire.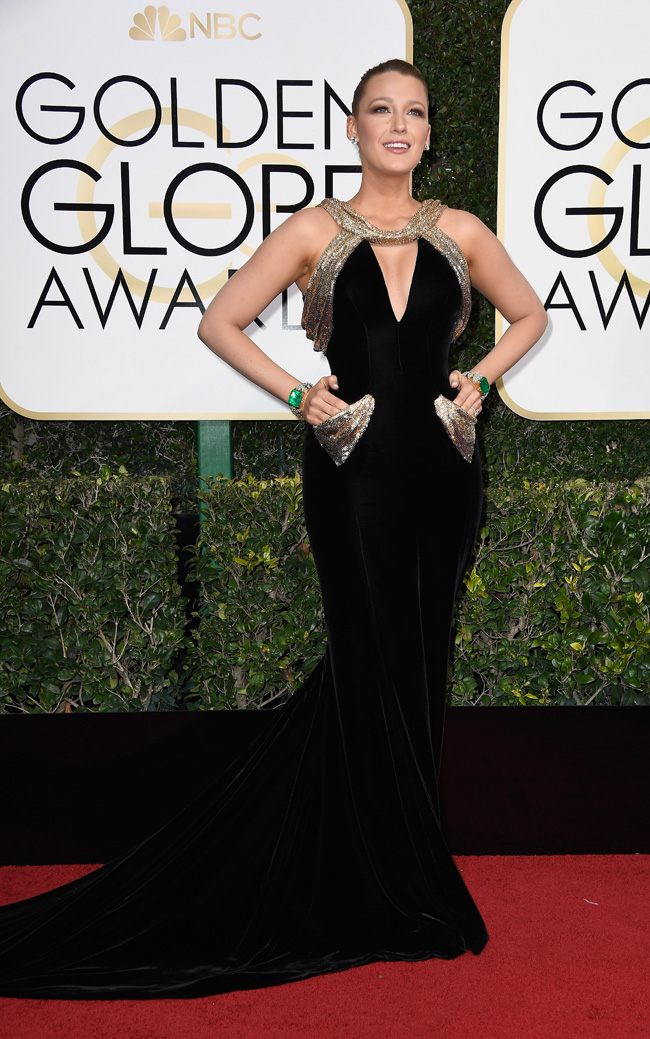 Best – Lily Collins: Zuhair Murad created a princess-like gown and spared no fussy detail, but the full effect is one badass fairy tale. Collins loves and completely own this look, from the bold red lip and upswept hair to the messy layers of tulle swirling underneath the embellished top layer of the skirt. The effect is one of controlled chaos.
Worst – Zoe Saldana: This Gucci Premiere dress was full of ill-advised ruffles and clashing pinks with a strange, satin-belted bow that ties together a dress that's wearing Saldana, rather than the other way around. In Saldana's defense, she generally chooses Dolce & Gabbana, so perhaps she's simply off her game. Better luck at the Oscars?
Best – Evan Rachel Wood: The Westwood star chose an androgynous Altuzarra suit because, as she told E! host Ryan Seacrest, "I've been to the Globes six times, and I've worn a dress every time." So, Wood changed things up but insisted "I'm not trying to protest dresses, but I wanted to make sure that young girls and women knew they aren't a requirement." Wood also paid homage to David Bowie, Victor Victoria, and Marlene Dietrich and owned the hell out of this suit. She was probably pretty comfy.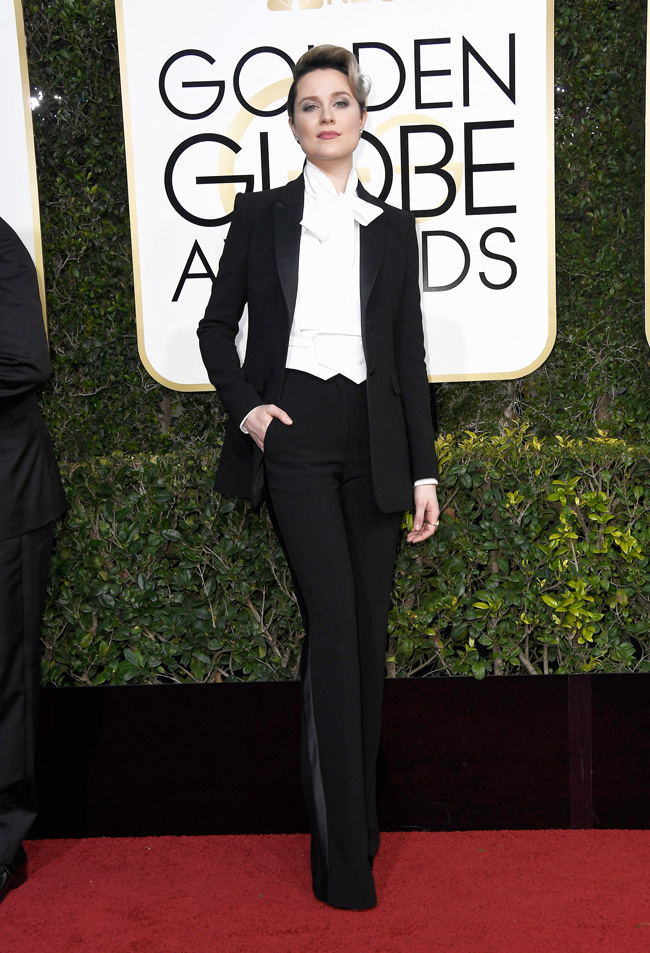 Worst – Sarah Jessica Parker: Well, one has to admire the whimsy with which Parker always storms the red carpet. She doesn't care much about fashion critics, but it's still hard to warm up to this white Vera Wang gown. Some outlets mistook her braided hair crown to be a Princess Leia tribute, but Parker stated that she was actually paying tribute to her mother instead.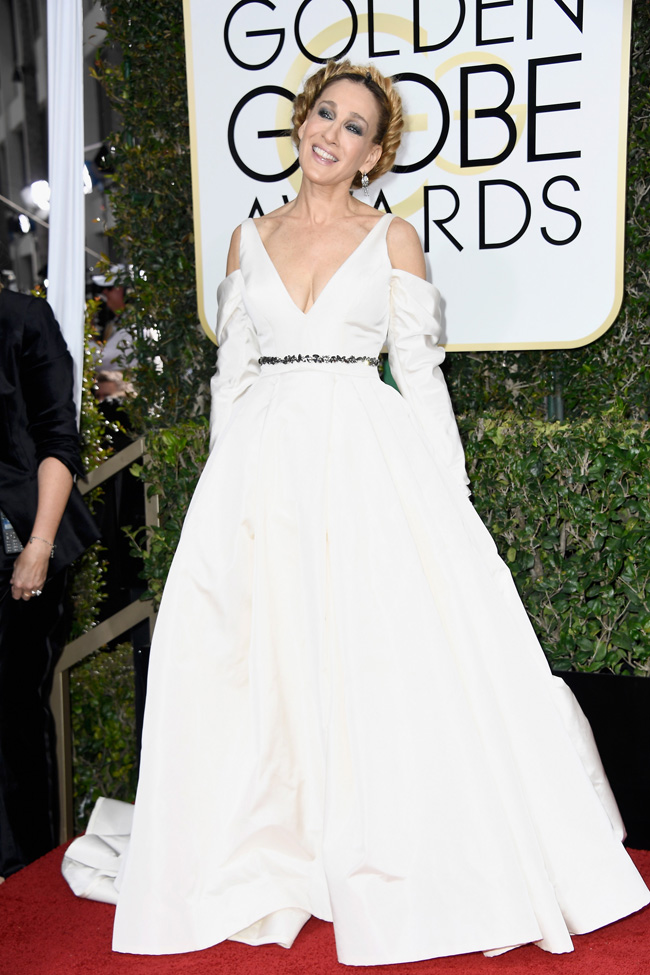 Best – Priyanka Chopra: One can rarely go wrong in Ralph Lauren, and Chopra scored high with this gilded metallic gown that was was perfectly tailored with a plunging neckline. She paired the dramatic dress with flowing, full hair and slightly gothy makeup. Stunning.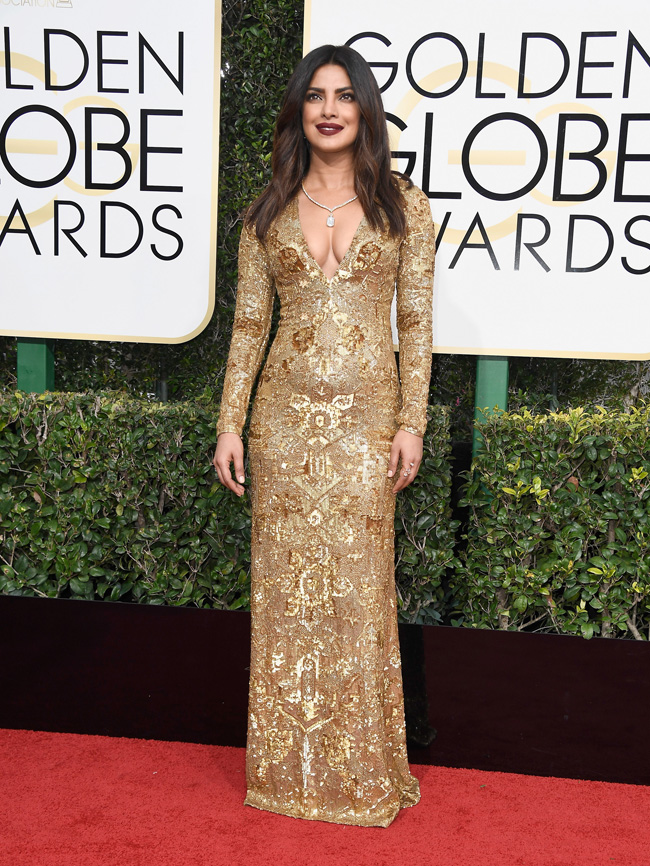 Worst – Jessica Biel: This Elie Saab Haute Couture gown combines several contrasting fabrics and looks like something you'd see in a fashion magazine but never in the flesh. But alas, Biel took the plunge in that risky top and a flouncy skirt that may have balanced each other out, if not for all those flowery appliques. Sadly the gown overpowered Biel, who can make sleeker gowns look like a million bucks. This dress, however, is a lost cause.
Best – Sienna Miller: This simple white Michael Kors dress stands out with a few unexpected touches like an exposed midriff that likely wouldn't work on an Oscars gown. The messy ponytail paired with all of those pearls adds up to a creatively styled look that's both formal and adventurous.

Worst – Sophie Turner: This Louis Vuitton ensemble is a classic case of way too much. There are too many textures, shapes, and fabrics at play, and the white fabric looks like oddly placed napkins on top of a Jazzersize ensemble. The most inexcusable detail, however, would be those odd, detached shoulder pads. This look may have worked in the 1980s (and probably did).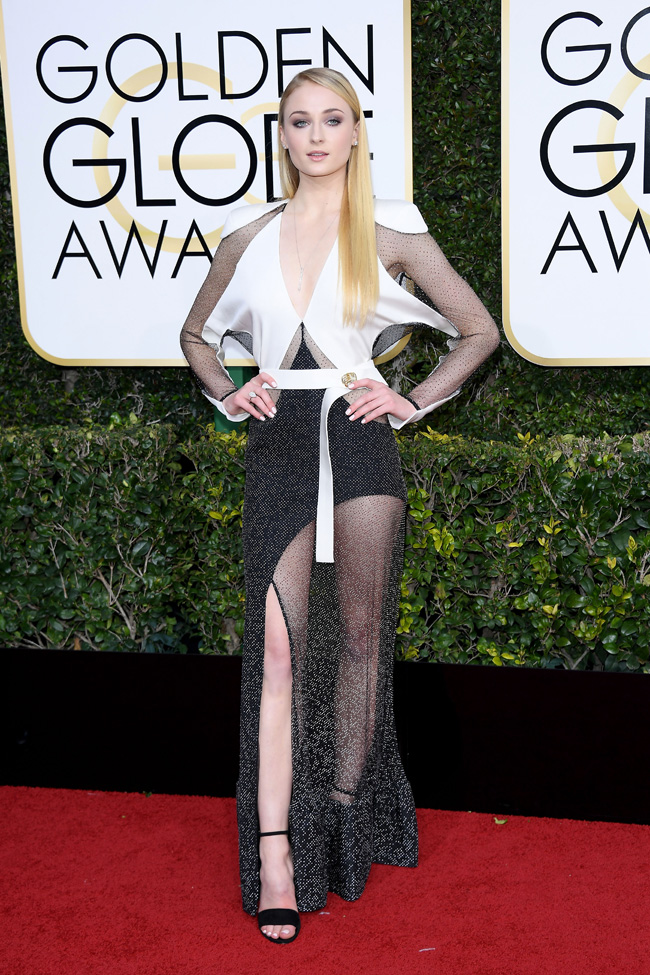 Best – Ruth Negga: The Loving and Preacher star is new to the awards circuit, but this Louis Vuitton gown makes up for lost time. The custom gown reportedly took 120 hours to make, which is rather insane, but the final product was amazing. The liquid metal effect is anchored by some structural detailing and a giant zipper that add up to an unforgettable look.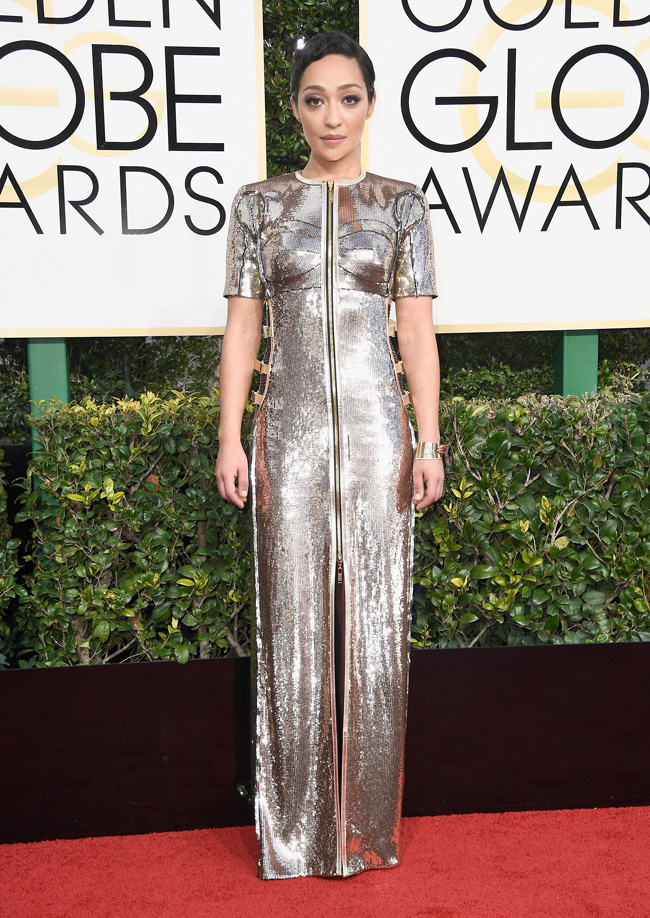 Worst – Winona Ryder: Everyone loves Ryder, who ushers in loads of nostalgia and goodwill with every appearance. Perhaps that's why it's so painful to see her play it safe in this rumply black Viktor & Rolf gown. It's certainly possible to wear a formal black dress but still have some fun, but Ryder's stylist simply went through the motions with this uninspired look.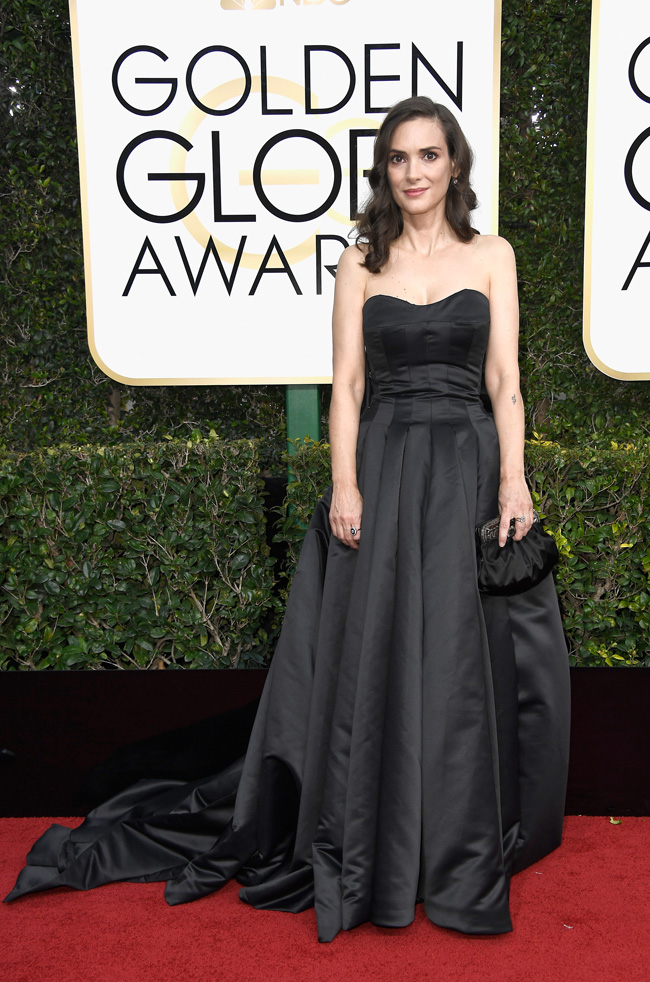 Best – Janelle Monae: Although this ensemble saw some roasting on social media, this Armani Prive custom gown puts an edgy spin on the little black dress that's just perfect for the Globes. The Hidden Figures star (not Hidden Fences, which fell from both Jenna Bush Hager and Michael Keatons' mouths) pulled off every detail, from the sequin-y top to the netted and polka-dotted mullet skirt. How exactly does this dress work? No idea, but it does.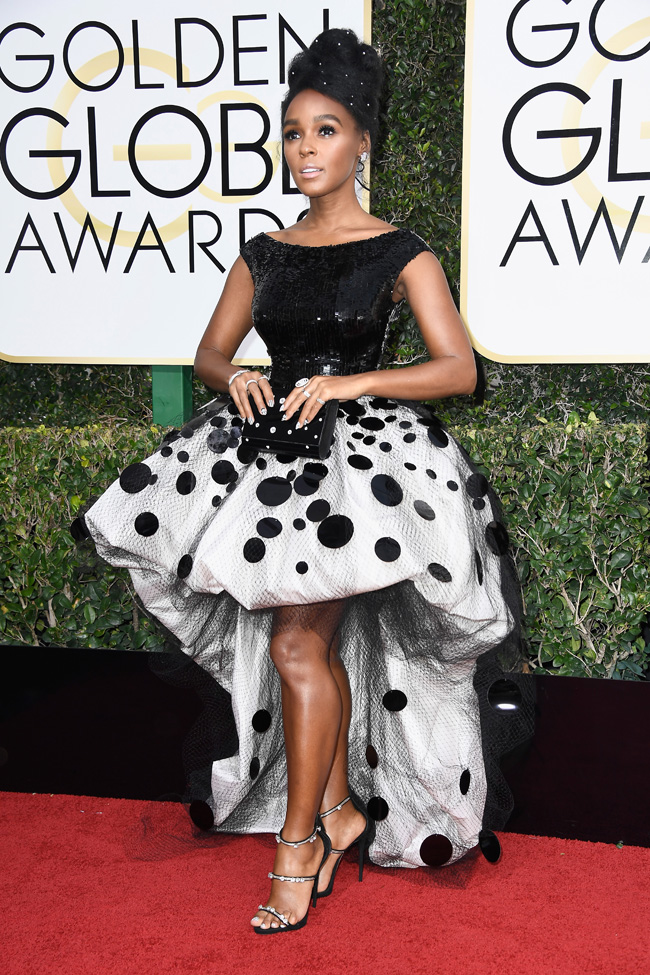 Worst – Nicole Kidman: Perhaps this Alexander McQueen gown took inspiration from Westworld, but the details of this sheer gown go overboard. Maybe without those sleeves, the look could have passed muster, or perhaps the faux corset detailing around the waist was where it all went wrong. The colors of the dress are lovely, however, as is Kidman herself.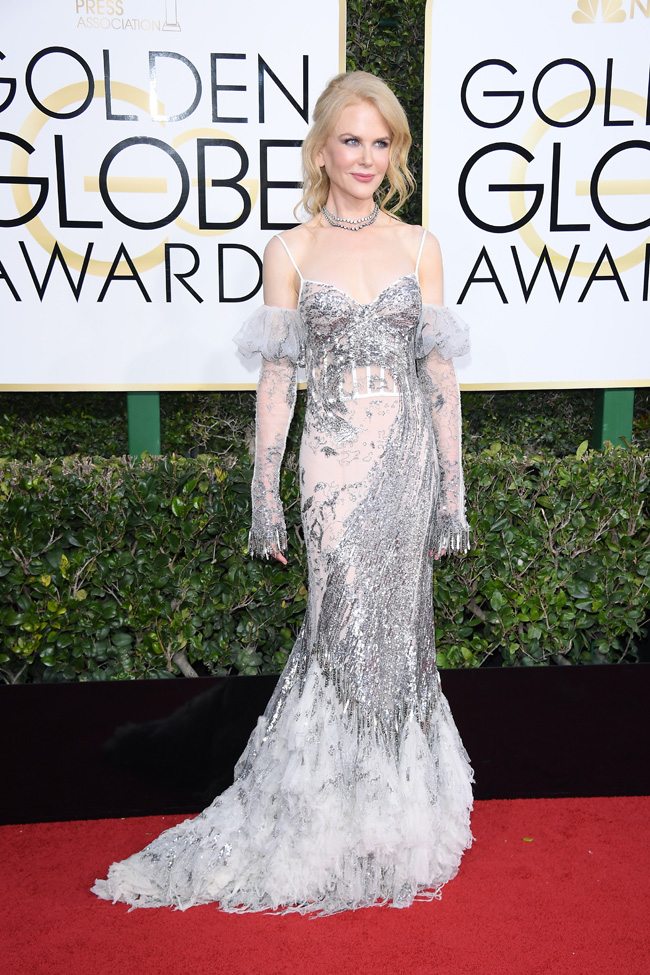 Best – Thandie Newton: An otherwise simple and potentially dull white Monse dress receives a pick-me-up from a fiery embellishment at the bottom. The off-the-shoulder look also adds to the oomph of a very polished look with sleek hair and jewels and a touch of the daring.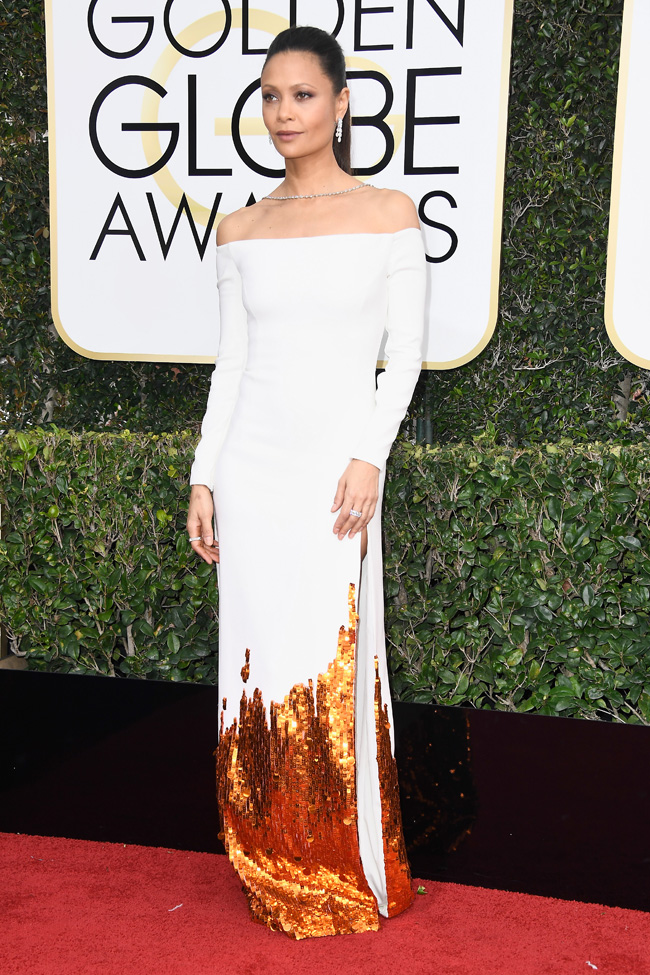 Worst – Emily Ratajkowski: This yellow Reem Acra gown aimed for sultry with a dramatic front slit and plenty of skin, and the fashion house added a silvery stripe the middle for a presumed formal touch. The overall look tries too hard to shock, and although Ratajkowski looks gorgeous as always, the dress simply doesn't work as an awards show getup.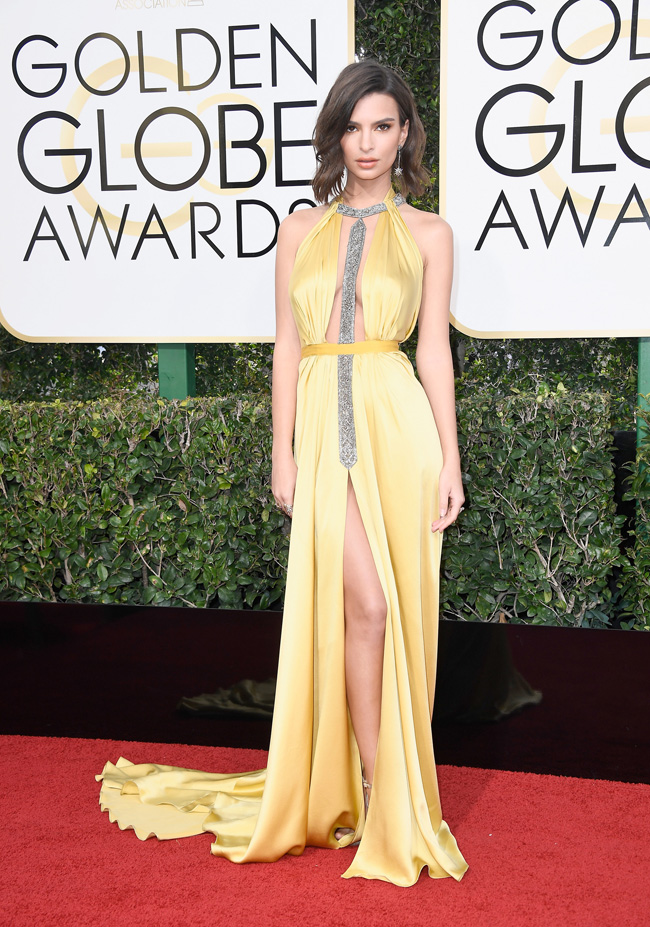 Best – Kristen Bell: In contrast, this Jenny Packham ensemble also showed off plenty of skin (and likely double-sided tape) at work on top. Yet the shimmering, flowing ink of the fabric and the rest of the outfit evoked effortlessness. Bell's glamorous, wavy hairdo only adds to the old-Hollywood glamour vibe.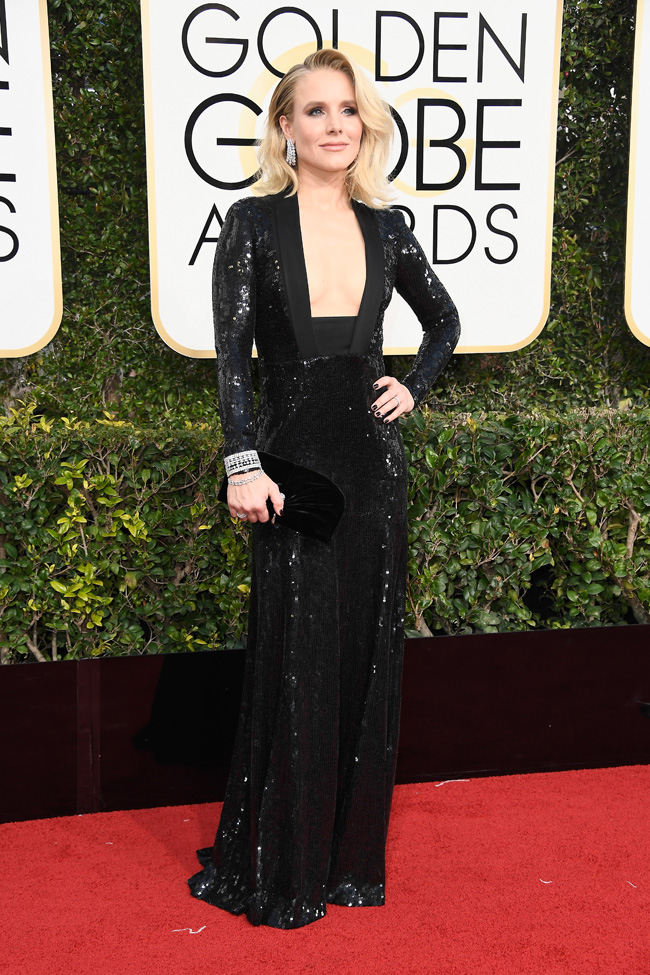 Worst – Kerry Washington: The idea behind this Dolce & Gabbana dress wasn't awful, but the execution was off. The outer layer resembles a see-thru quilt, and the sheer look was meant to add oomph, but the granny panties and the cap sleeves throw off the entire balance. The ensemble resembles a couture suit of armor, and not in a good way.
Best – Chrissy Teigen: The model and social-media addict managed to locate a Marchesa dress that stood out from the pack rather than falling into the lampshadey trap usually evoked by the label. The silver and gold detailing almost looks like a second skin, and with a dress this complex, Teigen knew to keep the hair simple and the lipstick bold.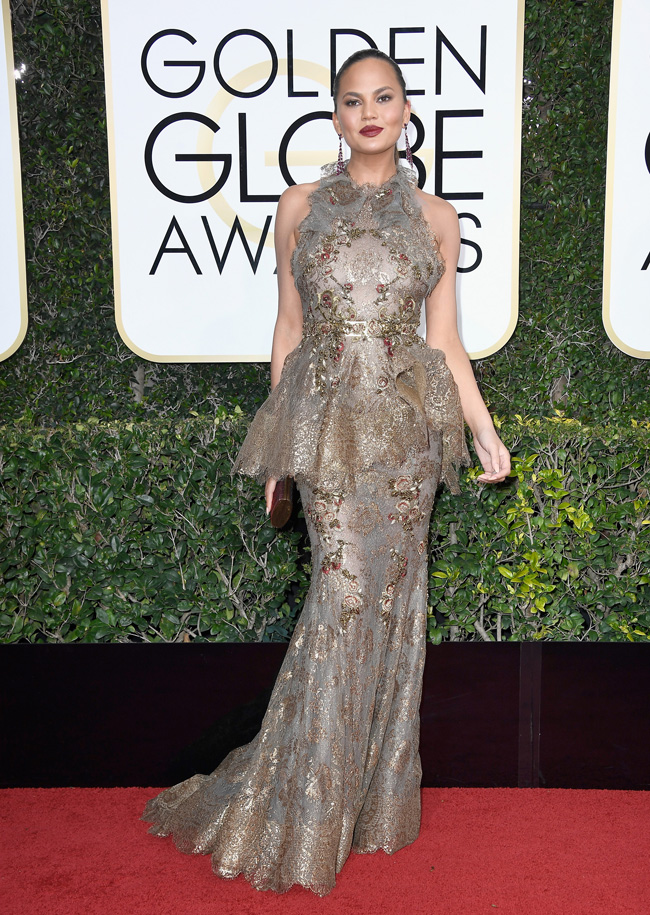 Worst – Felicity Jones: Sadly, not one aspect of this pink Gucci dress — from the saloon-style detailing to the sparkly, bow-shaped belt to the top that looked drawn in stencil — could redeem this look. This dress aimed for cutesy and funky at the same time and came up empty.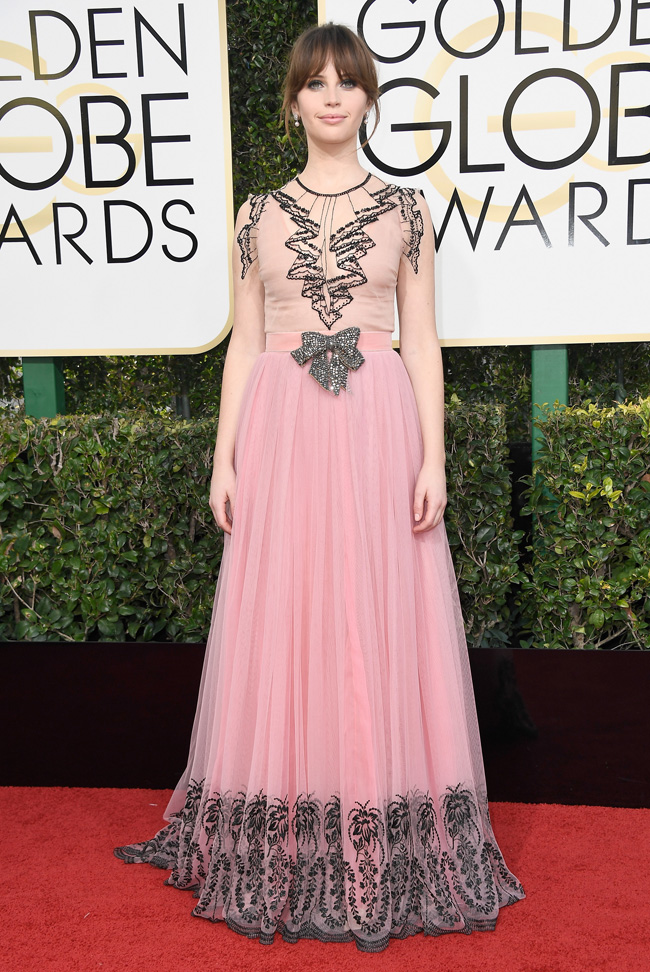 Best – Anna Kendrick: Kendrick looked like she wasn't having the most fantastic time at this shindig, but her Grecian-inspired Vionnet gown still fared well. Folks on social media wondered whether there was a see-thru issue on top, but alas, the gown's sheer design was a deceptive one. This gown won me over despite its overly structural bodice.