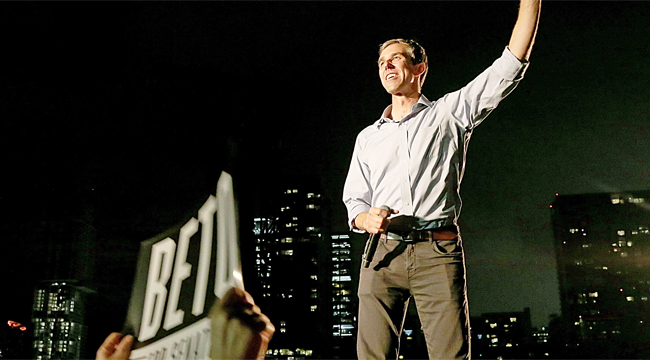 By now, you're undoubtedly aware that Beto O'Rourke lost to Ted Cruz, the incumbent Junior Senator from Texas, in Tuesday's midterm elections. While O'Rourke's concession speech played to his own punk-rock appeal, complete with F-bomb details, and it's indeed remarkable that O'Rourke could capture 48.3% of the vote in such a red state, his congressional bid wasn't meant to be. However, some of O'Rourke's supporters elsewhere in the nation are shrugging off the loss and believe that he should make a 2020 presidential play.
Sounds almost completely crazy, right? Maybe not. To date, the Democrats haven't been able to throw up a viable candidate against President Trump, and O'Rourke's certainly got a solid fanbase. It's even possible that O'Rourke could take his home state of Texas away from Trump (it went to Cruz in the 2016 primaries), and wouldn't that be something? And given O'Rourke's national momentum, he's a far more magnetic candidate than anyone else (Elizabeth Warren, Cory Booker, Kamala Harris) currently maneuvering on the left. To that effect, a "lose the battle, win the war" mentality quickly began to surface on Twitter following O'Rourke's loss.
Some famous names began to chime in with agreement.
And perhaps the most telling sign out of all of this was a Reuters tweet, which stated, "Win or lose, Beto O'Rourke set to emerge victorious." Well, it would be surprising to one day learn that the DNC hasn't loaded him up on speed dial, but only two days ago, O'Rourke told MSNBC that he's not interested in running for president. However, a lot has happened in a short period of time, so who knows? The future is wide open.