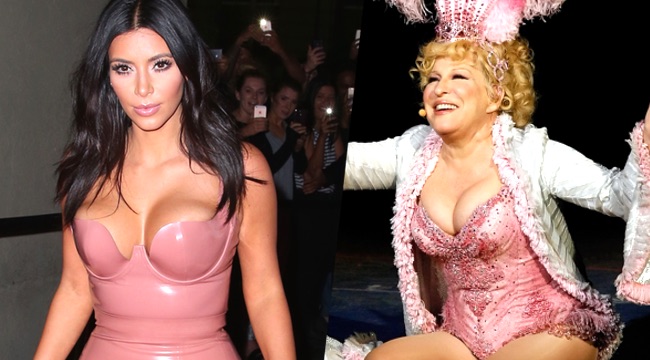 The least likely celebrity feud of 2016, Bette Midler vs. Kim Kardashian: Dawn of Nude Selfies, has taken another unexpected turn.
The tiff began when the Golden Globe-winning The Rose icon, who previously called Ariana Grande a "whore," threw shade at Kardashian's black-bar selfie by tweeting, "If Kim wants us to see a part of her we've never seen, she's gonna have to swallow the camera." Kardashian's tongue-in-cheek response: "sorry I'm late to the party guys I was busy cashing my 80 million video game check & transferring 53 million into our joint account." She then took a direct shot at Midler: "I know it's past your bedtime but if you're still up and reading this send nudes." Also, Pink got involved, but that went horribly wrong.
Last night, Midler flipped the script by tweeting her own nude pic (sort of).
That link leads to a CrowdRise campaign for Midler's Stages for Success, a "campaign to modernize outdated and dysfunctional public school auditoriums." You can help by donating "generously to Stages for Success and help give these kids the platform they so deserve. I'm making a 2:1 match on every dollar raised – tripling the impact of your donation!" Some young Fiddler on the Roof fan will be able to sing "Matchmaker, Matchmaker" on a beautiful stage because Kim Kardashian tweeted a naked picture of herself.
Who says she's not a role model?
(Via CrowdRise)