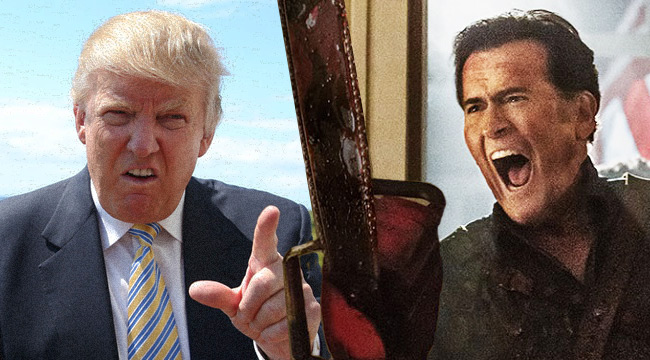 The final three episodes of Ash vs. Evil Dead's first spectacular season featured Australian actress (and Hugo Weaving's niece) Samara Weaving, who played a backpacker named "Heather" who stumbles across the original cabin from the Evil Dead film series. Unlike her fellow backpackers, however, Heather survived all the way through "Ashes to Ashes" and "Bound in Flesh" until, just before the finale's final battle, she succumbed to the horrific homestead's more devilish aspects. She did put up a hell of a good fight, though, and even scored a few shots and lines of dialogue in the trailer Starz dropped before the finale aired in January.
Why is any of this relevant to the above photo of a shouty Donald Trump and an even shoutier Ashley "Ash" J. Williams, as played by Bruce Campbell? Because @Cons_Nation, a conservative Twitter account that regularly posts political images and memes, tried to pass off one of the show's makeup tests as a "female Trump supporter" who'd been attacked by "'peaceful' and 'tolerant' liberals" on Monday. The following day, Campbell called out the tweet for its bullsh*t.
Here's the misappropriated image:
And here's Campbell's response, in which he identified Weaving and the photo of her as a "make-up test":
A little extra digging reveals that, per the cutoff "…n/Instagram" in the bottom left corner of the image posed by @Cons_Nation, it likely came from New Zealand-based makeup artist Hannah Wilson's Instagram account. Her account is currently set to "private," though the image was shared publicly back in January by Weaving on her account. In the latter's post, she praised Wilson's "amazing make up" work for Ash vs. Evil Dead:
So what's the moral of the story? Yes, several Trump rallies have devolved into violence, and reporters and pedestrians alike have captured acts of aggression by and against the presumptive Republican presidential nominee's many fans. But that's still no excuse to co-opt an image from something as sacred as Ash vs. Evil Dead for devious political means.
Or as Ash would say, "Hail to the king, baby."
(Via the Hollywood Reporter)