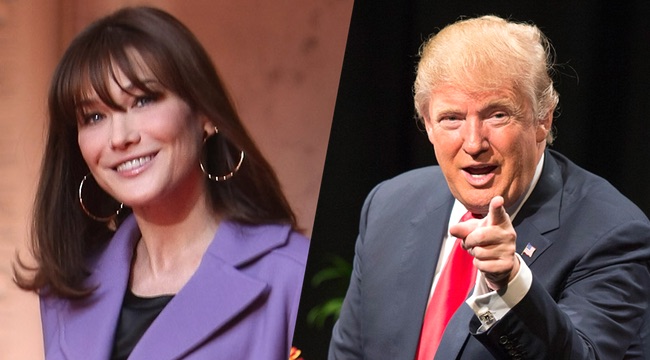 The year was 1991, and Donald Trump had already discharged his first wife, Ivana, from her duties and was dating Marla Maples for some time. He eventually went on to marry Maples in 1993, but first, high drama occurred. Andrew Kaczynski of BuzzFeed revisits the day when The New York Post ran an article about Trump breaking up with Maples, which may or may not have been true. He reportedly booted her from his fancy condo, and then — bizarrely — Today took off with the story the next day. They reported further details from The Post about Donald's new lady love, Carla Bruni.
The only problem with this quick trade off is that Bruni had no idea she was dating Trump. In fact, she barely knew the guy and spoke with the Daily Mail for the specific reason of calling Trump a liar:
"Trump is obviously a lunatic. It's so untrue and I'm deeply embarrassed by it all. I've only ever met him once, about a year ago, at a big charity party in New York. And I haven't seen him since, of that I'm sure."
The lady was not interested. Bruni went on to marry French President Nicolas Sarkozy many years later, and never once looked back at what might have been. That's not even the best part of the story, though. Trump reportedly tried to pursue Bruni at a later date and told outlets that they were at least friends, which Bruni also denied. But to go back to the original fake story of how Bruni supposedly broke up Maples and Trump, People has a glorious archived account, which must be appreciated:
"A curious PEOPLE reporter called Trump's office to ask if the story were true. Five minutes later, a man identifying himself as John Miller called back, said he was handling publicity for Trump and confirmed everything, in detail. Yes, said Miller, it was over with Marla. 'It doesn't matter to [Donald] if Marla talks; he truly doesn't care.' As for that diamond ring Trump bought Marla several weeks ago, 'It was never an engagement ring,' said Miller, who went on to brag about the army of women he said were rabidly chasing The Donald: Madonna was one, he said, Kim Basinger another. "Important, beautiful women call him all the time,' said Miller."
So, Trump posed as his own PR guy, and the reporter finally figured it out. Then the magazine asked Maples to verify the tape as Trump's voice, which she gladly did. This is sort of like the time Trump said he relied only upon his own "very good brain" for foreign policy tips. Billionaires really do think differently than the rest of us.
(Via BuzzFeed)