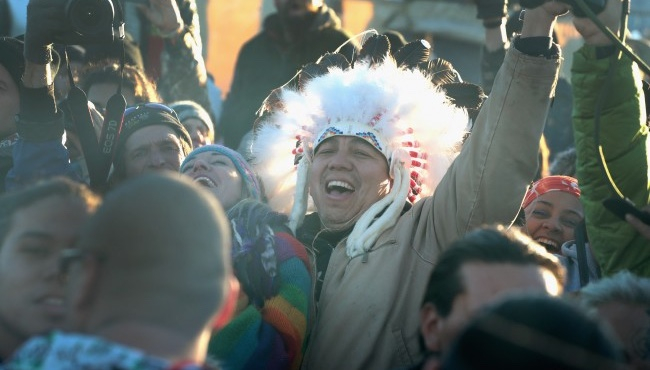 Water protectors at Standing Rock have been protesting the construction of the Dakota Access Pipeline since summer. Just today, thousands of veterans arrived at the site to assist in the protests and fight against the possible toxification of water that would flow across tribal lands. With the winter cold just arriving and making it more difficult than ever for the Standing Rock campers to live on the land safely, a major win arrived for the movement.
The federal government, after months of wavering, denied the pipeline a final permit, which means it will be at least temporarily halted and re-routed away from Sioux waters, including the Missouri River. While this isn't the end of the battle, it is a huge win for the movement at this stage and is being celebrated not only at the site but by high-profile supporters from around the country. From Matt McGorry to Chance the Rapper, celebrities from all corners chimed in with their excitement about the news.
Many tweets noted the power of peaceful protesting in a situation when it would be easy to give in to more drastic methods. Others simply noted how nice it is to see positive developments after so many depressing news cycles.
Billy Eichner, ever the jokester, tweeted about taking credit for the win because he had tweeted about it a few times before.
Other long-time supporters of the Standing Rock protests, such as Shailene Woodley and Rosario Dawson, retweeted support and information about the news. There is still a long road to ensuring the injunction actually stays, but right now everyone at Standing Rock deserves a day of happiness and celebration after so much hard work.