On Tuesday, the cast of Captain America: Civil War attended the film's London premiere. Finally, Europe got a taste of Tony Stark and Steve Rogers going metal-to-metal while rallying their forces for the best Marvel movie to date. Robert Downey Jr., Emily VanCamp, Paul Bettany, Jeremy Renner, and the rest stood ready to launch their latest group effort into the stratosphere. And there was Elizabeth Olsen, bringing her witchy allure in an ivory-colored Alexander McQueen gown. The drapey dress featured a keyhole detail, and — oh, Captain — Chris Evans couldn't help but notice.
Let's zero in on the evidence. This guy got busted.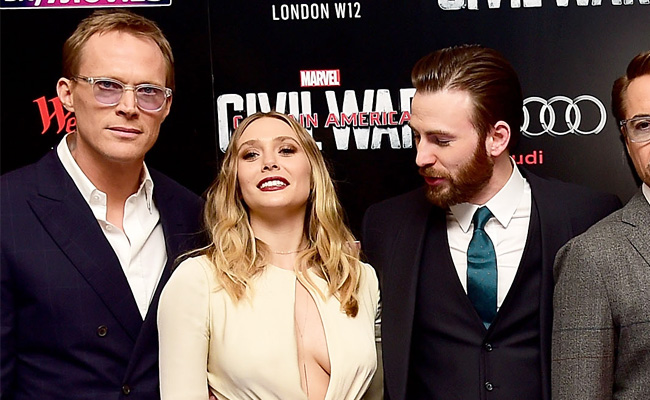 Naturally, the internet decided a proper meme was in order. Reddit organized a thread, and folks went to town. Things started off alright with a perspective shift and Edvard Munch's "The Scream" making an obligatory appearance.
Before too long, someone fused this red carpet moment with a well-known "creepy John Travolta" instance. The comparison is serendipitous, seeing as Scarlett Johansson is also in this film.
Then the internet had to make the moment bigger.
And because Chris Hemsworth wasn't in this photo, a contributor decided Thor needed to make his presence known.
Then things got weird. Really, really weird.
Wait a second, isn't Scarlet Witch supposed to be Team Cap?
The reactions weren't limited to the Marvel Cinematic Universe, and someone just had to ruin the lovely white dress.
You can see the rest of the memes right here. Never underestimate how people can inflate the tiniest moment into hilarity.
(Via BroBible)