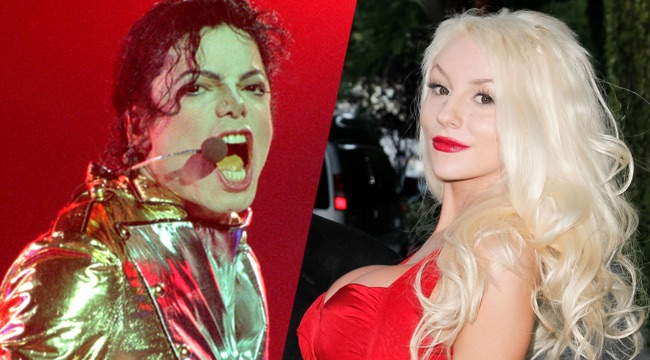 After a respite from the bizarre behavior of Courtney Stodden, she came back with a vengeance a few days ago. Well, the lady never left her reality-star tendencies behind, folks simply stopped paying as much attention. She grabbed eyes once more by going makeup free, and now Stodden has a new stunt. This time around, things got supernatural, or so the former child bride believes. Stodden either hired or befriended a psychic medium to raise Michael Jackson's spirit from the dead. Spoiler alert — she ended up setting her hair on fire and then posted video evidence (and an "after" photo), but first, she streamed the seance on Periscope and captured this mysterious image of the "Jackson ghost" in the background.
Yeah, I don't know who's posing like Jackson. It's probably the hubby, Doug Hutchison, but let's not resist too much. Stodden has more for us, including this video clip of her hair slipping into a candle and turning to flames. Don't worry, no one gets hurt here.
https://www.instagram.com/p/BDyervQEbJn/
Stodden believes that her hair caught on fire because of Michael Jackson, whose hair also lit up while filming a Pepsi commercial. Also, he made her nose bleed, and she's "honored."
And if you thought this story wasn't crazy enough, Stodden also showed everyone what her hair looks like now. Man, she needs a new hobby.
https://www.instagram.com/p/BDyqdZNEbFl/