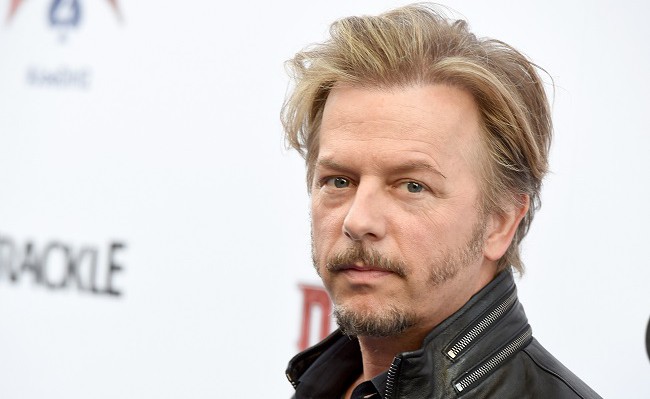 Hollywood gossip was a different game back in the mid-to-late '90s. The internet wasn't nearly as big or omnipresent as it is now, and we really only had glossy tabloid magazines and Entertainment Tonight to provide dirt on celebrities' private lives. But one piece of gossip always felt like an urban legend and now one of the parties involved is opening up about it: Did Lara Flynn Boyle really dump David Spade for Jack Nicholson, and did Spade really only find out about it because of a car accident?
Spade spoke to Details and opened up about this weird love triangle and actually confirmed that the whole thing is true. And that Nicholson actually had the nerve to ask Boyle out right in front of Spade — while they were sharing a joint.
"Nicholson asked Lara Flynn Boyle out in front of me, while we were all smoking a doob somewhere," Spade said.

"She got mad because I didn't stick up for her," the "SNL" alum added. "I said, 'I've been in this town long enough to know when I'm outranked. You're either gonna go out with him or you're not.' She goes, 'No way. He's worse than Trump!'"
Of course Donald Trump found a way to get his name in this story. Of course he did.
Anyway…
Spade goes on to say that despite saying that, Boyle went ahead and dated Nicholson and found herself in a car crash with the Hollywood legend. Naturally, the press showed up and Boyle shimmied out of the sun roof yelling "I have a boyfriend! I can't be here!" according to Spade, who found out about the accident — and the tryst — from the National Enquirer. And that was that.
Boyle dated Nicholson from 1999 until the end of 2000, and then she showed up at the Golden Globes in a tutu. Times were so easy back then. (via Page Six)
And for more you may have missed on the web…