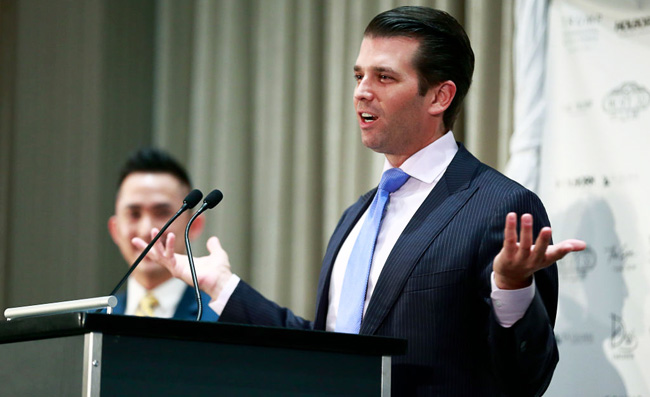 For anyone wondering what it's like to be one of the adult children of Donald Trump whose name isn't "Ivanka," the answer is "not great," apparently. People has a new cover story out this week which sought out anonymous sources close to the Trump family and learned about the personal hell that is Eric and Don Jr.'s lives since their father won the presidency. Someone claiming to be a friend of the brothers told the magazine that the two "hate their role as First Sons," and that "Eric and Don, they never wanted this."
Of course, things are especially bad for Don Jr., in particular, in the wake of the Russian email scandal that inexplicably seems to get worse by the day. Trump's eldest job can supposedly no longer perform his job duties within the Trump Organization "because he'll be overly scrutinized." Adds a source, "He just goes to work every day and is miserable."
Oh, and it gets better/worse from there.
"The loyalty within this family is insane," says a family friend especially close to Don Jr. and Eric. "They would never speak against their dad."

Adds the source in the brothers' circle, "You can't bite the hand that feeds you, but he [Don Jr.] can't wait for these four years to be over."
Four years if he's lucky, since we still don't know what the outcome will be regarding his shady dealings with Russia. People also spoke with chief White House ethics lawyer for President Obama, Norman Eisen, who stated, "That's an illegal offer and his response is 'I love it' so that right there is the offer and the acceptance of this criminally prohibited foreign government help."

Additionally, Richard Painter, the chief White House ethics lawyer for President George W. Bush, says that Don Jr.'s actions amount to "treason."
"It is betraying your own country in the hands of a foreign adversary," Painter tells PEOPLE. He notes that under the Bush administration, Don Jr. would have been in custody and brought in for questioning. "I think there are grounds here on campaign finance violations alone that it is illegal," he says.
Meanwhile, we don't know how Tiffany Trump is faring under her father's administration, since the article literally does not even mention her name even once. But we're sure she's doing great.
(Via People)