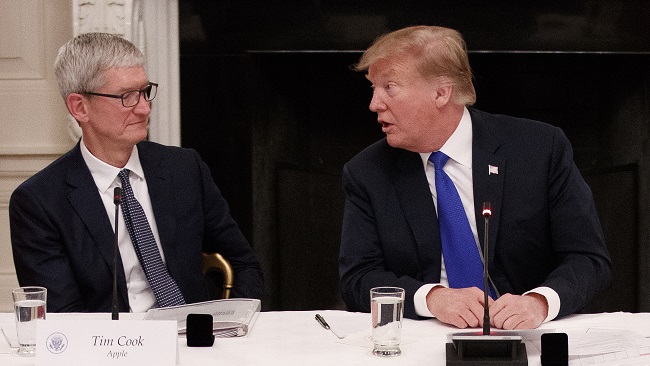 When it comes to gaffes, President Donald Trump is king. Most recently, the former reality television star turned politician raised eyebrows with an apparent 69 joke on Twitter, but his most recent viral moment occurred during a series of brief remarks to the press on Wednesday. While heading an American Workforce Policy Advisory Board meeting, Trump referred to Apple CEO Tim Cook, who was seated right next to him, as "Tim Apple."
"We really appreciate it very much, Tim Apple," the president said to Cook and the cameras without the slightest hint of cognizance.
Needless to say, people lost it online. Unsurprisingly, most of the responses to Trump's latest verbal kerfuffle were more humorous than political.
This was especially the case for Twitter's more prolific politicos and comedians, who were quick to apply Trump's logic for naming CEOs based on their companies to other prominent examples, both real and otherwise.

Others, however, were quick to lambast Cook for participating in Trump's American Workforce Policy Advisory Board, let alone sitting next to him.
Whether Trump's gaffe made you laugh or made you angry, you have to admit that it was a much-needed cure for the many ills Wednesday had produced. From Jeopardy! host Alex Trebek's cancer announcement to the ongoing R. Kelly and Michael Jackson fallout, it's been a tough day.
(Via The Verge)