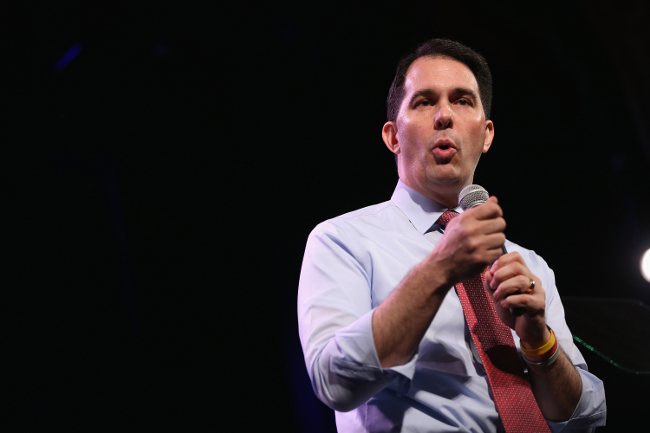 From the soundtrack of The Departed to Forrest Griffin's UFC entrance music, the Dropkick Murphys rendition of Woody Guthrie's "I'm Shipping Up to Boston" is a popular mainstream song, especially when it comes to Boston's sports teams. However, Dropkick Murphys have also made it perfectly clear in the past that they do not want this popular song or any others being used by politicians without their consent. And that message seems to have been specifically ignored by politicians in Wisconsin, because the band is once again at odds with a Badger State bureaucrat.
This time it's the man at the top of the totem pole, as Wisconsin Governor Scott Walker reportedly used the song as his walk-out music during his presidential campaign test run at the Iowa Freedom Summit. Walker is, of course, anti-union while the Murphys are very much pro-union and already quite anti-Walker. So how did the band respond to the news that Walker used their song?
Back in 2012, Dropkick Murphys faced a similar situation with Wisconsin State Rep. Jeff Fitzgerald, when he used the song for his entrance at the state's GOP convention. Obviously, the band did not appreciate that.
Naturally, just as some people criticized the band for that 2012 post (read the comments on that Facebook thread if you're bored and enjoy Internet ferocity), their anti-Walker stance has drawn the criticism of some conservatives, and specifically the Weekly Standard's Bill Kristol, who just doesn't give a f*ck about what he brings to his Twitter door.
They say the meanest insult is pretending that someone with almost 10-times as many Twitter followers doesn't exist. In the responses to Kristol, you'll find the subdued and level-headed…
…as well as the standard Twitter counterpoint:
Either way, hopefully Kristol did some research and checked out the band, because "Blackout" is a pretty great album. He might enjoy it.