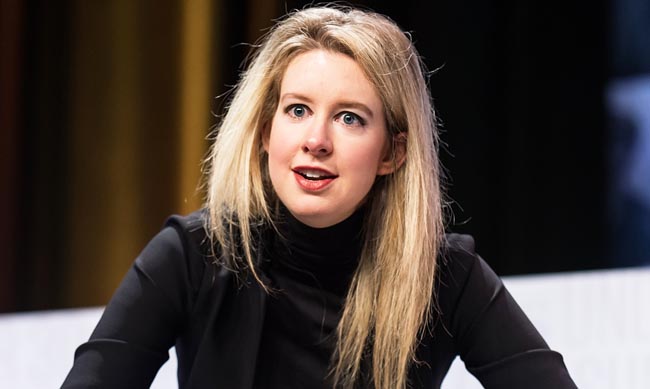 Although already well known by avid readers and podcast listeners, the rest of the world became acquainted with Elizabeth Holmes through the HBO documentary The Inventor: Out for Blood in Silicon Valley. The film explores just how a 19-year-old Stanford dropout went on to scam billions from Silicon Valley investors with her company Theranos, which falsely boasted an innovative new blood test that could be performed with finger-pricks of blood.
Of course, investors found out the hard way that the technology described by Holmes was literally impossible in every sense of the word, but it didn't stop them from getting duped into throwing money hand-over-fist at her anyway. Some credit the unique persona Holmes gave herself modeled after Steve Jobs, and a perceived fake voice to make her sound more manly and important.
My god, the voice.

Of all of the takeaways from the documentary, the affect of Holmes' voice may be the most fascinating. Her family is steadfast that it is, in fact, her real voice, telling TMZ that it's "naturally low." They went on to claim that most people in her family have low voices, including her grandmother, but that Holmes "will occasionally change her pitch to a higher octave — especially when she gets excited or passionate."
However, former Holmes co-workers have told ABC Radio's The Dropout podcast that she sometimes "fell out of character" when drinking alcohol. Yet in any case, whether real or fake, people are having a field day imitating her odd voice. On Wednesday's Busy Tonight, Busy Philipps did a spot-on impersonation.
"I'm kind of obsessed with her voice, Philipps joked. "If you haven't watched it, she sounds kind of like, [lowers voice] 'I lower my voice so that you take me seriously … by enabling me to swindle you to give me money for a thing that is literally impossible. A machine that I made up in my head.'"
Pop culture and fashion blogging prodigy Tavi Gevinson also offered a wild-eyed, Joker-esque take on Holmes. "The turtlenecks are not about Steve Jobs," she laughed. "I've been wearing turtlenecks since I was seven years old. My voice is real, I've had it since I was seven years old."

Freelance writer Ingrid Ostby did a bit imagining Holmes attempting to shed an apparent vocal fry. "You can't have this voice for the rest of your life," she quipped. "Just get it together Liz, get it together."
Poor Liz. Her days of just getting it together seem to be long behind her, as she now faces 20 years behind bars on fraud and conspiracy fraud felony charges.