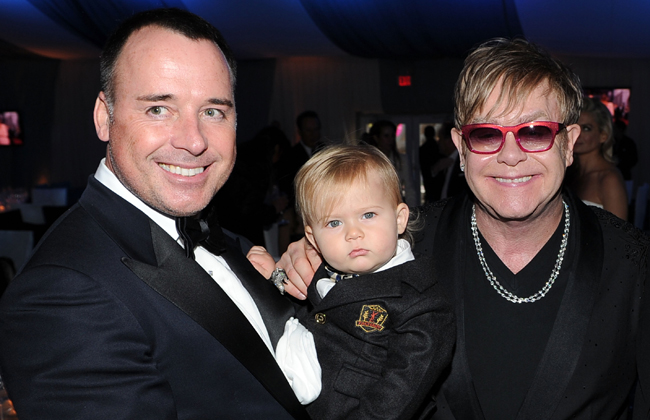 Elton John fired off a heated call for people to boycott fashion designers Dolce & Gabbana after their shocking comments against same-sex families and IVF. The fashion icons were interviewed in Panorama magazine and used the platform to let their opinions on "traditional families" be known:
The only family is the traditional one. No chemical offsprings and rented uterus: life has a natural flow, there are things that should not be changed (via)
The stance is not a new one for the designers, but this seems to be a more in-depth look at their view on same-sex families and children with same-sex parents. The couple also called out in vitro fertilization during the interview:
Procreation "must be an act of love," Domenico Dolce says, according to a Google translation. "I call children of chemistry, synthetic children. Uteri [for] rent, semen chosen from a catalog."

"The family is not a fad," adds Stefano Gabbana. "In it there is a supernatural sense of belonging."
These controversial comments stirred Sir Elton John to lash out in a posting to Instagram that calls for a boycott of all Dolce & Gabbana clothing:
How dare you refer to my beautiful children as "synthetic". And shame on you for wagging your judgemental little fingers at IVF – a miracle that has allowed legions of loving people, both straight and gay, to fulfil their dream of having children. Your archaic thinking is out of step with the times, just like your fashions. I shall never wear Dolce and Gabbana ever again. #BoycottDolceGabbana
John recently wed his partner David Furnish in December and the couple have two children via a surrogate mother, so it's no surprise that the singer would take exception to the comments. The designers didn't waste much time responding to John:
The row deepened when Gabbana, in an apparent response to Sir Elton's criticism, posted a picture on Instagram of a child with its arms wrapped around its mother with the hashdags #dgmamma #dgfamily.

When a friend suggested that Sir Elton needed to "calm down", the designer agreed and accused him of being intolerant.

"It is simply arrogant not to tolerate those who think like him! poor thing!" he wrote.

He added: "We live in a democratic country and respect the ideas of others."
Hard to tell if there will be a larger backlash against the designers at this point, but it'll be something to keep an eye on. Clearly there is no hesitation to go public with opinions.
(Via The Telegraph / New Civil Rights Movement / Panorama)