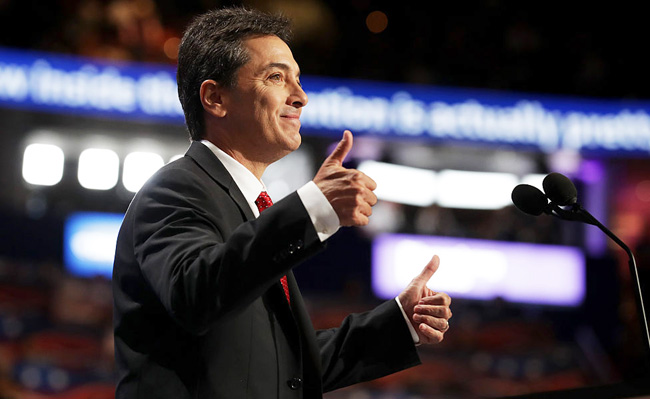 The controversy surrounding the sad passing of beloved actress Erin Moran has taken yet another turn, following the unfortunate remarks her former Happy Days costar Scott Baio made in the wake of her death. During a radio appearance on Monday morning, Baio said of his troubled costar, "For me, you do drugs or drink, you're gonna die," just shortly before it was announced that Moran's cause of death was in fact due to complications of stage 4 cancer.
That got the internet outrage machine going at full force, as Baio attempted to defend himself by questionably claiming that the backlash was political in nature, and that everyone was upset because he just so happens to be a "conservative and a pro-Trump guy."
One person not buying this argument is Moran's older brother, Tony Moran, an actor best known for playing the unmasked Michael Myers in 1978's Halloween, as well as guest appearances in TV shows such as The Waltons and CHiPs. On Tuesday, the elder Moran took to Twitter to call out Baio, clearly incensed by the Charles in Charge actor's comments.
Moran later retweeted the comments of a man who appears to be a family cousin, who echoed his sentiments.
Finally, early Wednesday morning, Moran really went off in a possibly now-deleted Facebook post (TMZ has obtained screenshots), remarking on the brief romantic relationship between Baio and his sister in the late '70s to early '80s, taking a shot at the actor's manhood.
A special shout out to Scott Baio. I already went on Twitter about you. I hope it finds you. You and my lil sis had a very very brief fling. She dumped you. 2 reasons. 1. She told me that you were more like a lil girl and not a man. 2. She told me that you were tiny. Ya know. Barely a man in the man region. True story! Scott, I'd advise you to get on your knees and pray you never run into me."
Baio has yet to respond to Moran's statements, but this thing is not likely to get any less messy anytime soon.