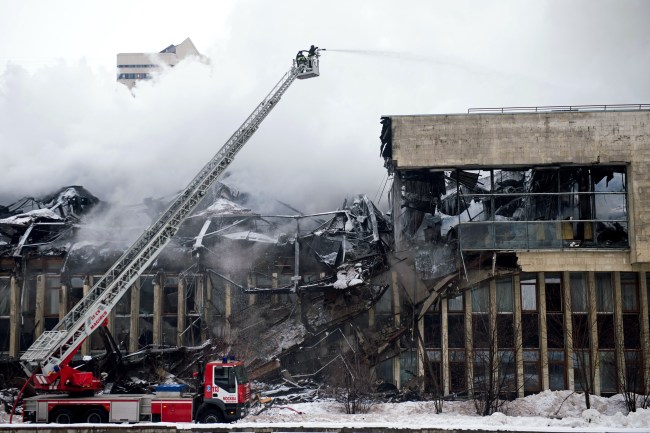 On Friday, a fire broke out in Russia's Institute of Scientific Information on Social Sciences library in Moscow. Though a mouthful, the building is one of the country's largest university libraries. According to The Guardian, the blaze allegedly damaged more than one million historic documents, some dating back to the 16th century:
The blaze, which began on Friday and was still not completely out on Saturday evening, ravaged 2,000 square metres (21,500 sq ft) of the Institute of Scientific Information on Social Sciences (Inion) in Moscow, which was created in 1918 and holds 10m documents, some of which date back to the 16th century.

Vladimir Fortov, the president of the Russian Academy of Sciences, said: "It's a major loss for science. This is the largest collection of its kind in the world, probably equivalent to the [US] Library of Congress.

"One can find documents there that are impossible to find elsewhere, all the social sciences use this library. What has happened here is reminiscent of Chernobyl," he said, referring to the 1986 nuclear catastrophe.
Damaged items include the world's richest collection of Slavic language works and items from Britain, Italy, and the United States. Emergency workers on the scene said saving contents was impossible due to the heat. Thankfully, the only thing injured in the blaze was Russia's immense and illogical sense of pride — so much so that the RAS president compared the fire to the Chernobyl nuclear disaster and the Library of Congress. They're all basically the same thing, right?
(Source: The Guardian)