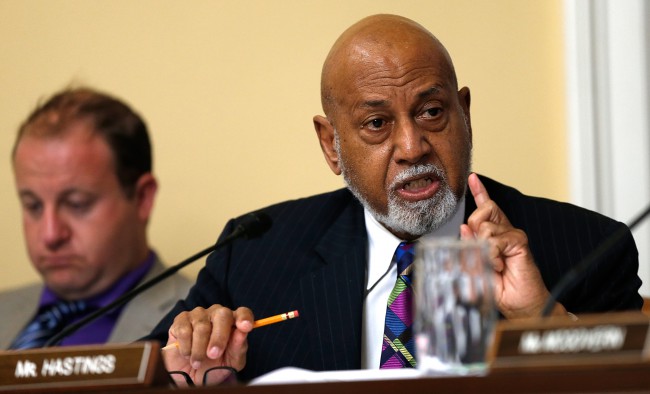 A Florida Democrat who called Texas a "crazy state" is refusing to apologize, and in an interview with CNN, he quoted Disney's Frozen and cited Texas dildo laws to clarify his point.
In a House Rules Committee hearing regarding health care, Florida Rep. Alcee Hastings said, "Now, I don't know about in your state [Texas], which I think is a crazy state to begin with, and I mean that just as I said it." There was almost immediate backlash to his comments from Rep. Michael Burgess, who called the comments "defamatory" and demanded an apology. Hastings replied that Burgess would be waiting "until hell freezes over."
After the exchange was picked up by The Daily Show and Texas House Republicans released a joint statement condemning Hastings' remarks, he dug in his heels in an interview with CNN's Dana Bush.
"One of their cities have a law that says women can only have six dildos and the certain size of the thing," Hastings told Bash, citing what appears to be a state-wide limit that was actually overturned in 2008. "And if that ain't crazy, I don't know what is." He also found it "absurd" that someone from Texas was planning to cancel their trip to Disney World based on his remarks.
He also offered his colleagues from Texas some friendly advice, courtesy of Frozen:
"Evidently, I touched a nerve deep in the heart of Texas, and I would ask them to tie a yellow rose around it and do like Frozen and let it go."
Funny enough, Hastings isn't a huge fan of his own home state either and has supposedly "cautioned" people about making it their home.
"When I retire, I'm not sure I'm going to stay there."
The lesson to be learned is that Florida might have purged its weird draconian dildo laws, but that doesn't mean it's a great place to live, unless you really like dealing drugs, lizard slapping, or getting peed on by a complete stranger.
Source: Mediaite