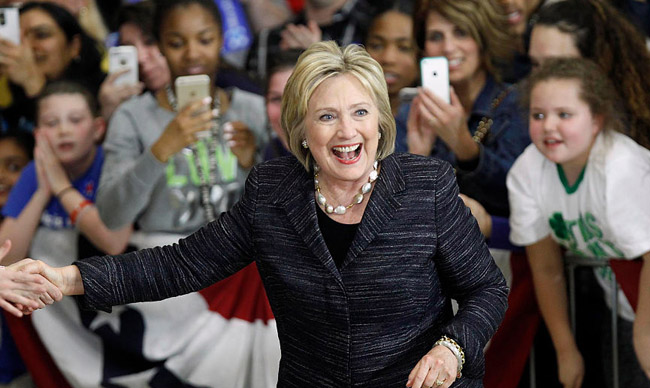 Hillary Clinton received a reaction that Mike Pence was likely hoping for when he ventured out to see Hamilton shortly after the 2016 election. Instead of a lecture from the stage and boos from those in attendance, Clinton was given a standing ovation by the crowd that made it seem more like a political rally than a theater performance.
The former Secretary of State and 2016 presidential candidate attended the Tony award-winning play Oslo on Sunday — telling the story of the Oslo Middle East Peace Accords that saw "back-channel" negotiations that eased tensions between Israel and Palestine in the early '90s — and almost outshined the show itself once people took notice:
Former Pres. Bill Clinton, former Sec. of State Hillary Clinton cheered while attending theater performance in NYC. https://t.co/n7TqA3VDnW pic.twitter.com/V9WVAtyPLp

— ABC News (@ABC) July 3, 2017
It's not everyday that people chant your name as you walk to your seats in a theater. Imagine Clinton going to see a movie with her husband and how annoying it would get around the fourth or fifth time it happens. But it seems to be different on Broadway and her trip to see Oslo marks her fifth ovation in New York's iconic theater district. Similar moments happened when Clinton attended showings of Sunset Boulevard, In Transit and The Color Purple according to The Huffington Post.
So we live in a world where Trump has a steel grip on the Twitter and meme-loving crowd, while Hillary Clinton is firmly in control of theater lovers all across the country. And John Kasich is the king of chefs all over the country.
(Via Huffington Post / Vulture)