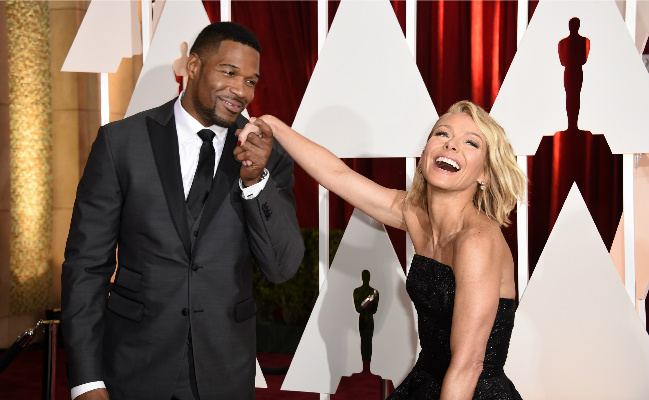 By this point, you know the general beats of the Live! with Kelly and Michael controversy that ABC got themselves into this week. Michael Strahan will be transitioning to Good Morning America full time come fall, a career move that ABC declined to tell Kelly Ripa was happening until a few minutes in advance of the official announcement. In an eloquent explanation, someone behind the scenes described the snafu as "having a plan that did not go as planned." So reassuring!
Kelly did not take this slight well, as everybody might expect, and peace'd out of the show for a few days on a "previously scheduled vacation." You can take that turn of phrase as a true fact or as ABC getting very lucky that Kelly decided to jet off with her hurt feelings and anger on the same weekend of her 20th wedding anniversary. Regardless of which situation is true, Kelly has been MIA for a few days while Michael was left to awkwardly comment on the announcement alongside guest hosts Ana Gasteyer, Erin Andrews, and Shay Mitchell (always have to love the convenience of corporate synergy!).
Besides a brief comment emailed to The Hollywood Reporter on Friday night in true "Friday News Dump" fashion, Kelly has been all but silent on the subject. However, Yahoo! News' Katie Couric did chime in about the situation at a recent awards luncheon, as Variety reports. 
"Clearly feelings were hurt and clearly she wasn't included in the process," Couric said. "Transitions are incredibly tricky, and they have to be managed carefully, especially when people have relationships with people on television. They feel like they are a part of their family. So it can be extremely sensitive."
She even included some helpful advice for ambitious journalists participating in the scrum.
"First of all, come up with a better question than, 'Any thoughts [on Kelly and Michael?]' For you all, as reporters, think of an interesting way to ask a question…because 'any thoughts' means you haven't really thought about it yourselves."
Now, Kelly is set to return to her hosting spot on Tuesday morning, and (even with the support of one of the most respected women in journalism) the saga might not yet be over. ABC is already worried that Kelly may cause unexpected drama on Tuesday morning – AKA "pulling an Ann Curry" – and the latest news from an inside source doesn't bode well for those concerned. As some of E! Online's sources tell it, Ripa and Strahan haven't so much as talked on the phone since she started her break, never mind seeing each other face-to-face. What's worse is that the co-hosts don't plan on seeing each other before filming starts on Tuesday morning. If the public is expected to believe that everything is going smoothly between the hosts, the fact that they have only texted back and forth for the past week is not the most convincing proof.
One good sign is that, as Entertainment Weekly reports, ABC extended an apology to Kelly about the way they handled the situation.
EW has confirmed that ABC's top brass, including TV Group President Ben Sherwood, apologized to Ripa and Strahan for the way his promotion to Good Morning America was handled last week.
That apology might be too little too late at this point, but Live!'s audience and supporters of Kelly alike will be waiting with bated breath to see whether the return goes smoothly on Tuesday morning.
(via Variety, Entertainment Weekly & E! Online)