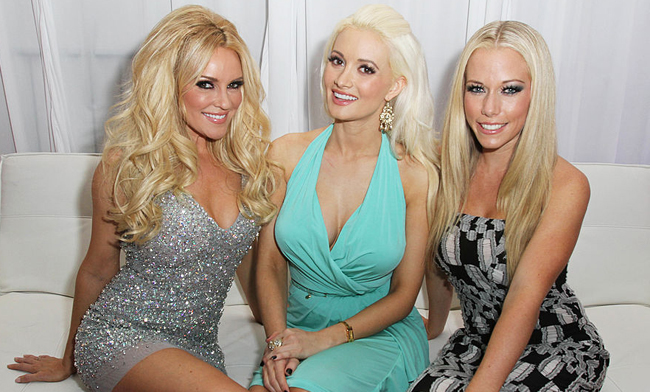 In case you missed it, former Girls Next Door stars Kendra Wilkinson and Holly Madison have been at odds for quite some time now. In a nutshell, every time one of them gives an interview or reveals something about their time in the Playboy mansion, they throw shade at the other one, who then passive aggressively (or not so passive aggressively) tweets something about it, and so on and so forth, forever. (While Bridget Marquardt presumably sits back and LOL's at both of them.)
Such was the case with a new interview Madison gave to People about — what else? — her time with Hugh Hefner. We don't know what she could have possibly said that hasn't been said already (girl wrote a freaking memoir, for f*ck's sake), but this time Kendra was NOT HAVING IT, and fired off a series of (now deleted) angry, NSFW tweets at her former roommate.
And this time, let's just say the gloves, or mittens, or whatever the hell Playboy bunnies wear, are definitely off: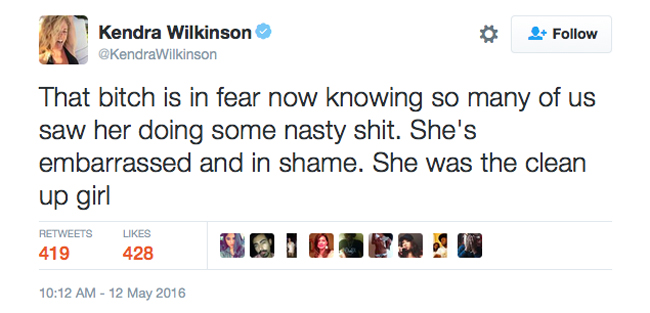 And then, Kendra Dropped. The. Frigging. Mic.

Annnnnnd, Twitter reacted accordingly:
I never thought I'd say this, but let's all bow down to Queen former Playboy bunny Kendra Wilkinson, everyone, our new lord and master.
(Via Us Weekly)