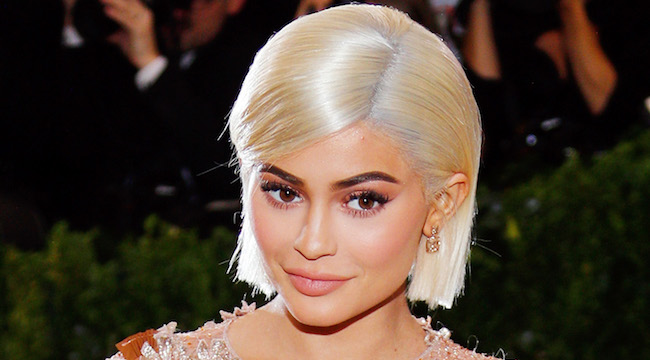 There's a no-social-media policy at the Met Gala, supposedly put in place by Vogue editor Anna Wintour in 2015, but dozens of photos poured out of the Met Gala bathroom on Monday night, proving that rules are made to be broken. The most-talked-about selfie of the night belongs to Kylie Jenner, who whipped out her phone in the Metropolitan Museum of Art bathroom and snapped a selfie with family friend A$AP Rocky, sister Kendall Jenner and so many more.
In fact, it might just be the selfie to end all selfies. Take a look at who else decided to join Jenner in the powder room:
Up top there's Paris Jackson, looking down on A$AP Rocky and Kendall Jenner. In the middle there's Kylie herself, with her sis Kim Kardashian West and Victoria's Secret Model Lily Aldridge. On the left of Kylie you can see Moonlight actor Ashton Sanders and Luka Sabbat cheesin'. And then there's Diddy (who had his own viral moment earlier in the night) and Frank Ocean on the right of Aldridge, followed by Brie Larson, whose smile can't possibly get any bigger. You can even see Michelle Monaghan peeping in from the back. Everyone's in their finest couture, of course.
According to Hailey Baldwin, there's just one bathroom for the guests during dinner, so that explains why there's such a bevy of celebs squeezed into one space.
"Annual bathroom selfie," Jenner captioned the photo, which suggests that she may try and pull off the hijinks next year… if Wintour invites her back!
Coincidentally, Jenner's phone case, displayed front and center in the now-famous selfie, will go on sale in her online shop on Tuesday morning. Well, perhaps that wasn't coincidental at all.
But Kylie's photo wasn't the only pic to surface from the wild restroom rendezvous. Kim Kardashian shared her version of the mirror selfie:
"This is what happens when you go to the bathroom at the met just chatting to @thelsd then this @kendalljenner @kimkardashian@kyliejenner @lilyaldridge taking selfies!" shoe designer Tabitha Simmons wrote, sharing her own angle.
Here's Monegan's perspective:
Jackson also shared a photo of her sitting on the bathroom floor with Lara Stone, Ruby Rose and Bella Hadid (who also broke the no-smoking policy):
Rita Ora took a separate mirror selfie with Rami Malek:
And shared a photo of Dakota Johnson lighting up:
The Met Gala bathroom was perhaps the most lit party of the night.