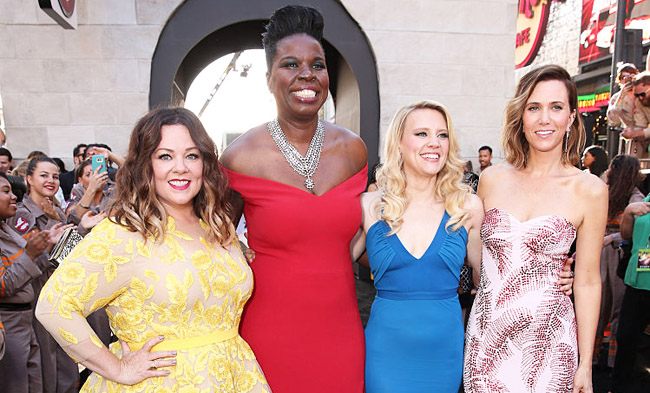 The Hollywood premiere of the excellent sounding Ghostbusters reboot happened on Saturday night (seriously, read our review here), and all four female stars joined together on the red — er, green — carpet. The ladies all looked wonderful, but just a couple of weeks ago Leslie Jones still had nothing to wear to her own premiere.
For reasons unknown, Jones couldn't find a designer to work with her on her red carpet look. On June 28, she tweeted the following.
Thankfully, a knight in shining, uh, taffeta, stepped in to save the day. Designer Christian Siriano quickly tweeted back with a simple "waving" emoji, jumping at the chance to outfit the comedic diva.
Fast forward to July 9 and Jones looked absolutely stunning at the premiere, wearing the classy, off the shoulder, floor-length bright red gown Siriano had designed for her.
Jones commented on her dress to Us Weekly at the event:
"I feel amazing," the Saturday Night Live actress exclusively told Us. "Christian hooked me up! Christian Siriano hooked me up."

"We just talked and he just knows a woman's body!" she gushed to Us. "He knew what to make for me and he did good! I love it."
Likewise, Siriano (who was not at the premiere because he got married to his long-term partner Brad Walsh on Saturday) was proud of his handiwork, posting this photo on Instagram.
What an amazing concept, that a designer can outfit a "nontraditional" Hollywood figure and still come up with a gorgeous and incredible look. Let this be a lesson to others in the fashion industry.