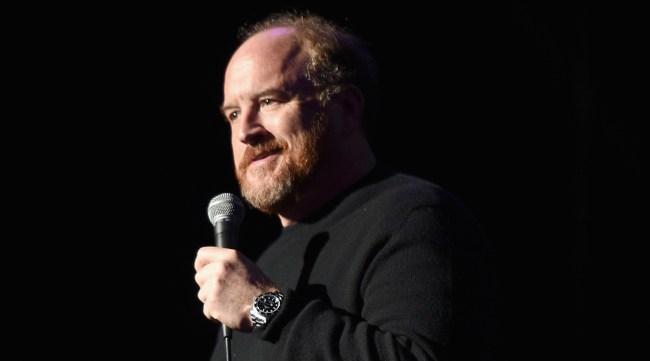 Louis C.K. stormed into Madison Square Garden on Saturday night having set a record before placing a single sneaker on stage. By quickly selling out the show — the date was added after two previous MSG shows were filled to capacity — Louis became the first comedian to fill the world famous arena three times in a single tour. He's since added a fourth date, telling fans on his email list, "I mean, if you keep buying the tickets, I have to keep doing the shows." Not bad for a guy who's simultaneously auteuring an Emmy-hoarding television program.
Those in attendance were treated to a fully-formed comic, already standing atop his industry, putting all of his ample pieces together. C.K.'s constantly-evolving standup act has seen him lean hard on certain techniques and tricks at different times, resulting in distinct eras, any of which the average comic would be proud to coast on for an entire career: early on, it was (for lack of a better term) noise-making; later, a hard turn into commentary on aging and family/home life; then there were on-again, off-again departures into the crude and lewd; and, more recently, things have gotten delightfully subversive and philosophical.
C.K.'s newest material has all of those polished elements humming as one, perhaps for the first time, and the spectacular result was on full display Saturday night. Every reach into his considerable comedy utility belt seemed to produce a power tool, and he wielded each with dynamism and precision, regularly utilizing several at once. To say that fans received their money's worth would be a Clifford-sized understatement, especially when you consider this Louis-aided bit of bar-lowering: those lucky enough to snatch tickets at face value were set back a stupidly reasonable $25, $45, or $65, a sum that included — thanks to C.K.'s fan-first haggling with Ticketmaster — ZERO fees.
Without spoiling any of the jokes — many of which will presumably appear in his upcoming special, Louis C.K. Live From the Comedy Store, to be released on his website before airing on FX in the spring — here's a recap of what went down during the historic show.
C.K.'s noise-making was more prevalent than ever, with Louis leaning hard on some old staples (the effeminate gay man; the up-talking, naive young girl) as well as several new voices, including biting takes on America's most grating dialects and a wonderfully heightened impression of an advice-giving dullard. Meanwhile, the most delightfully juvenile of his expressions — hello, bodily functions — were saved for an astute commentary on the aging process.
That blend of three C.K. trademarks (Noises! Lewdness! Aging is f*cking terrible!) within a single bit was the kind of fusion that was on full display all night, as were new takes on topics Louis has covered at length in the past: death was delved into from multiple angles; C.K.'s daughters, as they age, continue to provide fresh parenting material; and there was one particularly subversive jab that delivered a perfect message about the maturity of people who oppose gay marriage. Seemingly out to prove that he can deliver laughs from even the most tired of premises, C.K. even melded so-cliché-that-calling-them-cliché-is-cliché airplane and dead baby jokes to propel a slice of social commentary.
Louis closed with what might be — and I promise this is not hyperbole, despite all the vulgar bits our hero has bestowed upon us in the past — the lewdest gag of his career. It was so crass that it had to be placed at the end of the act. There was simply no way to transition to another bit — the only possible segue was a lengthy, palate-cleansing ovation, which he received, and used to surf into an extended encore routine.
In all, Louis scorched through a 75-minute set with seldom a misfire (one disappointing bit about Mark Twain saw C.K. conveniently eschew his grasp of satire to pursue a cheap — albeit thunderous — laugh), as well as the aforementioned encore and a playful bit to open the night's proceedings: an unseen C.K. boomed a silly, gravitas-loaded voice over MSG's P.A. system to introduce his opening act, Greer Barnes. Most of the filtering-in crowd didn't realize it was Louis until he reeled off an absurd list of MSG house rules ("Madison Square Garden has a very strict policy of… no Jews allowed inside.").
Currently, a handful of upper-bowl tickets are available for C.K.'s fourth Garden show. If demand continues to match the absurd level of C.K.'s performance, they won't last long.