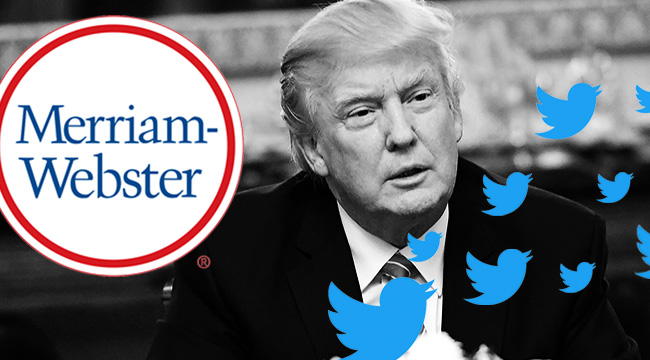 We live in interesting times. The United States is only a few days into the Trump administration and already we're having debates on the merits of it's okay to punch Nazis, being gaslit about the weather and size of the inauguration crowds, fact-checking that the CIA did not clap for the President at a press conference, and parsing phrases like "alternative facts" that would give even George Orwell cause for alarm.
But interesting times give rise to unexpected heroes. In the year of our dark lord Cthulhu 2017, that hero is the official Twitter account of Merriam-Webster dictionary. Yes, that's right. The one-hundred and eighty-six-year-old institution has drawn the line in the sand, and that line is "alternative facts." After Kellyanne Conway uttered the Orwellian phrase on NBC's "Meet the Press," Merriam-Webster hit back.
But that wasn't the first, or the last time whoever is running the dictionary's social media account took the Trump administration to task. As far back as November, they were warning us like a 140-character Cassandra. (Don't worry, fascism didn't end up being the word of the year.)
It wasn't until Inauguration Day and the Women's March the following day, that the gloves came off and the shade was thrown at everyone from Secretary of Education nominee Betsy DeVos to the President himself. From pointed selections in their "Word of the Day" to pointed rebuttals, somehow the dictionary has taken one of the strongest stances against the current administration in its nascent days.
Of course, with the way things have been going, there are those who fear for the safety of Merriam-Webster. Will 2017 be the year the President picks a fight with an inanimate object? Only time will tell.