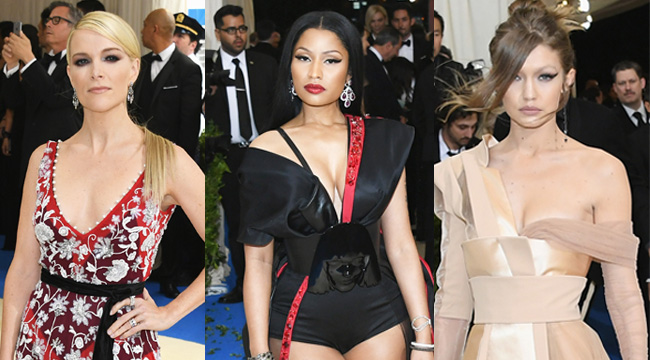 The annual MET gala in New York City always arrives with a theme, and this year's selection proved to be confusing for spectators and attendees alike. The chosen motif acted as a tribute to Japanese designer Kawakubo and her Comme des Garçons label. She's renowned for her daring shapes and often unsettling defiance of preexisting standards. In short, her designs are rather outrageous, and some stars went too far while others drew outside the lines to perfection.
As always, a best-of-and-worst-of list is highly subjective, but that's part of the fun of "fashion's biggest night out." Some dresses completely ignored the theme while others adhered in an uncanny way. Yet none of this is serious, and it's okay to be superficial every so often. You can go back to worrying about politics later, alright? Let's do this.
Best – Riley Keough: Elvis' granddaughter rocked this black-and-red striped sequin dress (with chain detail and a cool zipper up the front), which gives off the same punky vibe as Alicia Vikander's 2016 frock. And it's no wonder, as both dresses are by Louis Vuitton. A casual updo and heeled black booties nicely pull this style together.
Worst – Claire Danes: From the waist down, the kicky black pants and shoes are pretty perfect, but that top dives into pirate-shirt-wedding-train weirdness, like something that her former My So-Called Life star, Jared Leto, would wear without apology. Claire's ensemble was created by Monse.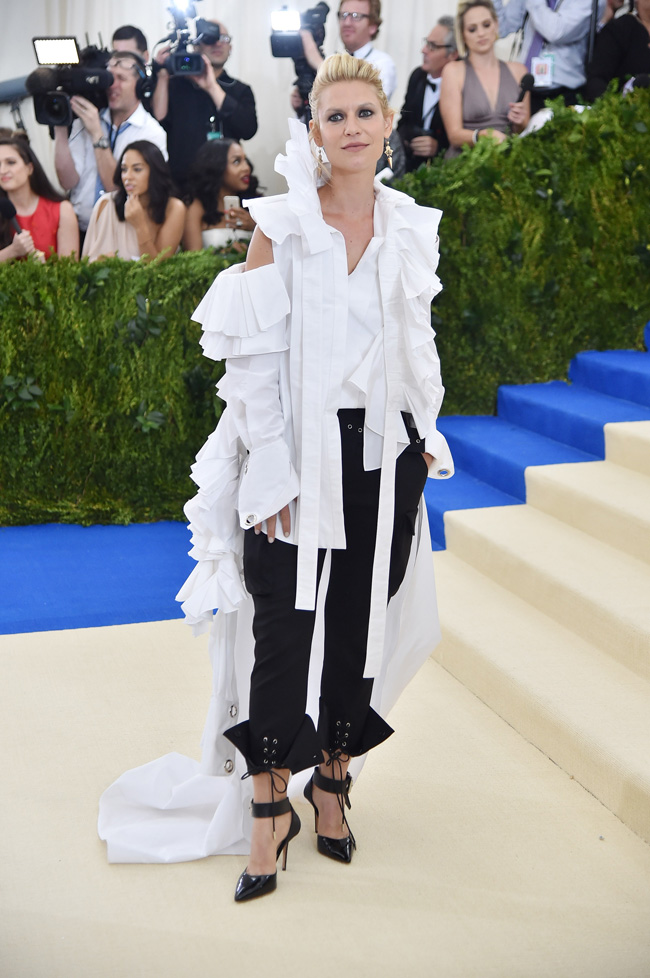 Best – Priyanka Chopra: This iconic Ralph Lauren look must feature the most smoldering trench coat ever known to woman or man. The dress was modeled after the fashion house's customary coat silhouette with plenty of added oomph. Combat-esque black boots and drippy diamond earrings finish one of the top looks of the night.
Worst – Lily Collins: Meanwhile, this oh-so-precious Giambattista Valli sends mixed messages. The severe bobbed wig and the awkward-looking top of the dress sits uneasily atop a pink tulle mop head. Lily's stylist aimed for the evening's theme and missed.
Best – Kerry Washington: Whereas this Michael Kors didn't bother to match up to a motif and arrived with a patchwork effect resembling gunmetal in some areas. Honestly, Kerry rarely misses on the red carpet, and this dress would have worked for almost any formal event, no theme necessary.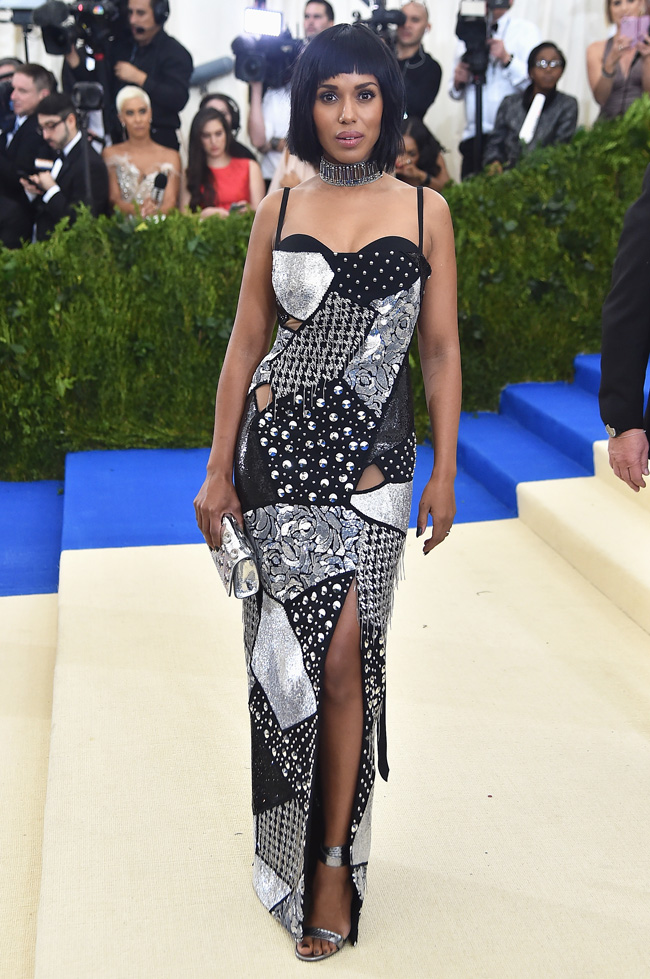 Worst – Keri Russell: As hard as it is to resist the charm of a man in a kilt, Matthew Rhys' adventurous getup doesn't add much excitement to Keri's tuxedo coat and uneventful accessories. Both ensembles are from rag & bone.
Best – Daisy Ridley: The Star Wars: The Last Jedi starlet was perfection in this Oscar de la Renta gown with a voluminous, black-and-white jacquard train. Simple, ballerina-like hair and makeup top off a youthful yet formal look.
Worst – Ruth Negga: This Valentino dress overwhelmed and nearly swallowed one of the most striking and talented breakout actresses of the past year, both in her Oscar-nominated Loving role and in AMC's Preacher. Oh, Tulip would never be caught dead in this dreary dress.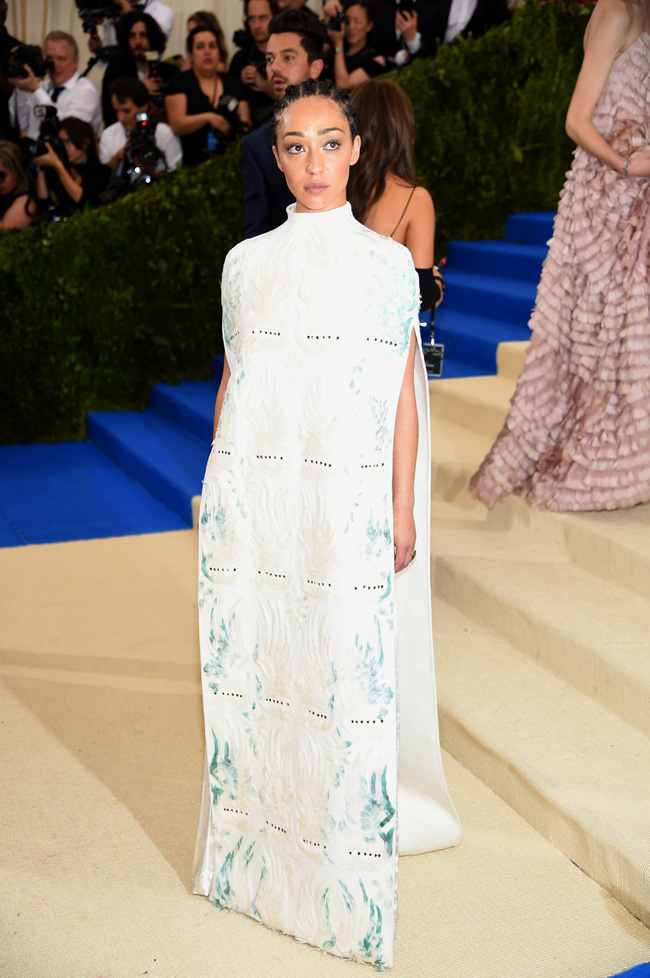 Best – Rihanna: The undisputed, contemporary queen of the MET gala did not lose her touch this year. In fact, she went all out in this Commes des Garcons gown that covered her in petals and haphazardly-patterned circle cutouts. The look is at once whimsical and sultry — with a few belly cutouts on display, and thigh-high red, strappy shoes — as well as impossibly stylish.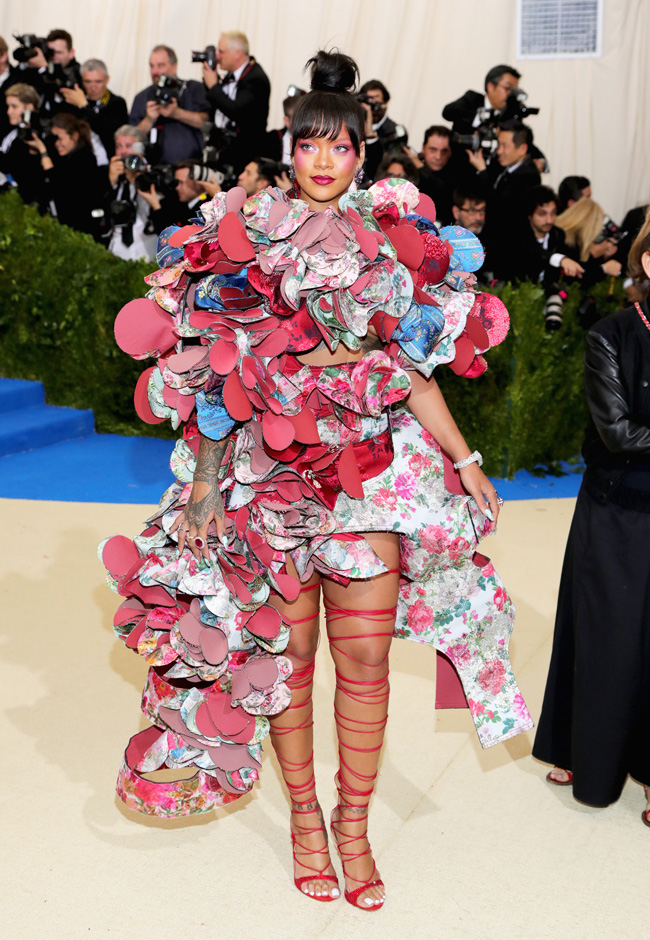 Worst – Blake Lively: This won't be a popular take, but it feels like this golden Atelier Versace gown didn't realize it was headed to the MET gala but tacked on blue features at the bottom as an afterthought. Even Deadpool's Ryan Reynolds' matching bow tie doesn't work any magic.
Best – Cara Delevingne: Whether or not this silvery Chanel suit appeals on a personal level doesn't matter, for Cara tackled the hell out the gala's concept. She recently shaved her head (for real) and painted it silver for the occasion.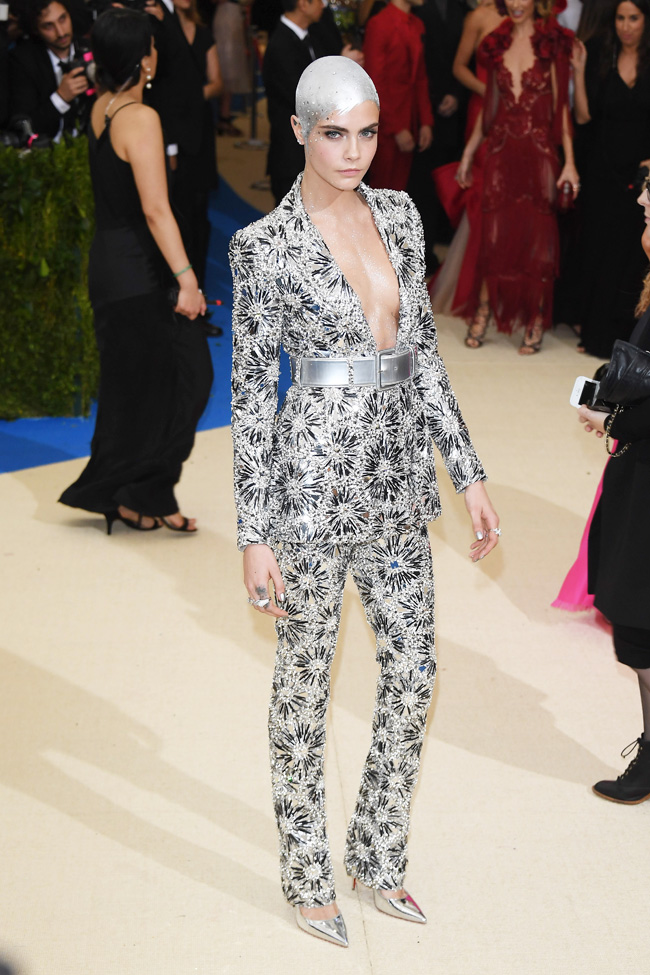 Worst – Gwyneth Paltrow: A funny story … Gwyneth swore back in 2013 that she'd never again attend this fashion event, which she called "so un-fun" because it was so "boiling" and "crowded." Yet she returned to make an underwhelming turn in a petal-pink Calvin Klein By Appointment dress.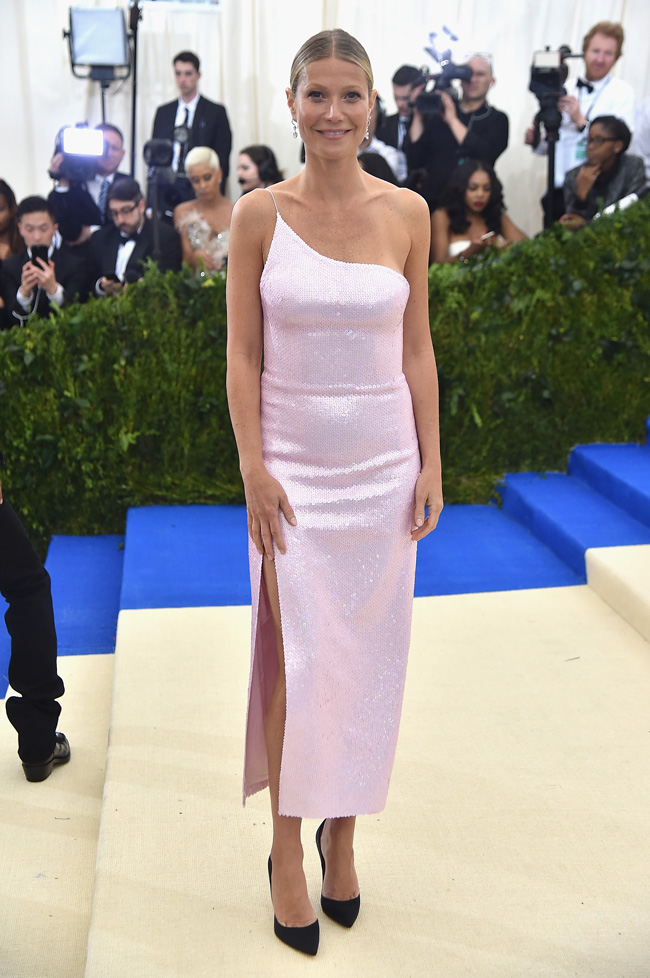 Best – Emmy Rossum: This Carolina Herrera pants look is so simple but so polished and would have looked great at any formal event, but the flouncy waist pouf and train bring this ensemble up to theme-level excellence.
Worst – Katy Perry: Let's face it, designer John Galliano only created this Maison Margiela gown to be outrageous. And the effect works, although it's hard to tell where the red tulle ends, other than lampshade hell. Katy's veil reads "witness" and aims to capture the Lady Gaga vibe in Gaga's absence. Katy co-chaired the event but lost herself in the theme.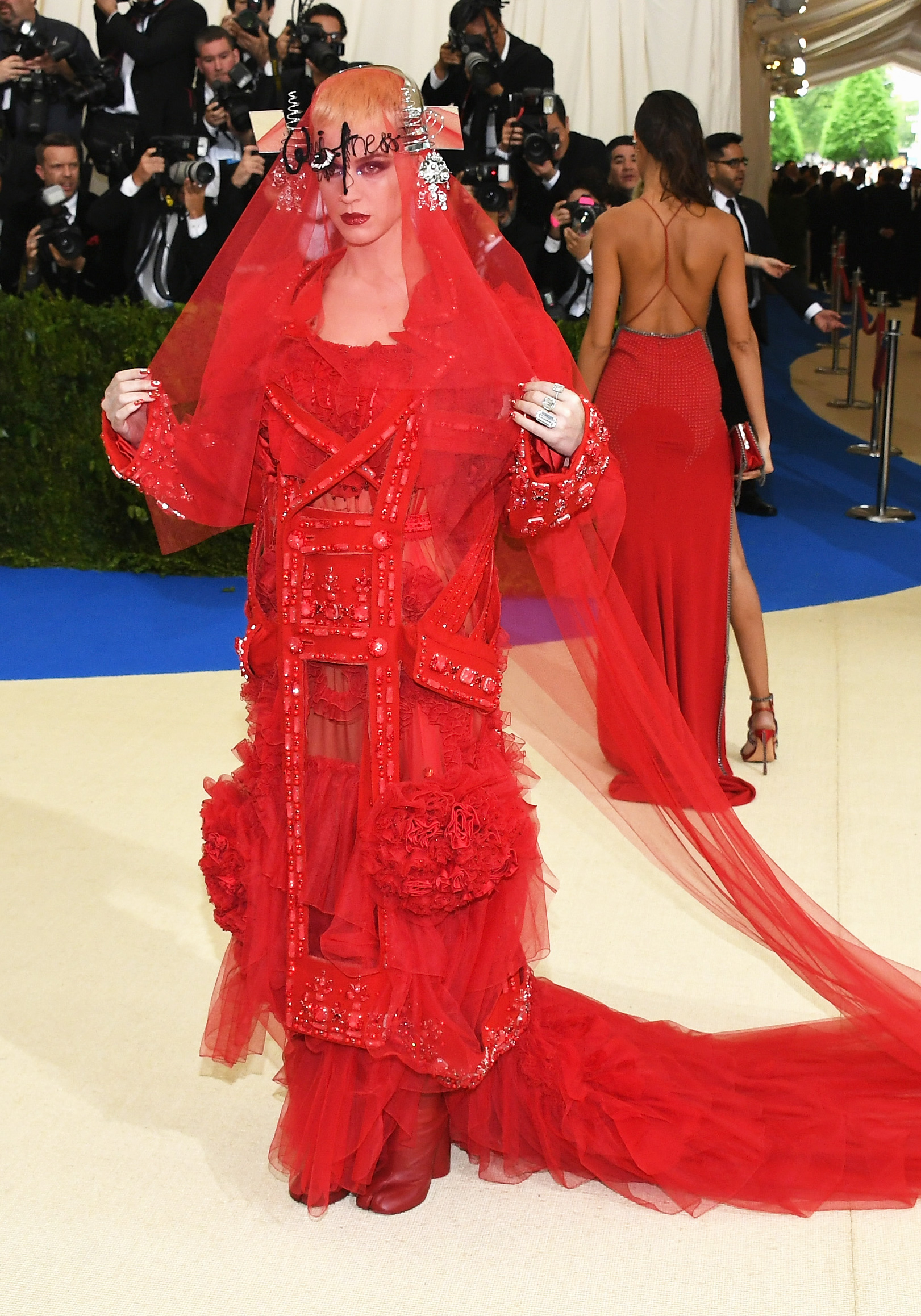 Best – Brie Larson: Brie looked as stunning and on-point as always in a gold-and-black, embellished gown with cute sandals, messy-yet-polished hair, and dewy skin. She constantly manages to strike a remarkable balance in any venue.
Worst – Jennifer Lopez: This shapeless blue Valentino gown arrives with a collar and tulle layer that extends over the sheath portion of the dress. It doesn't run in accordance to Lopez' usual look, and she seems kinda over it.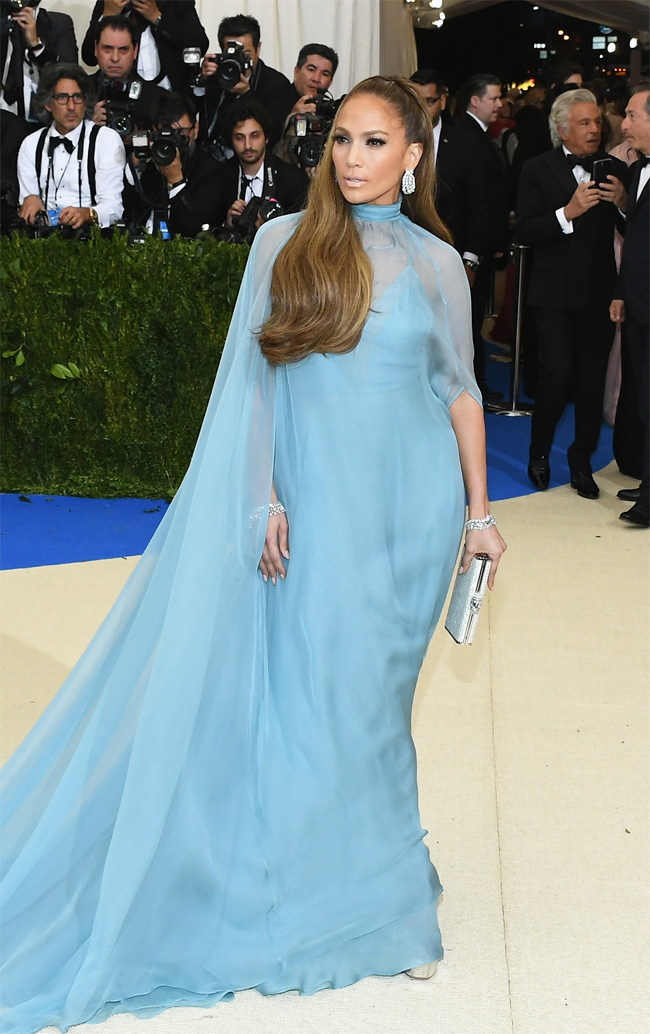 Best – Madonna: For the first time in years, Madonna managed to keep her pants completely on at the MET gala. She wore a cool, army-print dress from Moschino by Jeremy Scott with lots of dramatic jewelry, long black gloves, and a train that looks like it's made of tree leaves. The effect is surprisingly awesome.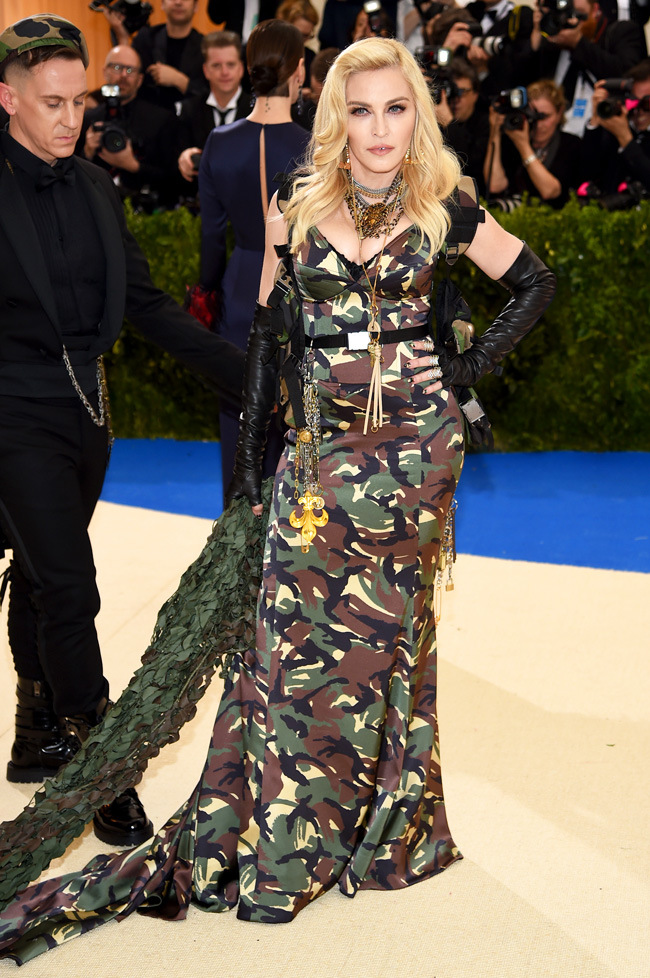 Worst – Zoe Kravitz: Although her father, Lenny, is one of the most effortlessly stylish men alive, Zoe didn't do herself any favors with this Oscar de la Renta gown. The wrinkly pink fabric is topped by bizarre areas of black feathers and a half cape. Overall, it's a confusing look.
Best – Gigi Hadid: This asymmetrical Tommy Hilfiger lands in a neutral color but is anything but boring. A one-shouldered mini-dress sits atop a tulle half-train with a set of fishnet stockings on display. Beautiful and ravishing.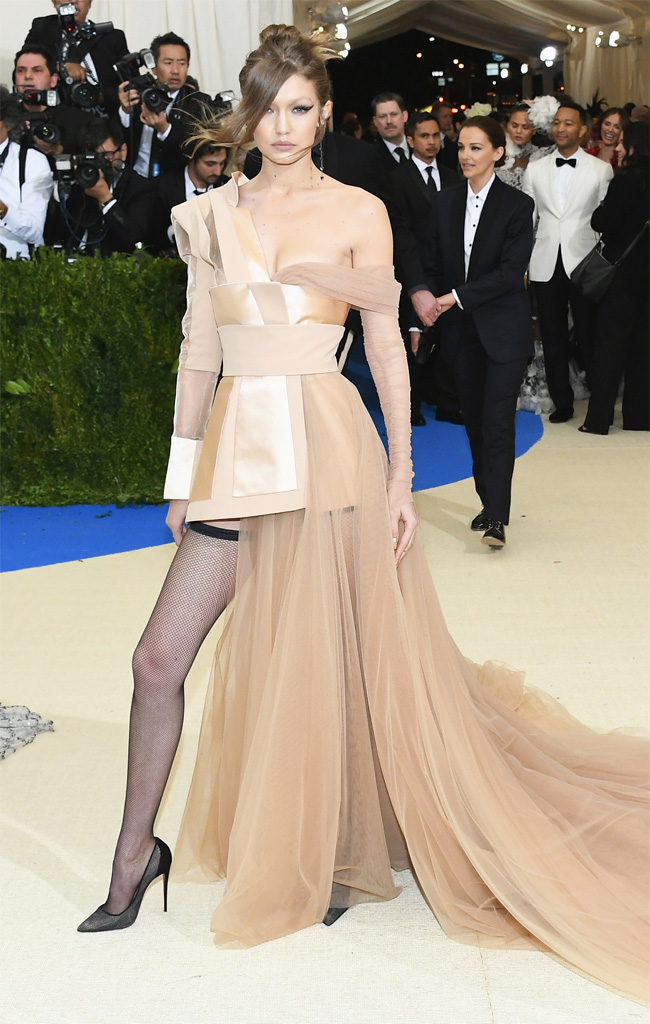 Worst – Hailee Steinfeld: This shapeless Vera Wang ensemble appears to take the form of a leotard with a weird marching-band cape and a bodice ruffle out of nowhere. Overall, the half-finished look falls flat.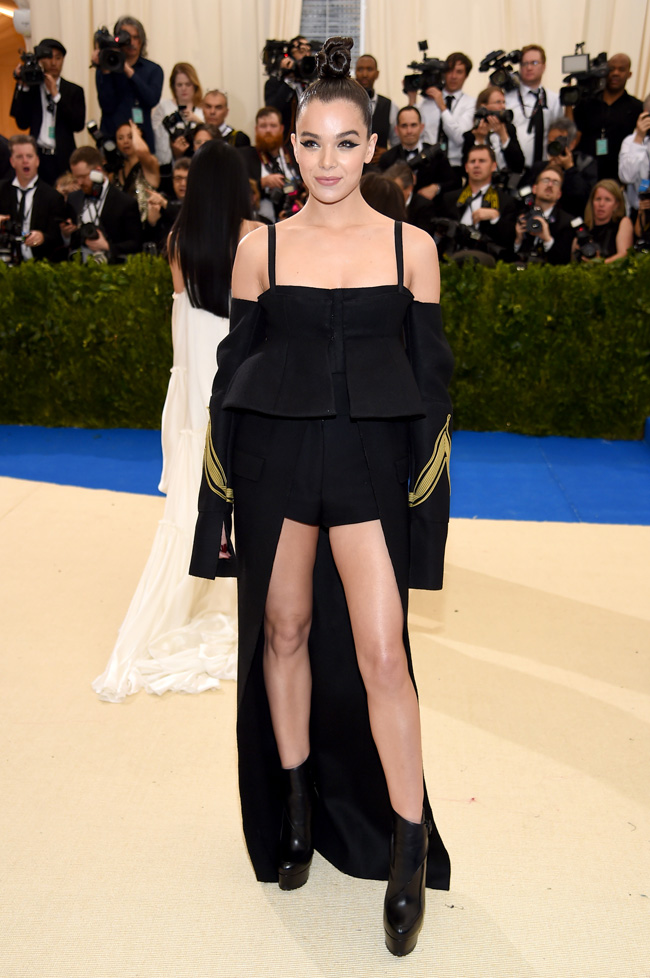 Best – Nicki Minaj: The rapper looked like fire and ice in this impeccable H&M custom-made gown. Do you see Kawakubo's face in the belt? Yep, this dress pays tribute in an almost subliminal way amid many other details, including an incredible train that spills into dramatic red embellishments and black feathers galore.
Worst – Mary-Kate and Ashley Olsen: In all likelihood, the twins could have had these boho outfits sitting around in their closets already. They rarely venture out of their respective comfort zones, and these lacy gowns and embroidered jackets are no exception. However, one has to respect that these two don't give a f*ck what anyone thinks of their style.
Best – Megyn Kelly: How did the former Fox News rising star end up at this event? She may simply be promoting her upcoming NBC gig. Megyn chose a deceptively simple, Asian-inspired, red Altuzarra dress with an embellished floral pattern, a ribbon belt, and smokey makeup.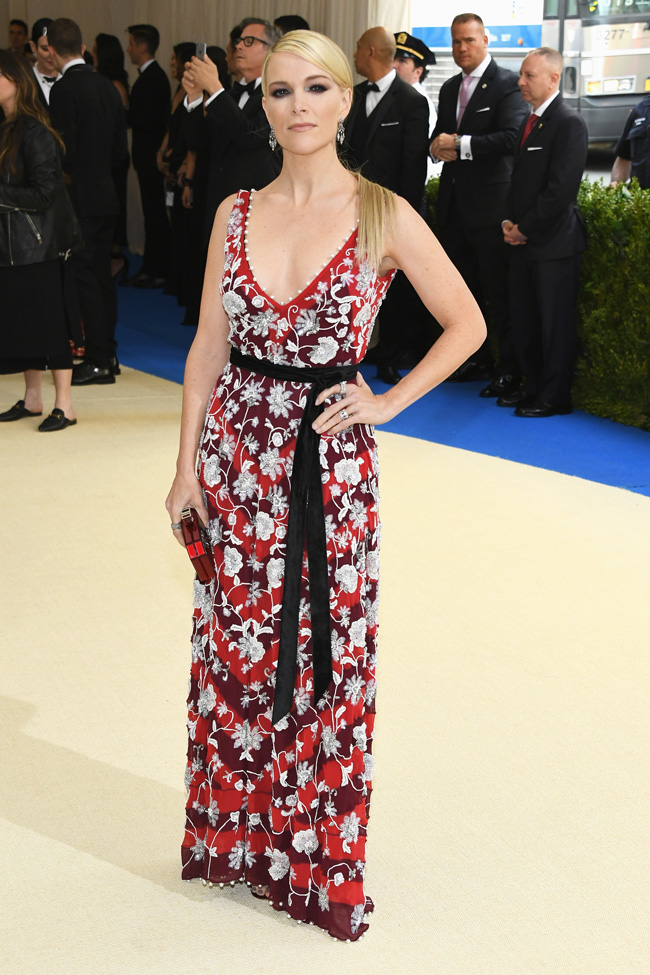 Worst – Rita Ora: Our last selection arrives with the typical overdone Marchesa level of detail atop a nude-inner layer that melts into a predictable train. There's a lot going on with this gown, and none of it's too great. A little too Christmas-y, no?