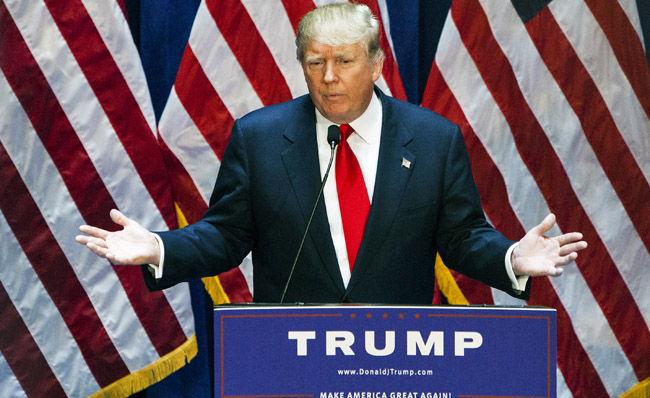 Getty Image
You've already got the President Barack Obama dress-up magnet set, the Hillary Clinton action figure and the Mitt Romney bobblehead, so the new must-have toy atop your 2016 campaign wish list should be these Donald Trump pinatas from Mexican artist Dalton Avalos Ramirez.
MEXICO YA SE PUEDE DESQUITAR DE @realDonaldTrump pic.twitter.com/KrttlRt8Vq

— f piñateria ramirez (@dalton_cjon) June 19, 2015
Trump recently threw his toupee into the ring by announcing his official candidacy for the Republican presidential nomination. The announcement came in the form of a speech, which included the following comments about Mexicans immigrating to the United States:
"When Mexico sends its people, they're not sending the best. They're not sending you, they're sending people that have lots of problems, and they're bringing those problems. They're bringing drugs, they're bringing crime. They're rapists and some, I assume, are good people, but I speak to border guards, and they're telling us what we're getting."
According to the Guardian, Avalos Ramirez was inspired to create the pinatas in the wake of those comments, going on to say that people want to hit Trump's likeness with sticks and/or burn it.
And in case you were concerned that Avalos Ramirez's brilliant creations might not have a lasting market when Trump's political campaign fizzles out, rest assured that he'll find a new muse. In the past, he's modeled his paper-mache candy vessels after Miley Cyrus, Kim Kardashian and Dutch soccer player Arjen Robben.
(Via the Guardian, Death and Taxes)