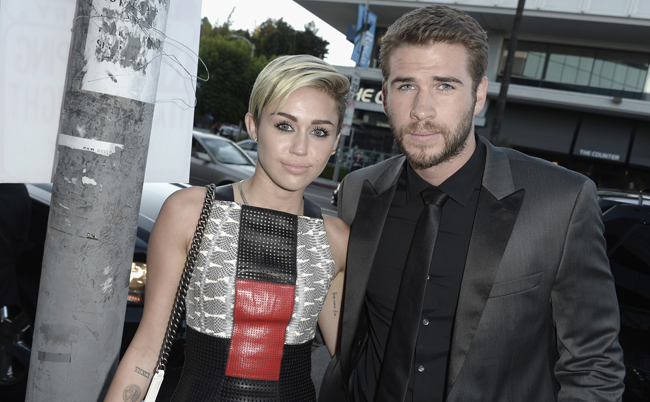 As you may have heard, Miley Cyrus and Liam Hemsworth are back together. And not just back together, but engaged — according to "multiple sources" close to the couple. Not that it's difficult to piece together, because Miley has been showing off the ring that she and Hemsworth had designed when he proposed to her in 2012, which she has also been seen wearing around moving trucks outside of Hemsworth's home. But how did we get to here? Let's take a look back, starting with the couple's first engagement:
June, 2012: Miley And Liam Get Engaged
After three years of an on-again, off-again relationship, the couple — who had met in 2009 filming the teen romance flick The Last Song — announced their engagement. At the time, Cyrus was just 19 years old and Hemsworth was 22. So, while the two were undeniably very much in love, this is not the best age to be making lifelong commitments.
September, 2013: Miley And Liam Call Off Their Engagement
Probably not 100% coincidentally, just one month after Miley Cyrus made headlines for twerking on then 36-year-old Robin Thicke and fondling her crotch with a foam finger at the 2013 VMAs, Miley and Liam called off their one-year engagement. This was at the height of newly transformed headline-grabbing, tongue-brandishing, "Miley Being Miley" Miley. Being that Hemsworth was also making his own transformation to high-profile, respected actor, it wasn't hard to see this one coming.
October, 2013: Bangerz Is Released
Following the release of Bangerz and breakup from Hemsworth, Miley Cyrus goes all-in with her weed-smoking stage antics and body baring tendencies.
August, 2014: Miley Brings A "Homeless" Guy As Her 2014 VMAs Date
It turned out that Miley's date not only was not technically homeless, but was actually wanted by the Oregon police. Oops. At least she raised a lot of money for charity with the stunt.
December 2014: Miley Starts Dating Patrick Schwarzenegger
At first, the two were said to be "casually dating," but as things got more serious, rumors swirled of Schwarzenegger's prestigious family not exactly being thrilled about the pairing. (His famous dad Arnold later said Cyrus was a "fantastic person.")
April 2015: Miley And Patrick Schwarzenegger Split Up
Amid rumors that Schwarzenegger cheated on Cyrus with an ex-girlfriend during spring break in Mexico, the two call it off after just four months.
June, 2015: Miley Comes Out As Polysexual
In an interview with Paper magazine, Miley alleges that she's had serious relationships with women, saying: "I don't relate to being boy or girl, and I don't have to have my partner relate to boy or girl."
June, 2015: Miley Reportedly Dating A Victoria's Secret Model

Miley is rumored to be dating New Zealand model Stella Maxwell, fueled by several cozy-looking Instagram posts and paparazzi make-out sessions.
December, 2015: Jennifer Lawrence Admits To Having Kissed Liam Hemsworth
During an appearance on Watch What Happens Live, Jennifer Lawrence admits to having kissed her Hunger Games costar off-screen when asked whether she'd pick Peeta or Gale. She doesn't say when it happened or how serious it was, however.
[protected-iframe id="d2e67a69a13e3e11663ba3d3ea1f5866-60970621-60765065″ info="http://player.theplatform.com/p/PHSl-B/tLGNZ7qPWAH0/select/XACDV1PTqzA8″ width="650″ height="400″ frameborder="0″ allowfullscreen=""]
January, 2016: Miley And Liam Are Rumored To Be Back Together
Rumors once again began swirling after the couple, now separated for more than two years, were seen celebrating the new year together in Hemsworth's home country of Australia, at the Falls Music Festival in Byron Bay. Once again, Cyrus doubled down on the rumors by posting selfies that conveniently showed off her engagement ring:
Will these two be able to make it work this time? They're both a little bit older and a little bit wiser, but Miley still very much enjoys smoking weed, talking about smoking weed, singing about smoking weed, and wearing very little clothing, and that doesn't look to be changing anytime soon.
(Via E! Online)
Now Watch: This Miley Cyrus Look-Alike Is Becoming (Sort Of) Famous