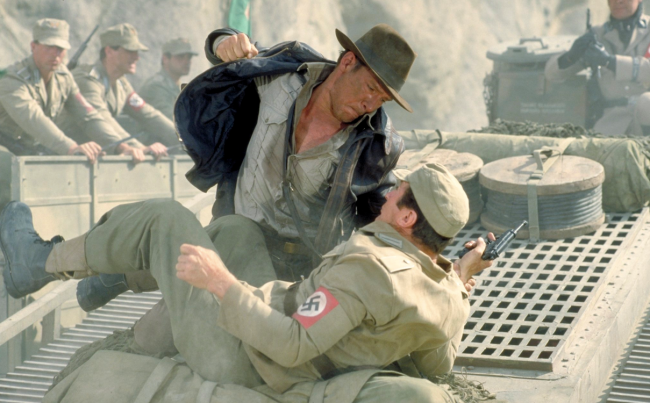 Paramount Pictures
Me, getting the precious Nazi gold.
There's no business like show business, and there's no gold like NAZI GOLD, 300 tons (!) of which was reportedly found on a long-missing train in Poland. I have already purchased every available plane ticket to Poland. THAT NAZI GOLD IS MINE. Once I "take care" of these two:
A law firm in south-west Poland says it has been contacted by two men who have discovered the armored train.

Polish media say the men want 10% of the value of the train's contents. (Via)
That's more than one billion (American) dollars.
The train, which, according to urban legend, also has guns and gems on it, has been missing since 1945, when the Soviets approached the Polish city of Wroclaw. Authorities are "skeptical about the supposed find but would monitor developments," including one district council official who commented, "Lawyers, the army, the police, and the fire brigade are dealing with this. The area has never been excavated before, and we don't know what we might find." I know what they'll find:
Also, me and my Nazi Gold Train movie script.
(Via BBC)